Intimidatory bowling lives on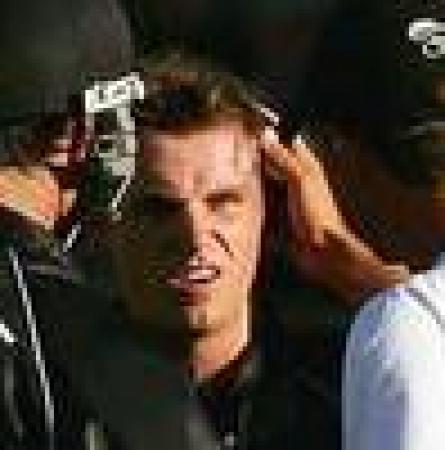 By Thaleel
March 3 2005
"Bowlers' wings have been clipped", or something to that effect, has become one of the more common comments these days. After all, with all those flat wickets and the presence of so many quality batsmen, there are some arguing that cricket's entering a drought of good bowlers. Of course, many of those arguing that bowlers are suffering more and more these days due to laws affecting them still seem to yearn for the old days when incidents like Courtney Walsh peppering Devon Malcolm's torso and head with a number of savage lifters were accepted, or further back when Lillee and Thomson made bouncing batsmen out a regular occurence. But are such incidents really missed?

Anyone that saw a number of games involving Australia over the last few months would know that intimidation through bowling is still alive and well, thanks to the likes of Brett Lee. But then again, this isn't the case of a batsman being only peppered with a barrage of bouncers and "chin music" from all ends. Ask Abdul Razzaq.

On Lee's home ground in Sydney, after an altercation when bowling two beamers at just over medium pace to Lee in the first innings, Razzaq was removed from the attack. Lee wasn't content with just that though, or Razzaq's apparently sincere apology - and instead retaliated blatantly by sending down two beamers at over 150 kmh. Razzaq was lucky to avoid both deliveries, neither of which appeared to be even slightly accidental - and along with the two beamers, avoided serious injury that normally can occur when one gets hit with a hard ball travelling in excess of 150 kmh.

It hasn't been a one-off incident. Perhaps in a misguided attempt to attract the Australian selectors' attention and regain the test spot he lost via a caning at the hands of VVS Laxman and Sachin Tendulkar at Sydney at the beginning of 2004, Lee seems to have changed his bowling intentions from just picking up wickets to hurting batsmen as well. After all, while the likes of Kasprowicz, McGrath and Gillespie, and their contemporaries in other teams have been able and willing to use skill and cunning with the ball to earn wickets, through disciplines such as seam, swing, line and length - Lee's opted to try and just knock out batsmen.

The three one-dayers against New Zealand have seen the area in the middle of the pitch take a fearsome battering whenever Lee's been tossed the ball by Ponting. Brendon McCullum and Hamish Marshall at various points were both peppered by a number of fiery short pitched balls, and as one might expect with their current level of competence, there's been very little response from the umpires. Billy Bowden only went as far as to call a no-ball at Wellington after what seemed like one bouncer too many, but with the batsmen 22 yards away being confronted by bowling that seems to have very little intent other than intimidation, there's been barely any action taken.

Lee also was involved in another unsavory incident, where with New Zealand's last wicket pairing of Kyle Mills and Chris Harris requiring a run a ball off the last 4 overs at Sydney recently, he began an over by peppering Kyle Mills (a number 11 batsman for his side, who was promoted to 10) with a handful of bouncers - and then sent down a waist high full toss at almost 150 kmh to Chris Harris, who was batting at 11 with a dislocated shoulder. Lee got away without it being even called a no-ball - and he's gotten away with plenty more in the past.

When Lee bowled those two very deliberate beamers at Razzaq's head, he was not even removed from the attack - and while the likes of Michael Holding, Curtly Ambrose and company got the occasional warning, not a word has been said while Lee continues to send down ball after ball at various batsmen's heads or torsos.

Perhaps Michael Papps' forced retirement in the third one-dayer at Auckland might open a few eyes - after one of Papps' was almost closed, following a fearsome blow on the head. After having been the target of a number of short pitched balls from Lee, Papps eventually was struck on the front of the helmet, and was forced to retire hurt with a sickening purple bump next to his eyebrow, before being taken to hospital for x-rays. And this too, with a helmet and grill on his head.

Towards the end of the Kiwi innings, wicketkeeper Brendon McCullum was hit on the arm by another beamer from Lee, one which he didn't seem to pick up at all in the floodlights - and McCullum's reaction said it all when he walked down the wicket to complain. Picking out the path of a ball in such conditions is one thing - but when a bowler's flinging it at your body or face at speeds in excess of 150 kmh, and often with some degree of intent of hurting the batsman at the other end, it's completely different. The fast bowlers can make all the comments they want; that such bowling allows them a way to hit back after all the flat wickets and the canings they often receive, and that batsmen have good equipment for their own safety; yet, Lee's deliveries to Razzaq, McCullum and Papps proved that with all the equipment available and even on flat wickets, batsmen are at a good deal of risk - and even more so when every other ball is flying past their throat or eyeline.

The ICC has said enough about intimidatory bowling and how it isn't allowed - how only one bouncer an over will be permitted to give the bowler some sort of trump card, how beamers will be no-balled and deliberate beamers will result in immediate expulsion from the attack. Yet, in the case of Lee, nothing has been done. Isn't it time that some action is taken against a bowler who seems to only be in a lineup to threaten the wellbeing of batsmen at the other end with the sort of bowling that is there to intimidate and injure?