India-Pakistan test series preview - Part I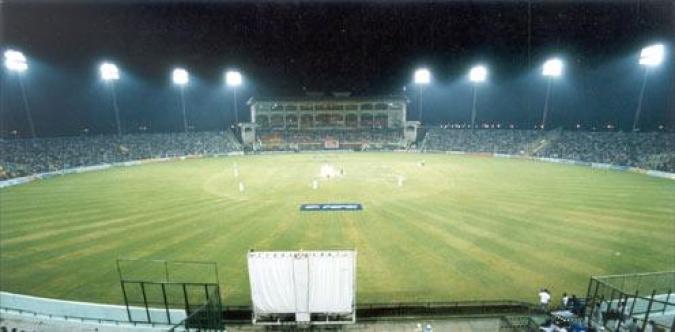 Venue for test 1
By Captain of Bhangra
March 1 2005
Long before a ball has even been manufactured, so it may be bowled in the first test, there's already been an outburst of controversy, passion, pride, and anger regarding this tour. It could only be a series between archrivals India, and Pakistan. Pakistan is scheduled to play three tests, and six one-day internationals in India, and despite problems regarding television rights, and political issues, it seems that the tour will now go ahead. This will be Pakistan's first test series in India since 1999 when they drew a two match series 1-1.

That series itself was one to remember, as Pakistan managed to pull of a stunning victory from an unlikely position in the first test, and then India saved face in the second with a historic feat achieved by Anil Kumble. He took all ten wickets in Pakistanís second innings.

Rather than discuss the drama surrounding the series, which is only to be expected between two traditional enemies, it would be interesting to assess Indiaís expectations and chances against the neighbours.

It would promise, as ever, to be a fierce contest between a strong batting side, and a fearsome pace attack, but amongst other twists in the tale, Shoaib Akhtar, Pakistan's spearhead, has been sidelined by injury. Indian fans will not be seeing the return of a man, who when relatively unknown, took the wickets of Rahul Dravid, and Sachin Tendulkar in successive deliveries to stun an Eden Gardens crowd into silence. When the teams last met in such a series, the contest was built up by the media as a "Shoaib v Sachin" showpiece, however, both stars are struggling to be fit for selection and the focus moves onto the teams and some of the other stars.

Indian fans, for the most part, are confident of resounding success in the Test series given the team's consistent progress over the last two years, but a number of them have reason to expect be expecting humiliation in the shorter format following some dismal ODI performances by the Men in Blue in recent times. Since that historic tour, where India played a series over the border for the first time in 15 years and India won both the tests and ODI series, they've lost 4 ODIs in a row to Pakistan.

Indian fans will want their team to be in command, and will be happy at what seems to be a lack of strength in Pakistanís bowling, usually the strongest point for most Pakistan teams. This may be foolish. India/Pakistan series history has taught us this - one just needs to look back to Kolkata in 1999, where a young Shoaib Akhtar made his name by rattling the Indian middle order in Kolkatta in 1999, a young hopeful by the name of Irfan Pathan, and his lesser known sidekick, Balaji, were seen to destroy Pakistan's batting line-up in the 2004 test series, and in the match India lost in that series, the damage was inflicted by 19 year old Umar Gul. Time will tell if a talented youngster like Mohammed Khalil can carry on this tradition. There was little indication of Khalil's potential greatness during Pakistanís recent tour of Australia, but given the manner in which Pakistan's players so often raise their game against India - anything might be possible.

Some Pakistanis will believe that they are ready for India, despite poor performances in all of their Test series in the last 14 months. It's a well known fact that Australia are by far the strongest side in World cricket, and playing against them can help you raise your game, judging by marked improvements in the Indian, Sri Lankan and Bangladeshi test sides after an Aussie tour.

Pakistan returned from Australia after being whitewashed in a 3 match test series, but Indian optimists will point out that while India raised their game against Pakistan after their Australia tour (2003 winter), they also saw their team draw a series which they dominated and should have won. This thought would certainly help them rank India as clear favorites going into the three tests.

Of course, with so many of the pundits predicting a win here for India, Pakistan may feel they have nothing to lose, which may make them an even more dangerous side than otherwise, especially if India succumb to the huge degree of pressure at home. The first Test will be played at Mohali (Chandigarh), on Tuesday March 8th.

Indiaís squad for the tests:
Saurav Ganguly (capt), Virender Sehwag, Gautam Gambhir, Rahul Dravid, Sachin Tendulkar, VVS Laxman, Dinesh Karthik (wk), Irfan Pathan, Anil Kumble, Harbhajan Singh, Zaheer Khan, Yuvraj Singh, Ashish Nehra, and L Balaji.

Pakistanís squad for the tests:
Inzamam-ul-Haq (capt), Younis Khan, Yousuf Youhana, Abdul Razzaq, Shahid Afridi, Taufeeq Umar, Yasir Hameed, Salman Butt, Shoaib Malik, Asim Kamal, Kamran Akmal (wk), Mohammad Sami, Rana Naved-ul-Hasan, Danish Kaneria, Arshad Khan, and Mohammad Khalil.

Part II of this preview looks at the players involved, and some of the men that could play a major role in affecting the series' outcome.