India-Pakistan test series preview - Part II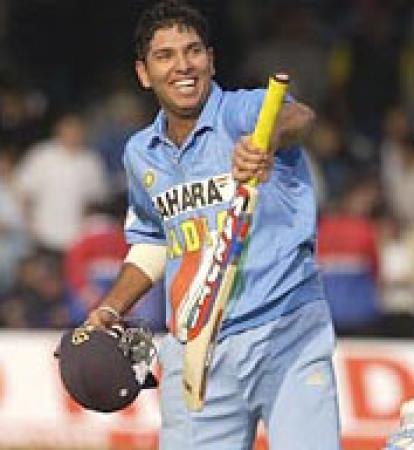 By Captain of Bhangra
February 26 2005
Just under two weeks from now, one of the most heated rivalries in cricket will resume, with Mohali hosting the first test between India and Pakistan. Traditionally a seamers' track, and more so since the revamp of Indian domestic pitches, it will be interesting to see how the pitch is prepared, because a Pakistan attack, no matter how threadbare it is perceived to be, will relish a typical Mohali surface. India have no slouches in the seam department either, and Irfan Pathan will once again find all eyes on him, while spectators will try to anticipate contributions from Balaji too.

Inzamam will want to lead his team to victory, to atone for the humiliation when he led the men in green last year (2004). He will be in his element on pitches that can favour the batsmen, and he will be key to Pakistan's ability to hang in there and get a competitive total, alongside Yousuf Youhana, who has lost the vice captaincy to Younis Khan.

Taufeeq Umar has been recalled to the squad, much to the delight of many Pakistanis that were bemused when he failed to make the squad to tour Australia. He is believed to be a solid opener by many Pakistan fans in general, and has performances to show for it, as any South African would agree - and if the wickets are slower and lower, Taufeeq (as his stellar home record points out) could be a major thorn in the Indian attack's flesh.

It will be important for him to build up a good understanding with his most likely opening partner, Salman Butt, and they will surely feel the pressure when they walk out at Mohali. Indian fans saw more than they would have liked of young Salman Butt in the last ODI encounter between the two nations at Kolkata in the BCCI's Platinum Jubilee game, where Butt scored a stellar hundred under pressure to lead Pakistan to a win. Butt has since shown a few more glimpses of his potential, scoring a century at the Sydney Cricket Ground against a strong Australian attack - and a strong opening partnership between him and Taufeeq would be vital for the Pakistan team.

Mohali though hasn't always been a seamer's wicket, as the Indians would remember from their last test there when they were given a featherbed, upon which almost 900 runs were scored in three days, with only a handful of wickets falling. If a similar track is used, slower, lower and helping out spinners a good deal, Pakistanis will pin their hopes on leg-spinner Danish Kaneria, who is improving his game, and was one of the few Pakistanis that showed favourable traits in Australia. Kaneria's shown a good deal of heart and persistence - qualities that helped him earn a man of the match award in his last home test, where he bowled a marathon 60 overs in the second innings to take 7 Sri Lankan wickets.

Arshad Khan is the other spin option, but he will be playing his first test in 4 years if he makes the line-up. Where Pakistan can boast variety though is in the all-rounder department. India may have no classified all-rounders of quality, but Pakistan are touring the likes of Shahid Afridi, Abdul Razzaq, and Shoaib Malik. The chance of the latter being allowed to bowl, however, is remote. Malik, along with Harbhajan Singh of India, was reported for a suspect action, but while Singh seems set to be cleared, Malik's standard action was reportedly found to be seriously defective with his regular off break showing a 20-degree bend, and the doosra showing a bend of over 33 degrees.

Afridi has always enjoyed being the scourge of Indian batting or bowling, and will try to utilise his fast leg-breaks on assisting Indian surfaces. In the past, he's scored a number of match-turning cameos against India with the bat, and in recent games in Holland and Kolkata, showed an ability to trouble the batsmen with his leggies. He will also be looking to wow the crowds with his kamikaze attitude to batting, where he looks to plunder as many boundaries as possible, before meeting his inevitable end.

For raw pace, Pakistan will turn to the more experienced Mohammed Sami, but he has proven costly time and time again (as a bowling average of 46.5 would show), and when Pakistan achieve success against India, it often is in spite of, rather than because of Sami.

Meanwhile, Indian fans will look forward to the clash between their power packed top order and the Pakistani bowling. The Little Master Sachin Tendulkar has been nursing a tennis elbow injury that caused him to miss important matches in 2004. He had not fully recovered, despite playing through the pain and scoring an unbeaten 248 (his Test Best), in Bangladesh. It seems now though, he is fit and raring to go, having practiced in net sessions, and chancing his arm for West Zone in domestic Indian competition - despite only scoring 4 runs in his only competitive outing since that test series.

And as much as Pakistan will worry about Tendulkar, there will be plenty of thoughts focused on Virender Sehwag. His awesome negotiation of the pacemen, followed by his brutal attack on Saqlain Mushtaq last year at Multan, will live long in the memories of both Indians and Pakistanis, and with his recent form - Sehwag top scored in the last three test series India played - he will be expected to have more than a say in proceedings.

His opening partner, Gautam Gambhir, has shown promise, and this will be the ultimate test of nerves for him. He has been spared the trouble of facing the world's fastest bowler, but will want to cement his place in the side. A performance against Pakistan never harms an Indian player's selection. On that note, Yuvraj Singh enters the equation.

Yuvraj had a rollercoaster of a 2004, but has hit form in the domestic game, and returned to his glorious ways in India's ODIs towards the end of the year. He has helped his cause by previously doing well against Pakistan. His 50 in the World Cup, his blitzkrieg 82 in the Platinum Jubilee game, but most importantly, his 112 at Lahore that saved some pride for India when all those around him fell to Umar Gul's inspired spells, will have given him a slight nudge over Mohammad Kaif, who is surely unlucky to have missed out on a place. Yuvraj though has been in the runs in the last few weeks - most notably slamming a superb ton at almost a run a ball against West Zone in a Duleep trophy game, and Pakistan will hope his form runs out when the series begins.

Rahul Dravid will strike fear in the Pakistani bowlers who what he is capable of, having seen it up close in Rawalpindi. Unlike many modern batsmen, Dravid has the technique and the reserves of patience to grit his way through rough periods, before cashing in when the chances present themselves and putting out a big score. He will be expected to make at least one huge score for the cause, such is his pedigree nowadays - and after a lack of them in the tests against Australia and South Africa, he's more than due for a big ton or two.

VVS Laxman, the enigma of the Indian side is in the squad and rightly so, having has proven his quality in Tests, but is regularly the recipient of a good deal of criticism from by fans who believe his potential is rarely realised. And they've got reason to say so - since the tour to Australia, he's not reached three figures once, and only played a couple of major innings for India, with half centuries in Rawalpindi and Mumbai. This series could well be make-or-break for him, with Yuvraj and Kaif, alongside other young up-and-comers, banging on the selectors' doors.

Saurav Ganguly is India's most successful captain. He, along with Coach John Wright, have transformed a mediocre Test side into a strong feared opposition for anyone, including the Australians. Ganguly's tenure has seen India achieve many new heights, including the first test/series wins in Pakistan. It is highly likely that Wright is into his last series as India coach, so Ganguly will want to ensure his send off is the one he deserves. He will also provide food for thought to Pakistan's bowlers, especially the likes of Danish Kaneria, with his famed ability to not just negotiate spinners - but to destroy them when he gets going.

India have had a crisis in the wicketkeeping area in recent times - Parthiv Patel seemed to be a great find when originally picked, and as his batting began to improve immensely, Indians believed a long term option had been uncovered. This is not the case anymore, Patel had a number of horrendous series with the gloves, coinciding with the emergence of Dinesh Karthik from the under 19 side, and was eventually axed. Karthik has looked a better gloveman, but has yet to show the pluck and grit that marked Parthiv's batting. Another option, MS Dhoni, was tried in the Bangladesh ODIs in 2004, but keeping to India's spinners is not a job to be taken lightly, and for now, it seems the best choice was made by the selectors.

Irfan Pathan will bear a good deal of the seam bowling load, and since his explosive first full year, where he announced his arrival with a fine performance in the VB series and a huge contribution in Pakistan, he has shown only signs of improvement - most recently running through the hapless Bangladesh lineup in two tests.

This leaves Laxmipathy Balaji and Zaheer Khan. Both have returned from a spell on the sidelines. One feels that Khan has a lot to prove, as he has constantly been hampered with injuries - and with some inconsistency over the last year or so, this series could make or break him. Balaji is the main right hand option in the seam attack. He was devastating with both bat and ball in Pakistan, but it remains to be seen if he will be the same player in this series, especially when coming back after a long injury.

The spin pairing of Anil Kumble and Harbhajan Singh is always influential in home series, and this will be no exception. Kumble, India's leading wicket taker, will be inspired by his own historic performance in Dehli 1999, and more so by his performance in Pakistan 2004, where he was instrumental and topped the wicket tallies. In contrast, Harbhajan has very little test experience against Pakistan. He played in the winning Test in 1999, and the Asian Test championship game. He was 18 years old, and he has remodelled his action since.

He returned a different player (as Australians will testify), but has recently suffered the setback of being reported for a suspect action. It is highly likely that he will not be in trouble, and will be able to play his usual game, which will spell danger for the Pakistanis, especially as they will not have faced him in tandem with Kumble.

Whatever the outcome, one thing is for sure: This is India against Pakistan, a series that will hold an incredible amount of interest around the world. The cricket will be breathtaking, and new heroes will be born, along with some villains. It will certainly be the series of 2005.