Stats Corner: Australia in the new millenium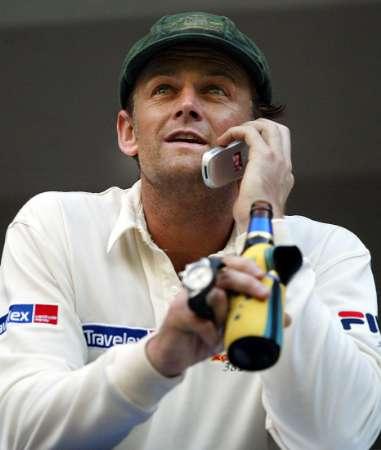 By Gambit
February 28 2005
The latest edition of Stats Corner looks at the most dominant team in test cricket right now, and their performances against various other opposition. It is widely acknowledged that this Australian team has been instrumental in reviving the flagging interest in test cricket, with their cavalier performances. They seldom score below 3.5-4 runs per over and rarely do teams manage to take the test matches to the fifth day against the Australian juggernaut. Hence, it comes as no surprise that only 8 tests involving Australia in the last 5 years have resulted in draws.

Australia has played 60 test matches since 2000 and has won 45 of them. That is an astounding win percentage of 75%. They have lost only 8 tests and 5 of them were dead rubber games.

The Australian batting line-up is regarded as the best in the world and their performances buttresses that statement. The Australian batting line-up averages 44 runs per wicket (South Africa comes second in that regard with 38.6). Their scoring rate or run rate on an average has been 3.7 run an over. They have surpassed a total of 500 in an innings a staggering 19 times, with 3 totals over 600 and one over 700.

Their powerful batting line-up is backed solidly by their lethal bowling line-up which comprises probably the best pace-spin duo of all time, Glenn McGrath and Shane Warne. The Australian bowling line-up on an average gives just 27 runs per wicket (RSA comes second against with 31.1). They have bowled out teams below a 100 on 7 occasions, below 150 on 14 occasions and below 200 on an awesome 32 occasions. India, Zimbabwe and South Africa are the only teams who have not been bowled out below 100 in an innings even once against Australia.

Their record against all the test teams in the world since 2000:

+++++++++++++++++++++++++++++++++++++++++++++++
2 Tests v Bangladesh- 2 won

10 tests v England- 8 won 2 lost

12 tests v India- 5 won 4 lost 3 drawn

8 tests v New Zealand- 5 won 3 drawn

6 tests v Pakistan- 6 won

6 tests v South Africa- 5 won 1 lost

5 tests v Sri Lanka- 4 won 1 drawn

9 tests v West Indies- 8 won 1 lost

2 tests v Zimbabwe- 2 won
+++++++++++++++++++++++++++++++++++++++++++++++

Out of the 8 losses suffered by Australia, 4 have come against England, West Indies and South Africa and all have been in dead rubber games. The other 4 have been to one team, India, with 3 of those defeats coming in live games.

Australia has played 19 test series, winning an amazing 16, drawing 2 and losing just 1. Their only series loss has come against India and draws have come against India (1-1) and New Zealand(0-0).

Australia have lost only 2 games out of 32(24 wins) at home, where their batting average is nearly 50. Away from home, Australia have 18 wins and 6 losses and their batting averages falls by 10 runs to 40. Half of those losses have come in India. India have won the most tests against Australia (4) and with New Zealand, have had the most drawn games against the world champions (3). New Zealand, Pakistan and Sri Lanka have failed to win a single test against Australia since 2000 and Pakistan, along with Bangladesh and Zimbabwe, are the only team to have lost each test they have played against Australia(6).

Highest score made by Australia: 735 v Zim
Highest score conceded by Australia: 705 v India

Lowest score made by Australia: 93 v India
Lowest score made against Australia: 53 v Pak


Australia's worst batting average is against Sri Lanka (33.8) and best, excluding the minnows, is against England(47.8). Australia's worst bowling average is against India(33.1) and best, excluding Bangladesh, against Pakistan(20.7).

Biggest victory margin for Australia:

innings and 350 runs v RSA
491 runs v Pak


Biggest defeat margin for Australia:

225 runs v England
171 runs v India

India is the only team in the new millennium to win a live test against Australia, that too on 3 occasions. India is the only team to have taken the lead in a series against Australia, in Australia. New Zealand (4.62) and India (4.5) have the highest average playing days per test against Australia, with New Zealand having a few of their tests against Australia going to the final day due to bad weather. New Zealand and India are the only teams to have scored above 500 in an innings against Australia since 2000. New Zealand has done this once whereas India has achieved this 4 times, including two scores over 600.

The highest individual score by an Australia batsman is by Matthew Hayden (380). The best bowling figures in an innings by an Australian bowler is 8 for 24 against Pakistan, by Glenn McGrath. The best match figures by an Australia bowler is 11 wickets for 188 runs by Shane Warne against Pakistan.

Only three batsmen have scored double centuries against Australia, and they are all Indian. The highest individual score registered against Australia has been 281 by VVS Laxman. The highest individual score in Australia is 241* by Sachin Tendulkar. The highest match run aggregate by a batsman against Australia in a test is 341 runs by VVS Laxman (with Australia playing abroad), and 305 by Rahul Dravid (with Australia playing at home). Best match figures by a bowler against Australia is 15 wickets for 217 runs by Harbhajan Singh and the best match figures by a bowler in Australia is 12 wickets for 279 runs by Anil Kumble.

It's clear from these statistics that while Australia have dominated most of the test world by a good distance in the last 4-5 years, India has been the Australian's bogey team - the only team to defeat Australia in a series in this millennium, with a win loss record of 4-5 since Jan 1st, 2000. And unless the rest of the cricketing world raises its standards in the longer format of the game, India might remain the only team capable of providing any challenge to the Baggy Greens.