Down Memory Lane: Desert Storm - Part II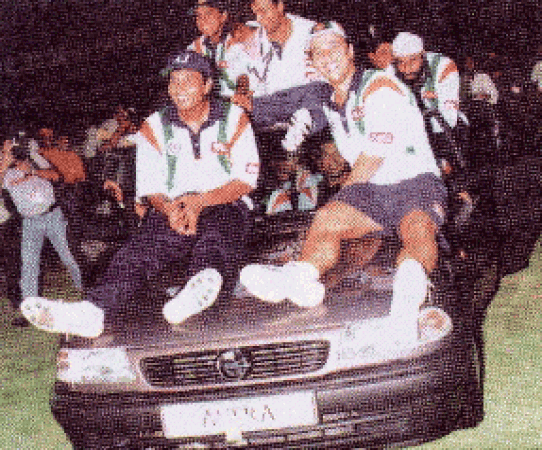 By Thaleel
March 1 2005
The second in a two-part series looking back upon two great back-to-back one day innings by Sachin Tendulkar against Australia in the Coca Cola Cup of 1998 in Sharjah.
Prologue:
Just two days before his 25th birthday, Sachin Tendulkar played what would have seemed like the knock of a lifetime - had he not been in a golden phase where he was churning out innings after innings of such quality. With one league game left between Australia and India in the Coca-Cola Cup, India had needed a stiff target to just get into the finals - and a stunning innings from the Little Master saw India comfortably reach that mark, and pip New Zealand to the finals on net run rate.
The general batting form of the side though had been shoddy - besides Tendulkar, only Ganguly had any substantial runs to his name that series, and most had come in a single innings that began the series - but with the form Tendulkar was in, all India - and Australia - knew that he would be the key to this game and the pivot that would decide which team left Sharjah with the Coca-Cola Cup. And on his birthday, 24th April 1998, India was expecting something special from the maestro on a big stage
The match:
When Azharuddin won the toss and elected to field, fans were stunned - after all, wouldn't it have been easier for India to bat, to try setting a target and putting the Aussies under pressure, particularly given a number of failures batting second in recent times?
Six overs into the match, the captain's call had been vindicated. The combination of Ajit Agarkar and Venkatesh Prasad rocked Australia early on as Nayan Mongia was gifted with some catching practice. The opening combination of Mark Waugh and Adam Gilchrist were separated quickly as Waugh first nicked one from Agarkar to Mongia, before Prasad removed Ponting second ball. Agarkar wasn't to be outdone as he dismissed Tom Moody with a beauty, providing Mongia with his third catch in three overs and Australia were reeling at 26/3.
With Michael Bevan coming in, the innings was soon steadied as Gilchrist and Bevan took the score to a more respectable level. Their wickets, seven overs apart, again rocked Australia as both men fell for 45, and with the score reading 121/5, it seemed as if things were going according to Azhar's script. Opposition captain Steve Waugh and Lehmann had other ideas as they first stabilized the score and then accelerated, with both men scoring 70 - Waugh at just under a run a ball, Lehmann in just 59 balls. Aided by some lax fielding and shoddy bowling at the end, with the part time bowlers going for quite a few runs, Australia finished on a more than respectable 272/9, the second highest total registered in the series. India had a massive task ahead of them, and all eyes were on Tendulkar as he and Ganguly took to the field to start the chase.
India were off to a rollicking start with 11 coming off the opening over, but as Ganguly dominated the strike in the early overs, the run rate soon dipped with some accurate swing bowling under the lights from Fleming and Kasprowicz. Fleming almost had Tendulkar early on, when he inside edging a delivery just past his leg stump - but after a succession of dot balls to Ganguly, finally struck as the elegant left hander miscued a pull straight to Tom Moody.
Nayan Mongia had been used with fairly good effect at the top of the order in the previous game, and his brisk knock then ensured another promotion as he joined Tendulkar at the wicket. Tendulkar meanwhile had looked circumspect, playing a touch within himself and not dominating the bowlers as he had in the previous game - and with Mongia also looking scratchy at first, India looked to be struggling to keep up with the run rate needed. Tom Moody's introduction to the attack changed things, as Tendulkar greeted his first delivery with a savage pull over the infield - and Mongia ended the over by clubbing a four back down the ground, to take the score to 69/1 after 14.
Despite the odd boundary though off Warne or Mark Waugh, the required run rate began to rise, until Tendulkar stepped up a gear, charging Mark Waugh and smashing him for a four over cover. Waugh's next over proved even more expensive, with the maestro first glancing him fine and then sweeping him later in the over for boundaries, and seeing the danger, Shane Warne prepared to bowl his following over from around the wicket.
Tendulkar's response was savage. As Warne prepared to pitch his first ball a good distance outside leg stump, Sachin danced down the wicket and moved inside the line of the ball, before smashing it straight back over Warne's head for a massive six - perhaps the shot of the tournament. With both Mongia and Tendulkar starting to accelerate, Steve Waugh brought Damien Fleming back into the attack - and the move paid off almost immediately, as Mongia fished for one outside off stump, and edged through to Gilchrist.
Steve Waugh continued at the other end, trying to bottle up the runs with Azharuddin in, but both he and Tendulkar played sensibly, turning the strike over with plenty of singles, punctuated by the occasional boundary as the run rate hovered around the 5-per-over mark. Tendulkar continued to move on, playing percentage cricket and putting away the loose balls with minimal efforts, while keeping a high strike rate and offering the bowlers almost no chance of a respite.
The partnership had progressed well past the 50-run mark at a good rate, with Azharuddin providing the champion from Mumbai with the sort of support he had lacked so often earlier in the tournament, and in the 37th over, Tendulkar finally brought up his hundred with a clip off Moody into the leg side. India needed to score at almost a run a ball from thereon, and both Tendulkar and the captain began to step the rate up. The very next ball was slashed at by Azharuddin, and a fine edge raced to the third man fence for four. Azhar continued on, belting Warne through the covers in the next over for four more as India inched closer to the target.
A couple of tight overs though brought the required rate back up - but Tendulkar countered with two thunderous boundaries as Shane Warne began his last over. The master smashed one back down the ground, forcing umpire Bucknor to duck at the last second - and the next ball was thrashed through the covers, as Warne eventually finished with figures of 10-0-61-0, having been negotiated and dominated superbly by the Indian batsmen, Tendulkar in particular.
Azharuddin brought up his half century the next over with another quick single, turning the strike over to Tendulkar selflessly yet again - and it had been an unacknowledged gem from the captain, overshadowed by Tendulkar's brilliance. Having come in at a stage where India could have potentially unravelled with another quick wicket or two, Azhar had not just provided good support to Tendulkar in the partnership, but had played some fine shots as well and scored his fifty at a brisk pace. The achievement was quickly forgotten though as Tendulkar charged Tom Moody's next delivery, smashing the medium pacer back down the ground and into the sightscreen for a massive six. India were moving closer to the target, and with Tendulkar now playing the big shots, it looked as if the game would be over soon.
Damien Fleming replaced Warne, in search of another wicket, and came perilously close to removing Tendulkar twice - two LBW appeals that seemed to have either hit Tendulkar outside off stump or going down leg were negated, and Fleming could only look on at Steve Bucknor's shaking head in disbelief. More salt was poured into the wounds as Tendulkar decided to try and end the over with a big hit, but ended up miscuing it. The attempted slog seemed to go straight in the air, but to Fleming's frustration, landed just between cover and long off, neither of whom could get to it in time - Tendulkar had gotten away with perhaps his only bad shot of the innings, and Fleming snatched his cap back from Bucknor in anger, knowing he'd had missed out on three half-chances to claim the maestro's wicket.
If it wasn't enough, Tendulkar continued to add insult to the injury - Michael Kasprowicz replaced Tom Moody at the other end, and was greeted in style by Tendulkar. Kasprowicz's first ball was a full length delivery and Tendulkar lofted it straight and high, sending it onto the roof of the stadium. The target was down to 27 off 35 balls, and Tendulkar brought it down by another couple, smashing the next ball over midwicket, where it was pulled back by some sharp fielding.
Kasprowicz needed to try something different and switched the angle, going around the wicket for his next delivery. It pitched outside leg stump and continued on, hitting Tendulkar on the line of off stump as Gilchrist and the bowler went up in an appeal - and shockingly, Javed Akhtar's finger went up. For most of the innings, it had seemed as if no bowler or fielder could remove Tendulkar from the crease... and it had taken a dismal umpiring decision to put the masterclass to an end. Tendulkar left the wicket, stunned at Akhtar's call as the Sharjah crowd rose to applaud one of the finest one-day innings - 134 runs off just 131 balls, and a knock that had taken India to the brink of winning the Coca-Cola Cup.
India needed a further 25 off 33 balls, and it was the sort of position they had choked from in the past - but this time, Azharuddin and Jadeja ensured they wouldn't as they continued to close in on the target. A few balls after he had smashed Kasprowicz over midwicket with a dismissive pull for four, Azhar received a ball heading down the leg side and tried to glance it fine. The willow missed ball as Gilchrist dove down leg and caught the ball - and Kasprowicz appealed to see Javed Akhtar raise the finger in yet another dubious call. The Indian captain left the field in disbelief at his dismissal as replays showed that the ball was quite clearly a wide - and instead of being given a run, India had been robbed of a big wicket. With the score now 261/4, another three overs left and two new batsmen at the wicket, Australia felt they had a glimmer of hope remaining.
Jadeja and Kanitkar took India's score one run adrift of the Australian score with some aggressive running between the wickets, taking advantage of the fielders trying to cut off the boundaries - and with two needed off ten, and the field closing in to prevent singles, Kanitkar charged Tom Moody and sliced him through the covers to score the winning boundary. India had won the game convincingly by a six wicket margin and nine balls to spare, and a superb batting performance from Tendulkar had ensured that his side would return home with the Coca-Cola Cup, while the Australians would leave Sharjah empty-handed.
Epilogue:
Tony Greig claimed, in the course of the innings, that "this little man is the closest thing to Bradman there's ever been". Opposition captain Steve Waugh admitted in the post-match ceremony that his side had been defeated by "one of the great innings", and Tendulkar's two masterpieces drew tributes from the cricketing world, which had been set ablaze by the two storms he unleashed upon Australia in Sharjah. Don Bradman himself was moved to comment that the Maestro from Mumbai reminded him of himself during his playing days.
In a period where Tendulkar had been churning out innings after innings of the highest quality, these two stood out - a stunning assault after a desert storm in the qualifier for the final that saw India reach the final - and then a superb, nearly flawless knock that took India to a one-day series win over Australia. Perhaps though, Tendulkar's form in that period with his success against Australia in the recent tests, and an aggregate of almost 1900 ODI runs that year raised expectations to unreachable levels.
In 1996, most of India's hopes had rested upon Tendulkar, and following these two innings where he showed just what he could do to singlehandedly win a tournament for India, the side and nation relied more upon him than ever before to lead India to glory. It says something about the maestro's temperament and class that more often than not, he would live up to such expectations - it was only his 15th one-day hundred then, and Tendulkar since has churned out another 22, along with countless other batting or bowling performances that have been pivotal in Indian wins.