Duleep roundup: Rounds 2 and 3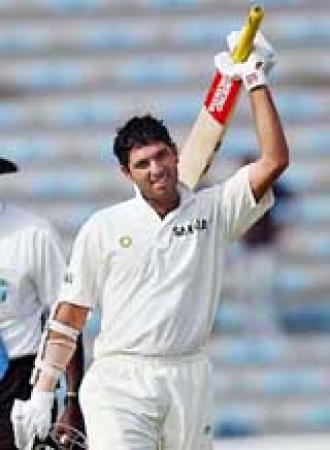 In a golden vein
By Thaleel
March 12 2005
Continuing on from the previous Duleep review, where we looked at the juiced up wickets assisting bowlers and results, the latest domestic roundup covers the last two rounds of the Duleep preliminary league. My god! A draw?!

Few would have believed it had they been told in 1999, that five seasons ahead, just about every single game in the Duleep Trophy would end with a result. The recent game between Central Zone and the BCB XI broke the pattern, with Bangladesh gritting out 54 overs for a draw - leaving a few questions raised about Jai P Yadav's spot as captain of Central. It could have very have turned into a result, had Yadav enforced a follow on with Central having a 205 run lead in the first innings after bowling Bangladesh out - and when play began on day 4, with Central resuming on 212/6 with a lead of over 400, Yadav allowed another hour of play with Sanjay Bangar falling short of a century, and Central finally being bowled out - leaving the BCB XI just 54 overs to bat out.

While the pitches are changing all over for the better, perhaps this is a sign that captains are still holed up in the mindsets of the 90s, when the flat tracks used to reign and all that mattered was first-innings points. Nevertheless, Central's 6 wicket win over East and their lead here ensures they will take on North Zone soon in the Duleep finals.

While a result is more than probable (unless Yadav's overly defensive mindset dictates otherwise), one has to wonder a bit about whether some pitches might be a little too loaded in favor of seamers. In the Bangladesh/Central game, Central came into the match with Kulamani Parida, the Railways offie who at one time seemed to be in contention for a test place, and Murali Kartik, who recently bagged a man of the match award in a test against Australia. The duo bowled a grand total of 8 overs in the first innings for Central, and 12 in the second while the medium pacers did the donkey work. Helping the pacers out isn't a bad thing - but there's a fine balance between giving some assistance to the seam and swing bowlers, and loading wickets in their favor so heavily that the spinners suffer.


---
Tough times for the new boys
For Bangladesh, their inclusion in the Duleep Trophy was a rude awakening to some cold hard facts. Against East Zone, they were comprehensively crushed by an innings and then some, as Saurav Ganguly and Laxmi Ratan Shukla smashed tons, before SS Paul ran through them at Nagpur - and then against Central, were lucky to escape with a draw. This is a team featuring some bright young talent - Mohammad Ashraful, Aftab Ahmed, Talha Jubair, Alok Kapali and several others - yet, even against domestic zonal sides, have been embarrassed. Signs that plenty needs to be done in the first-class scene in Bangladesh if there's to be any improvement in the long run.
---
South overPowared as stars fail to deliver
Meanwhile, one of the more eagerly anticipated contests in the Duleep Trophy was a letdown - and for all the wrong reasons. Expectations were high when Sachin Tendulkar declared his fitness for the South/West clash on Feb 22nd - and with Rahul Dravid, Irfan Pathan, Zaheer Khan and Anil Kumble all playing, a true clash of titans seemed to be on the cards. Or maybe not.
Kumble bowled Tendulkar for four runs - two runs less than Dravid made in the entire match. Instead, the spotlight went to the youngsters as Ramesh Powar overshadowed the more illustrous trio of Agarkar, Pathan and Zaheer to snare seven wickets in the first day of play. Handy four-fors for R Vinay Kumar and Kumble restricted the West lead, before Venugopal Rao produced a gritty 79 off 180 balls to guide South to a fairly challenging lead of 221.
After a strong opening stand between Parab and Jadhav was broken, Tendulkar was expected to promote himself for further batting practice. Instead he sent a wildcard out to bat, promoting Irfan Pathan to number 3 - who promptly smashed an unbeaten 61 to complement Parab's ton, as West stormed to a 9 wicket victory.
---
Yuvraj's pyrotechnics smash South
It'd be an underestimation to say that Yuvraj has been banging on the selector's door for a spot in the playing XI at Mohali. Saying he's damn near broken the door down might be more accurate. A blistering ton against West Zone in North's Duleep opener was topped by another explosive display. With South Zone posting a total of 338 in a day and a bit, most lineups might have been concerned - but North Zone raced past the total, courtesy of a 57-ball 79 from Virender Sehwag that shows some bad omens for Pakistan's bowlers - and a 128 ball 110 from Yuvraj.
The spotlight though went to Haryana leggie Amit Mishra and Delhi quickie Amit Bhandari, who turned what was a decent lead at 366/9 into a mammoth one. 134 runs were piled up for the tenth wicket as the two tailenders swung their bats - Bhandari smashed four sixes with his 66 coming in just 51 balls - to take the total to 500. There were more good signs for the Indian team as Harbhajan picked up his first substantial bag of wickets, with both the Turbanator and Amit Mishra taking 4 wickets to keep their final target to 144.
When South rocked the top order with three quick wickets, it looked as if they might make a game of it - but Yuvraj wasn't done yet. Medium pacer Shrinivas went for 61 runs in under 4 overs as Yuvraj blazed to an unbeaten 38-ball 60 (7 fours, 4 sixes) taking North to another 7 wicket victory and sealing their place in the finals against Central. With Yuvraj's current form, there'll be plenty of pressure on VVS Laxman to perform if he is selected in the first test at Mohali.
---
Pace worries?
The only major worries to take from the Duleep have been the form of the quick bowlers selected - Nehra, Pathan, Balaji and Zaheer. After Nehra's 6-for against West Zone, both he and Balaji were smashed all over Indore in the South/North outing - Nehra picked up 4 wickets and Balaji 6 in the first innings, yet both conceded over 100 runs at almost 5 an over - worrying signs. Irfan Pathan showed his match fitness for West as well, yet a total of 15 no-balls in the game will cause some headaches for John Wright - as will Zaheer's unremarkable match figures of 2/80.
---
Finals ahead
Meanwhile, with all attention on the India-Pakistan tests ahead, North Zone and Central clash on the 8th March in Nagpur for the Duleep Trophy final. A week later, it's back to the Ranji games with Punjab taking on Mumbai in one semi final, and Railways playing Hyderabad - and with plenty of big names playing in the tests and the heavyweight lineups weakened enough to even out the contests, it should be interesting to see which teams come out on top.
---