Stats Corner: Dodgy LBWs and Aussie bowlers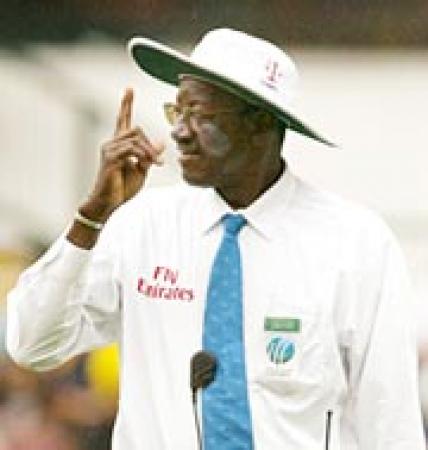 By Gambit and Thaleel
March 12 2005
As Mark Richardson recently claimed in an article of his, do umpires tend to gift LBWs more often than not towards Aussie bowlers - or is the fuss about a skew in umpiring errors all for nothing when those leg-before decisions are concerned? Stats Corner takes a look. Waqar Younis ended his career with 373 test wickets. 102 were bowled (27%), 110 were LBW (29%).

Richard Hadlee ended his career with 431 test wickets: 92 bowled, 83 LBW (21% and 19%).

Malcolm Marshall had 73 victims bowled and 76 LBW (19% and 20%).

Dennis Lillee had 54 victims bowled and 62 LBW (15% and 17%).

There's generally a trend in bowling where bowlers who normally bowl straighter, more wicket-to-wicket lines, tend to pick up a greater proportion of their wickets via bowled or LBW decisions with the basic idea of "you miss, I hit". For a few, such as Curtly Ambrose or Allan Donald, the numbers will tilt slightly in one direction or another - but only by a few percent. Yet, given the number of umpiring errors in recent years that have been highlighted on cricket broadcasts, the question must be asked - with so many decisions going in Australia's favor, are most of those truly earned - or gifted by the umpires?


---
The LBW/bowled numbers for the two main Aussie bowlers:
We start by looking at Australian pace spearhead, Glenn McGrath - to date he has 481 wickets in tests. Immediately a disparity is noticed - McGrath has bowled 59 (12%) of his victims... yet, a whopping 93 (19%) have been given out LBW. The statistics get more interesting in a shortened time period - most recently, since January 1st, 2000 - McGrath has 215 wickets. Only 24 (11%) have been bowled - and that number almost doubles, with 45 being given out LBW in that time period.
Shane Warne, the other key spearhead in the Aussie bowling attack, has a slightly more proportional ratio in his career - yet a surprising one, given the frequency with which most spinners (particularly those who turn the ball significantly) have LBW appeals turned down. Muttiah Muralitharan only has 87 LBWs to 126 bowled decisions, while Harbhajan Singh, Mushtaq Ahmed and Saqlain Mushtaq, all big turners as well, have almost 1:1 ratios of wickets bowled to LBW.
But Warne? 92 bowled... 110 LBW. Since 2000, the ratio changes even more - 30 wickets bowled, 46 (over 50% more) LBW. Certainly there isn't a correlation in his and McGrath's statistics when bowled and LBW decisions are concerned, breaking the usual pattern.
---
Home vs. Away:
It's been said a number of times by some that with the pressure Australian crowds exert, the Aussies' exemplary home record in recent times with a blemish only against India, and the histrionics of players like Warne, McGrath and Gilchrist with their exaggerated appeals and immediate celebrations, umpires are swayed to give marginal and not-so-marginal decisions in the Aussies' favor more often than not at home. This also takes into account a few of the last games played with home umpires, so that will also skew the data.
However, playing away since 2000, Glenn McGrath has 10 victims bowled, and 14 LBW. Shane Warne has 23 bowled and 20 LBW. Compare and contrast to the figures at home:
McGrath: 13 victims bowled, 25 LBW.
Warne: 7 bowled, 13 LBW. The ratio of bowled:LBW here almost doubles here, clearly marking the fact that yes, umpires are swayed by quite a bit whenever they're in front of a rabid Sydney or Melbourne crowd.
---
And the guilty party?
Looking at individual umpires in games Australia have played, both home and away, since 2000, with the combined LBW/bowled statistics for the McWarne combination - or whichever of them did play, if one wasn't involved. As bowlers could bowl from different ends with either umpire standing, the officials who in fact gave these decisions cannot be recorded - however, a few numbers stand out:
In games involving
Aleem Dar:
6 LBW, 4 bowled
In games involving
Billy Bowden:
10 LBW, 12 bowled
In games involving
Rudi Koertzen:
27 LBW, 18 bowled
In games involving
Darrell Hair:
5 LBW, 3 bowled
In games involving
Daryl Harper:
5 LBWs, 3 bowled
In games involving
David Shepherd:
14 LBWs, 11 bowled
But the real eye-opener here - where the numbers say all...
In games involving
Steve Bucknor:
51 LBW, 20 bowled - more than 5 victims given LBW for every two victims bowled, a ridiculous increase in the earlier ratio.
---
So just what's the point here?
It's more than evident here that unlike most of their contemporary pace bowlers or spinners, Glenn McGrath and Shane Warne seem to have a particularly skewed ratio of LBW decisions to wickets bowled, which raises questions - given some sort of general correlation between wickets taken via bowling batsmen and getting them LBW. What's even clearer is the disparity in the last 4-5 years, when Australia have become dominant in the world game and the way that since the start of the century, more LBWs have gone the way of these two bowlers than against.
But what stands out the most is the shocking change in the bowled/LBW ratios in home conditions as opposed to away, and the way the LBW-bowled ratio gets skewed with certain umpires involved - particularly Rudi Koertzen and Steve Bucknor. Perhaps umpires are subconsciously giving marginal decisions in the Aussies' favor as some say, perhaps it could be bias, as others say. But the stats show that one way or the other, the rub of the green seems to be going the baggy greens' way.