Day 1 at Mohali: Gamble on Balaji pays off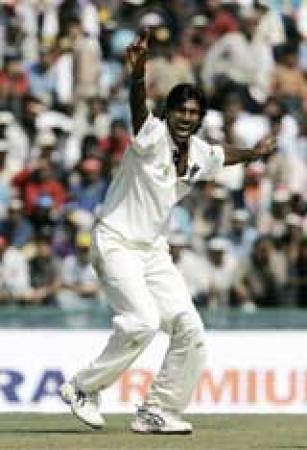 Five-for on return
By Thaleel
March 8 2005
Given Harbhajan Singh's form in the last few tests he played, with the Turbanator troubling first Australia and then South Africa's batsmen on home soil, and his stellar home record, leaving him out of the first game was no doubt a hard decision for the team management to make. Had India lost the toss and been inserted, Ganguly's call might have backfired and seen the Indians defending a total in the final day with three seamers on a pitch bound to get flatter as the game progresses. Had Balaji perhaps broken down or sprayed the ball inconsistently as he did in the Asia Cup following a brief hiatus, Ganguly would no doubt have been the target of plenty of vitriol from the media. Instead, he backed the Tamil Nadu seamer to the hilt, picking him ahead of Harbhajan Singh with the lure of a green wicket - and the decision paid off to a fair extent.

Irfan Pathan and Zaheer bowled a fairly good opening spell in tandem - while Khan sent down some unplayable deliveries at times, Pathan showed a combination of nerves and rust and was inconsistent with the new ball, bowling a few jaffas and plenty of loose ones as well - but after being reduced to 30/2 with Salman Butt being bowled and Younis Khan being trapped LBW, Pakistan fought back with Taufeeq Umar and Inzamam building a good partnership. Balaji had been running in hard with his new action looking good, bowling wicket to wicket and swinging the ball, and finally a loose swipe by Taufeeq before lunch gave Balaji a big wicket to start his comeback.

The post-lunch session saw a good contest between bat and ball, with Youhana and Inzamam both being dismissed - Inzamam's dismissal going completely against the grain of play, padding up to Kumble after an imperious 57. With the score on 190/5 before tea though, Balaji again showed his ability to strike at key intervals as Abdul Razzaq threw his wicket away, ending a brisk cameo that would have been more suited to a one-day game.

As the wicket began to lose whatever demons it had held in the morning when Zaheer had been seaming the ball prodigiously, Balaji continued bowling with good discipline - a wicket to wicket line on a superb length that troubled even the well-set Asim Kamal. After 80 overs when Kamal, Akmal and Sami had defied the Indian bowling and pushed the score back to 281/7, a fairly respectable total that had looked out of reach in the afternoon session, Ganguly called for the new ball - and this time tossed it to Balaji, who had toiled relentlessly with superb consistency.

The results left Indian fans wondering what might have occured, had Balaji taken the new cherry to start the day with the grass on the pitch providing plenty of help early on. Only four balls in, Balaji bowled a peach - angling in, pitching on off and straightening to knock back Sami's off stump. Two overs later, he struck with another beauty that ripped through Kamal's defense and rattled his stumps, before finally bowling an inswinger to Naved ul Hasan to start his return with his maiden five-for in tests.

With Pathan, Khan and Kumble all toiling in vain, Balaji walked off with the plaudits as Pakistan were bowled out for 312 by stumps - yet, a fair portion of credit for a relatively sub-par total would also need to go to their batsmen. Some poor strokeplay by Butt, Taufeeq, Youhana, Razzaq saw them gift wickets to the seamers and finish with a total that's far from what either Inzamam or Bob Woolmer would have been hoping for after being sent in to bat. Only Inzamam and Asim Kamal demonstrated the sort of temperament and technique that's needed for batsmen to perform at test level, ignoring the demons in the pitch and playing most balls on merit without trying to be flashy or over-aggressive, but the general inability to turn promising starts into massive scores has hurt Pakistan once again.

With Pakistan bowled out for 312 on a wicket expected to be a belter on the next two days, Indian fans will be hoping the only rain present is a torrent of runs from the top order, most of whom have been lacking form recently. Thoughts may go back to Rawalpindi, where India shot Pakistan out for a sub-par total on the first day and then piled on the runs for an innings defeat - but they should also remember Pakistan's recent test against Sri Lanka as a warning of what not to do, where after the Pakistani bowlers took charge on a good first day, the batsmen failed to press an advantage and eventually lost the test.

Four days still remain, and if India are to win this game, their best chance lies in batting out most of the next two days and getting as big a lead as possible. The bowlers have done their bit - now it's time for the batsmen to fire and do their's.