Test 2 preview: Selection worries in Kolkata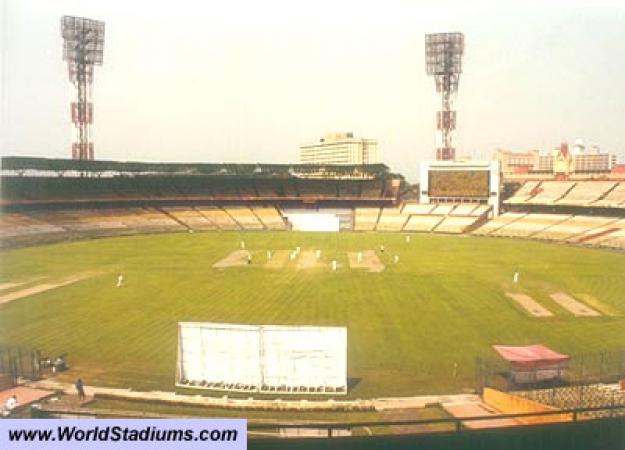 Eden Gardens
By Thaleel
March 16 2005
While all thoughts will be on winning the second test, starting in a few hours, in Eden Gardens - the Indian team management first needs to worry about the team composition that'll take the field on day 1. The performance in the first game led to a number of concerns regarding both the batting and bowling, and what seems almost certain is the inclusion of Harbhajan Singh to bolster the attack. Harbhajan's stellar record on Indian grounds, and in particular Eden Gardens where he's bowled his side to a number of victories, is almost sure to see him replace somebody - but the big question is whom.

Neither Zaheer Khan nor Irfan Pathan impressed in the first outing at Mohali - barring a sharp new ball spell on the first day, Zaheer generally struggled to bowl a consistent line and length, and was unable to get any sort of movement. Pathan's fitness is also a cause for concern - after being ruled out of the Challenger Trophy recently, the youngster came back for a single Duleep game for West Zone to show his match fitness and then struggled to generate any sort of pace in Mohali, where he also looked to be having trouble running in and hitting the deck hard.

Strong cases will be made for both men to be axed - Zaheer has taken just 20 wickets in his last 10 tests at an average of just under 50, and the fitness of Pathan should by no means be risked. Ashish Nehra - the other bowler in the 14 man squad - appears unlikely to be given a game though, and the team will most probably take the field with a two-man pace attack of Pathan and Balaji, or Zaheer and Balaji to complement the spin jugalbandhi.

The batting though should raise fewer worries - yet after the performance at Mohali, there might well be a case for Yuvraj Singh's inclusion in the playing eleven. What stood out in the Pakistani innings was uninspired and uninspiring fielding from the players, who looked like a geriatric unit on the field at times. Ganguly's hashed attempt to take a skier from Abdul Razzaq summed it up - and a number of other catches were spilled, while boundaries and easy singles were leaked. Both Harbhajan and Yuvraj are two of India's younger and better fielders, and particularly if the latter is on the field most of India's innings, it could mean as much as 20-30 runs being saved in a day's play, with more catches being taken.

What also could be used to make a case for Yuvraj will be Gautam Gambhir's performance under the helmet - unlike his predecessors Akash Chopra and Yuvraj Singh at the bat-pad position, Gambhir has struggled to hold onto a number of catches and to stop some runs - and given Yuvraj's outstanding fielding performance in the last tests he played, where he picked up a few blinders at short leg in Bangalore and Chennai against Australia, it could be another major difference maker.

Anil Kumble and Harbhajan have been particularly dangerous when their close-in fielders have supported them, as they did in the recent series against Australia and Pakistan last year, and given that the Eden Gardens wicket is expected to turn at some point or another where both spinners would become major factors in the game, the importance of a strong close-catching cordon cannot be underestimated.

However, the key to India perfoming well here will be the batting once again. Both Gambhir and Sehwag impressed at Mohali, while Tendulkar got a substantial score under his belt - but despite both Laxman and Dravid scoring fifties, it seems as if the lineup's still lacking the collective form that was on display last year in Australia and Pakistan.

While Sehwag's innings have often demoralized opposition and sent them onto the backfoot, the Indian middle order at times has been guilty of failing to push the advantage onwards from there and releasing the pressure - and what's more worrying is the prospect of the lineup putting up only a mediocre total if the dashing opener doesn't get going. Out of the current lineup, only VVS Laxman has a truly impressive record at Kolkata which might make it even harder for the think tank to pick Yuvraj over him - but it's high time that some of the others made some improvements to their current records at Eden Gardens.

Most important though, if India are to do well, will be the attitude they show coming into this game. There were several points in Mohali where a crushing victory seemed certain, yet India allowed Pakistan to slip away and escape with a draw. Pakistan might again play attritional cricket, peppering the batsmen with bouncers to try and stop them scoring and using defensive fields to choke the runs, as they would no doubt prefer returning home with a drawn series instead of a lost one. India will need to show an almost Australian mentality, with some positive and aggressive batting, bowling, fielding and far more attacking field placing if they are to win here and take the lead in this series.