A look back at the first two days at Kolkata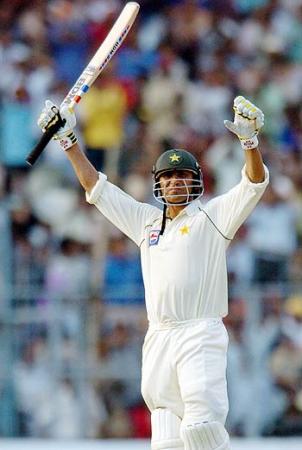 108* at stumps
By Thaleel
March 17 2005
Thoughts after day 2 of the second test between India and Pakistan at Kolkata, as India dominated briefly, then surrendered the advantage to Pakistan.
Day 1:
• Yet another dazzling start by Sehwag and Gambhir. It may not have been as explosive as the run-a-ball century partnership at Mohali, yet Indian fans will enjoy a degree of relief at finally seeing an opening combination of some merit - the last three partnerships between the Delhi duo have both yielded partnerships of over 75.
• What's worrying though is Gambhir's tendency to over-attack, perhaps trying to match Sehwag or getting carried away, and getting out. Both dismissals so far have seen him throw his wicket away trying to dominate Danish Kaneria, and it's vital that he learns to knuckle down once he gets a start, and converts it to something big.
• Of course, in getting a start, he's done more than a few other Indian batsmen. While Dravid and Tendulkar both got starts, before Tendulkar played a wild slash after reaching 50, and Dravid dismissed by a beautiful leg break at the close of play, Ganguly and Laxman threw a great start away. Sehwag, Dravid and Tendulkar might have felt like banging their heads on some hard surface once the score fell from 278/2 to 344/6 by stumps.
• While Tendulkar was guilty of getting carried away by the increasing scoring rate, Ganguly and Laxman both played terrible shots at the worst possible times. Ganguly should have known that a second wicket so soon after Tendulkar's loss would bring the Pakistanis back into the game, and Laxman's casual flick across the line was fatal for the middle order as India squandered a superb start.
• Flashbacks perhaps, to the MCG on Boxing Day 2003, when on day 1 a Sehwag special was followed by a spineless collapse? India had powered to 270-odd for the loss of Chopra, when a loose shot from Dravid was followed by Tendulkar's first-ball duck, and a disgraceful capitulation the following morning to 360-odd all out. Sehwag then had slogged his wicket away with a mindless heave, and once again perished trying to hit Afridi out of the ground. Yet, say what one will about his modes of dismissal, he's been producing the runs consistently for a while now - something most of the batting has failed to do. If he fails, what could it mean for our innings?
• Dinesh Karthik looked extremely jittery at the crease, perhaps betraying some worrying nerves. While competition in the form of Parthiv Patel's improved form in domestic cricket and Mahendra Singh Dhoni is always healthy, it looked as if Karthik was under a good deal of pressure - but given the situation he came out to bat in, very understandable.
• And of course, a mention for the big milestone - Tendulkar's 10000th run. It's a testament to his class and ability that he's scored as many as he already has... and he's just 31. Steve Waugh played until he was 38, Alec Stewart until the ripe old age of 40. If the mind and body are both willing, god only knows what the maestro from Mumbai might achieve.
---
Day 2:
• The big question had been if the tail could stand up when it mattered. A few 'boy on the burning bridge' contributions against Australia were good for some degree of face-saving, but with a competitive total needed, could they perform? Karthik got run out in a dreadful mix up, Balaji bowled by a quicker one from Afridi and Pathan beaten once again by Kaneria - but thankfully, some fireworks from Bhajji and Kumble took India beyond the 400 mark. Given that the score had been 278/2 the previous evening, a disappointing final score to say the least.
• And what went through match referee BC Broad's mind when Balaji lost his off stump? Broad recently had reported Muralitharan, Shoaib Malik and Harbhajan for having suspect actions - and with two of the three bowlers having been vindicated of chucking, Broad might have been thinking twice about reporting what looked like a number of blatant chucks from Afridi. Let's hope he sticks by his convictions, as Afridi's action looked ugly and a kink in the elbow seemed visible on replays of the quicker one.
• More butter-fingers on display in the field. And dives either missing the ball, or going over it. India looked like geriatrics out there at points - Younis Khan and Yousuf Youhana in particular, looked superb running between the wickets, consistently picking up singles that an Aussie, Kiwi or South African fielding unit may have stopped. Meanwhile, India's two best fielders were sitting on their rear ends and following the game from elsewhere.
• While the wicket had shown a few demons the previous evening, with Kaneria getting sharp turn and bounce, and Razzaq reverse swinging the old ball superbly, India's bowlers looked club-class at times. Pathan's fitness is a worry - he rarely clocked over 130 kmh, and wasn't swinging the old or new ball a fraction as much as he had been moving it a few months ago. Kumble looked a ghost of the bowler who had taken 74 wickets last year, and Bhajji was misused and never given a long spell to settle into a rhythm.
• Even then, outstanding batting by Youhana and Younis - particularly from the latter under huge pressure for his place in the side. India's lead has already been whittled down to a mere 134, and a major first innings deficit looks more than likely. With both Youhana and Younis Khan looking in fine form, and Inzamam, Kamal, Razzaq and Akmal to follow - India might be in for a day of leather hunting. Unless we see a miraculous performance in the first session tomorrow, India will need to bat out of their skins to keep the game on an even keel with a Pakistan side that's looked hungrier and more desperate to dominate this series than their counterparts.