Day 3 at Eden Gardens: India back from the dead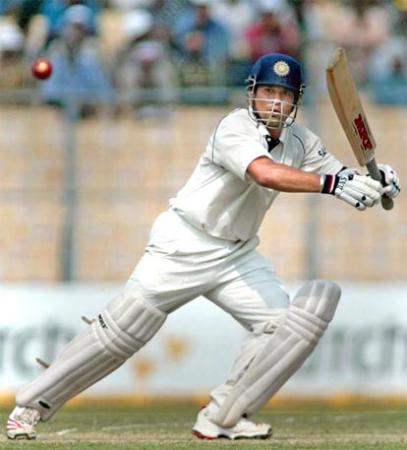 By Thaleel
March 18 2005
After the first two days, it seemed as if the Kolkata test was about to go the same way as the MCG Boxing Day test of 2003 did for India. Two good sessions with the bat, then a collapse and a few days of leather hunting as they were comprehensively batted out of the game. Under Saurav Ganguly and John Wright though, this Indian team has evolved. In 1999 or 2000, faced with an opposition scoreline of 273/2 and a batting depth going down to number 8, India might have conceded an obscene total and let the opposition run away with the game. Instead, they showed the sort of fighting spirit they've developed under Wright and Ganguly in the last 4-5 years. Laxmipathy Balaji came out with a plan after having been hammered yesterday by Youhana and Younis, and promptly removed the former, suckering him into an ill-judged leave.

After a brief partnership by Inzamam and Younis Khan ended, Ganguly finally stepped up to the plate. Field placings became tighter, Asim Kamal struggled to find gaps and eventually, when Younis and Kamal set off for a risky third run in an attempt to press the scoring rate upwards, Ganguly and Tendulkar combined for a relay throw that ran Kamal out. With the score suddenly reading 347/5, India were back in the game to some extent, but Younis was still there.

When they would have defended in the past, placing men on the fence and perhaps just a close catcher or two, Ganguly ran the risk of keeping two slips and a wide gully for Younis Khan, who was on the way to turning his hundred into a mammoth score. Frustration from the lack of runs available and Kumble's tight line forced him to finally take a risk, and Younis ended up providing Laxman at second slip with catching practice. From thereon, India looked unstoppable. While even some optimists struggled to think of ways India could claw back, Harbhajan and Kumble scythed through the tail and did the unthinkable - earned India a first innings lead.

From 273/2 overnight, Pakistan had crashed to 393 and while some blame would go to the batsmen, for Youhana's ill-judged leave and Akmal's hoick that seemed to be taken out of a Twenty20 slogfest, plenty of credit would have to go to India for some aggressive fielding and much improved bowling. Unlike Melbourne's capitulation, India scrapped and gritted their way through tougher periods - and clawed themselves back into contention.

With the game in the balance following the two quick wickets of the openers, Rahul Dravid and Sachin Tendulkar brought India back into the ascendancy with a fine partnership that was only broken up by a familiar sight for Indian fans - Steve Bucknor making another howler of a decision. This time Sachin Tendulkar was the recipient of the trigger-finger, and a partnership that looked to be taking the game away from Pakistan was broken up at the ideal time for the opposition. It's become a more and more familiar sight in plenty of games now with a handful of players from different teams getting robbed of fair LBWs or bat-pad chances or being shot down in the midst of an innings, and one the ICC needs to address with the standards of Steve Bucknor deteriorating repeatedly and the list of his victims growing longer - Tendulkar and Murali Kartik in Australia a season ago, Brendon McCullum and Daniel Vettori Down Under last November, Graeme Smith and Shaun Pollock in South Africa being robbed against England, and now Tendulkar in Eden Gardens.

Even then, Bucknor's latest display of incompetence was just a blot on what otherwise was a fantastic sign of what this team has come to achieve in the last four years under Wright and Ganguly. Kolkata in 2001 and Adelaide last in 2003 were superb examples of how the Indian team now can fight back from situations where matches seem to be lost, when following on or when facing a first innings opposition total of over 500. The efforts of the Indian team today have made up for two sessions of lackluster batting and some uninspired bowling and fielding, and with today's comeback and the momentum lying with India, there is a chance now that Kolkata 2005 could join the list of hard-fought Indian wins that have come under the Wright-Ganguly jugalbandhi.