Anil Kumble - Pakistan's bogeyman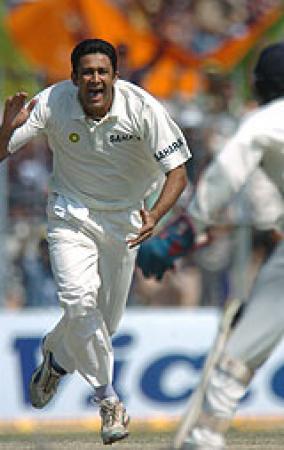 38-16-63-7
By Thaleel
March 20 2005
When Inzamam ul Haq's off bail hit the ground on day 5 at Kolkata, it went down as the seventh time in seven tests that Anil Kumble had dismissed the bulwark of Pakistan's batting lineup. In recent contests in whites, if India has had the wood over Pakistan, it's because of one man who seems to have almost always played a key role in Indian wins over Pakistan. In Delhi in 1999, Anil Kumble ran through Pakistan's batting in the second innings to finish with a perfect 10. At Multan, once Sehwag had smashed the attack to all parts, Kumble ran through the lineup in the second innings to pick up 6/72 as India eased away to a massive innings defeat. Five more wickets fell to him at Rawalpindi, and once again today, Kumble scythed through Pakistan.

Having been hit all over on the second day, Kumble fought back with his trademark resilience and grit on the third to take the key wickets of centurion Younis Khan and Abdul Razzaq, before snapping up Mohammad Khalil. However, he would be needed most for Pakistan's final innings. Pakistan had escaped from the jaws of defeat at Mohali with a superb partnership between Kamran Akmal and Abdul Razzaq, and set 422 runs in just under four sessions, Indian fans were afraid of a repeat performance.

On the evening of day 4, Kumble was one of the few bowlers to hold firm in the face of a manic assault from Shahid Afridi, troubling the slogger early on while the other bowlers were hit to all parts, and eventually removed him with his penultimate ball of the day. From thereon, Kumble was unstoppable. Pakistan would have hoped for a good start to the final day if they were to even play out a draw, thoughts of winning aside, but Kumble beat Younis Khan all ends up with a quicker one first up as Dinesh Karthik completed a superb stumping. After that came the big wicket - Inzamam had been troubled by Balaji and Kumble for a few overs and put under pressure with a number of close LBW shouts, and Kumble eventually bowled him with a quicker one that skidded through his defences and went off the pad to the stumps.

From thereon, Pakistan were fighting to save the test - yet, every brief partnership that provided their fans with hope kept getting snuffed out by India's colossus. Right when Youhana and Kamal were creating worries for Ganguly, Youhana fell to a bad-pad catch - and Razzaq came and went, bowled through the gate by a quicker one that knocked out his leg stump. When Asim Kamal, Pakistan's last bastion of hope, tried to work one around the corner and played straight into Kaif's hands, all hope seemed to have disappeared.

Kumble finished with stellar figures that would yet again torment the opposition - 7/63 off 38 overs - as Pakistan imploded to be bowled for 226 after a blazing start the previous day - this too, on a wicket that had not been misbehaving too much. The ball bounced or kept low, not rare on fifth day wickets, but it never was a minefield or dustbowl where bowlers were unplayable. Yet, backed up with a ring of fielders around the bat thanks to India's massive lead and the support of Laxmipathy Balaji and Harbhajan Singh from the other end, Kumble just kept extracting what variable bounce he could from the rough, varied his pace and turn superbly and had the entire Pakistan lineup in knots struggling to survive. Most didn't, as Kumble passed another milestone - he now has 53 test wickets against Pakistan, averaging 23.34 with the ball against them.

More than Dravid, Tendulkar and Sehwag, Pakistan might be worrying themselves about the lethal leggie who's been their bogeyman in the past - and continued in that role once again - as they go to Bangalore for the final test. Kumble has a stellar record on his home ground, with 34 wickets from his six tests there at an average of 24.50 - and if Pakistan are to hope of leveling the series at the Chinnaswamy Stadium, they will first need to find a way around Kumble.