Day 5 at Eden Gardens: Jumbo jangles Pakistan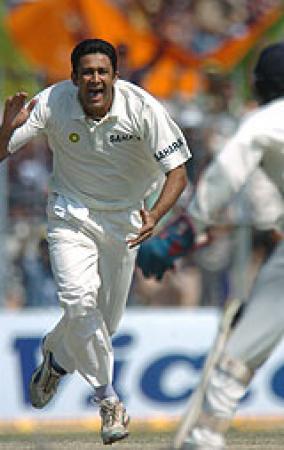 Pakistan's tormentor
By Shehezaada
March 21 2005
I'd like to recall a brief incident that comes to my mind whenever I think about Kumble. While batting on the bouncy tracks of the West Indies in 2002, a snorter of a delivery from Mervyn Dillon fractured Anil Kumble's jaw. Eyes gleaming, Kumble loped off the field, and even his most ardent supporters wouldn't have expected him to make a comeback attempt in the series. But they were shocked when Kumble emerged from the dressing room just a day later when India were bowling. Face plastered and bloody, covered in bandages, Kumble demanded to bowl and despite an injury that would have had most people in the hospital, Kumble gritted his teeth and bowled a number of overs, eventually producing a beauty of a flipper to trap Brian Lara plumb in front.

That is what you call fight - the ability to put yourself on the line for your country's pride. That fight, and hunger, was in full force today at the Eden. If you want to get a picture of intensity, take a snapshot of Kumble. It's there in spades.

The day started off very simply for Pakistan. 327 to win, or 90 overs to draw. They could choose to be positive and go for the win, or try to kill time on a wearing pitch. The route they took though, was a mixture of both. There had been attacking cricket from the likes of Afridi the previous day, and on the other hand, a more sedate innings of 0 off 32 from Mohammad Khalil. Only one man took the right way to go about things: Asim Kamal, with a superb innings of 50, balanced attack and defense perfectly as he held the opposition at bay as long as possible. One couldn't help but feel, however, that they chose both and fell between both stools.

Kumble started the proceedings for India with a slightly misguided delivery, first up, to Younis Khan. It pitched outside leg and climbed a little, causing Younis to overbalance and trod out his crease. Dinesh Karthik showed the wonders a good knock can do for a keeper's confidence, and coming off a horrific test match in Mohali, the young keeper gathered the ball superbly and whipped the bails off before Younis could make his ground. After 147 in the first innings, Younis left for a duck, and Pakistan were 95/2. A wicket on the first ball of the day was just what the doctor ordered, and that was all that Kumble needed to get his rhythm going as the Indians stepped up the intensity level in the field.

What followed was a brilliant, almost intimidating, spell of bowling from the leg spinner. Hustling Inzamam on to the backfoot is quite an accomplishment, and Kumble did it with seeming ease. A measure of his intensity was seen when after 4 dot balls, Inzy whipped one to midwicket where Balaji misfielded, allowing Inzy to get off strike. Kumble shouted angrily, eyes blazing. Rightly so, when you have a batsmen in trouble, you want to keep working on him six balls at a time.

In any case he didn't last very long. Nervous and unable to find his usual rhythm, Inzy lunged forward at Kumble, not accounting for the extra zip off the deck, and the ball went through bat and off pad to disturb the timber. What followed was worse. Balaji steamed in to begin the next over and released a ripper, pitching just short of a length and swinging and bouncing sharply. Umar failed to pick up the line and pushed it straight to Sehwag stationed at second slip. Two balls, two wickets and India were on a roll.

Youhana, who's quite a collected individual, and the hugely impressive Asim Kamal had other ideas. Refusing to be fazed by the situation, they played percentage cricket, knocking the ball into the gaps and looking quite comfortable, barring Youhana's tendency to go on the backfoot to Kumble every so often. He was a sucker for the LBW shout but for the inside edge on quite a few occasions. Pakistan took an uneasy lunch at 177/4.

Post lunch though, Youhana fell. Reversing his tendency of going back, he prodded forward. The ball took an unwarranted bounce and hit the maker's name, popping up to Gautam Gambhir to snap it up. A rather laboured innings of 22 off 89 for the former vice captain, and Pakistan were suddenly in a lot more trouble at 178/5.

Razzaq seemed lost in the middle. Completely ignoring the idea of the occasional single, he either lunged forward defensively, or set himself straight and swung for glory. One attempt sent a Kumble delivery soaring over long on for six, but almost embarrassed at his own audacity, he proceeded to meekly defend the remaining deliveries. Eventually though, Razzaq fell - a searing topspinner from Kumble skidded through Razzaq's defenses, and took the leg stump out of the ground.

Enter Mohali hero number 2, the diminutive Kamran Akmal. Like Youhana, he looked good while he lasted, looking for deliveries to score, and if it wasn't in the slot, he'd look to push for a single. His innings, however, was cut short by one moment of brilliance from Harbhajan Singh. Largely forgotten in the morning session, Bhajji had taken to bottling one end up. Here, he changed tack, and began flighting the ball to Akmal, recalling how he had gotten him off a straighter one with a slog to mid on in the first innings. Full marks to Bhajji then, for after 3 vicious off breaks that were defended astutely, Bhajji produced the straighter one. Akmal played for the turn which wasn't there, and found off and middle pegged back - 203-7.

Asim Kamal at the other end had been playing a fighting innings. He seemed the only batsmen that knew that was required of him. Kumble was negotiated with minimum fuss, as he took to smothering the turn at the half volley stage, and when the ball was short, Kamal would rock back to cut or pull. Losing concentration however, did it for him, as he tried to glance a ball from Jumbo that got big on him. Mohammad Kaif at short leg, substituting for Irfan Pathan, picked up a sharp catch to really pin Pakistan's hide to the mast.

The tail enders did give it a shot. Sami in particular, showed good defensive technique, but they never had a chance. Kumble sent a flipper through at a pace that teammate Balaji might have envied to trap him LBW, Bhajji followed by sending down another straighter one to castle Danish Kaneria… and the crowd erupted. The Indians were jubilant, hugging each other and triumphant with the Kolkata curse finally broken - it was the first time India had won against Pakistan at the Eden Gardens, in tests or one-dayers. Pakistan was gallant in defeat, but must remind themselves that they had no business losing 8 wickets for 120 runs.

Full credit must be given to India for playing some superb cricket. They fought their way back each and everytime, and they have the Karnataka boys, Dravid and Kumble to thank for this one; Dravid in particular, with twin hundreds as he once again served as the bulwark of the Indian batting.

A tale of two captains remains in this series. One under fire for his batting, and one under fire for his captaincy. Ganguly, however, refused to let his batting failures cloud his captaincy on the day, and the results are plain to see. When he puts his mind to it, he can be astute and thoughtful. Perhaps he needs to remember that a couple of boundaries doesn't warrant an immediate revamp of the field.

For Pakistan, a lot of work remains to be done. They'll surely be looking to bring in off spinner Arshad Khan for Mohammad Khalil who looked flat. With his bustling flight, he could be a key weapon on a potentially turning track at the Chinnaswamy. And the batting's been a cause for worry, with twin collapses in both innings. Will they take a leaf out the batting of Tendulkar, Dravid, and Karthik and remain positive? Or will they capitulate again, to the wiles of the two spin twins?