Kolkata test in review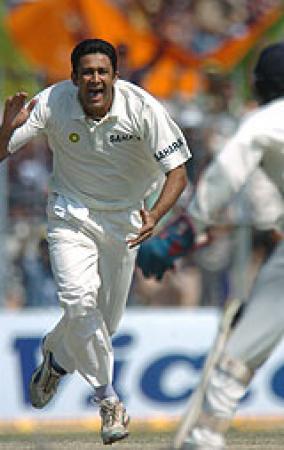 By Captain of Bhangra
March 21 2005
Pakistan head for Bangalore fresh from a loss in Kolkata; inflicted on them by the do or die attitudes of Rahul Dravid and Anil Kumble who crushed any hopes they had of surviving on the fifth day, let alone chasing a huge target for victory.
Eden Gardens, Kolkata, is renowned for producing the greatest atmosphere in Indian cricket with a passionate crowd of cricket lovers. Indian fans have witnessed some great moments here that involve their national side, and over the last five days, they were treated once again to one of India's most memorable home victories.
Pakistan came into this test with the knowledge that they had never lost here in either form of the game. In fact, the last time they played a test in Kolkata (in 1999), they emerged victorious. Saurav Ganguly though is not one to think of history - after all, this time last year, India had never won a test series in Pakistan, while now they have two innings victories there, and a series win to boot.
---
Day 1: India set the pace
The pitch was expected to be the standard Kolkata fare that would be a batting beauty for the majority of the match, gradually breaking up and favouring the spinners as the game progressed. This, as well as other factors, contributed to the selection of Harbhajan over Zaheer. Pakistan meanwhile continued their trend of inconsistency in choice of openers. The young Salman Butt was dropped in place of Shahid Afridi, who would be utilised as another spin option to partner the in form Danish Kaneria, while Mohammed Khalil came in for an injured Naved-ul-Hasan.
No one would want to be batting on day 5, so it was no surprise when Ganguly won the toss and sent Sehwag and Gambhir in. Pakistan immediately had flashbacks to Mohali as Sehwag began to torture Sami and Khalil, flaying an offering of wide half trackers and overpitched buffet balls all over the ground.
Inzamam found himself having to play with field settings early again, as Sehwag looked to get 2 centuries in a series for the first time, and with the pacemen visibly struggling, Danish Kaneria ended up being brought on within the first hour itself. The openers looked to destroy his confidence by attacking him right away, but the leggie struck the first blow for Pakistan by removing Gambhir LBW.
Shahid Afridi accounted for Sehwag who had reached a sublime 81 and had looked set for another big score, but (ironically considering the bowler), lashed out and threw his wicket away. India still looked comfortable however, as they had 156 runs on the board. The game was then taken away from Pakistan as Tendulkar and Dravid put on a 122 run partnership, before Sachin departed for 52. There followed an amazing comeback from Pakistan, who took 2 more wickets with only 20 runs having been added, and were through to the tail. India were on 298-5, and had been hit by a Razzaq double strike reminiscent of Shoaib Akthar at the same ground in 1999. Dravid patiently reached his 100 but was removed with the day's last ball, a spirited perfomance by Karthik got India to 344-6 at the end of day 1, but trouble was ahead.
---
Day 2: Pakistan fight back
Day 2 began, and the tailenders put in a brave performance to get India to 407, but the total on a batting track, after being 278-2, was disappointing to say the least. Even worse for India, the pitch had become a better batting surface, so early wickets were crucial. The ever predictable Shahid Afridi gifted his wicket to Irfan Pathan, but not until he'd managed a spanking 29 from 21 balls. The run rate slowed as expected, and Taufeeq was dismissed by Balaji, giving India the edge, but the Pakistani middle order had already proved itself to be dangerous, so the Indians were wary.
The day would prove to be disappointing for Indians and the Pakistanis were eyeing another test win at Kolkata, as no more wickets fell. Younis Khan and Yousuf Youhana fully took advantage of the track and made a mockery of the Indian bowling, putting on 203 runs together, and both reached their centuries, remaining not out overnight. India had no answer, and the fans were stunned.
With Inzamam still to come, and the likes of Asim Kamal, Abdul Razzaq and Kamran Akmal to follow, it seemed a formality that Pakistan would reach 550, and burden the Indians with a daunting lead.
---
Day 3: India wrest back the advantage
Day 3 began with the Pakistanis looking for that huge total, and day 2's heroes raring to go. Indian bowlers pulled a performance that was to stun the Pakistanis, and equally fire up the Indian fans. In almost a carbon copy of the Indian collapse, Pakistan lost Youhana with 9 runs being added to the partnership. Pakistan were 281-3. Inzamam and Younis showed resistance, but Pathan made a vital breakthrough, having the Pakistani skipper caught behind for 30. The total was now 331-4. Suddenly, the Pakistanis were under pressure, and it was shown when the usually solid Asim Kamal was run out for 6. Pakistan stumbled to 393 all out, an incredible comeback by the Indian bowlers, who had been so ineffective just the day before. They had taken 8 wickets, for just 120 runs, and more importantly, India were not behind, in fact they were 14 runs ahead when they came out to bat again.
Swaying fortunes had put the match in the balance. Mohammed Sami had not troubled Indian batsmen so far on this tour, yet he managed a peach of a delivery to rattle Gambhir's stumps and put India on 14-1. He then had a stroke of luck that led to Sehwag being bowled in a rather freakish manner, and India were again in trouble at 23-2 (effectively 37-2). Rahul Dravid had been a hero with a century in the 1st innings, and another similar effort would be required to save India.
Just as with the 1st innings, Tendulkar and Dravid put on a strong partnership, only this time, it was more important, steadying the innings, and digging India out of a hole. Tendulkar appealed to Umpire Steve Bucknor for bad light to end play, perhaps not sighting the ball too well. The request was denied. Shortly after this exchange, Razzaq produced a delivery that swung away from Tendulkar and in to Akmal's gloves. The Pakistani appeal was upheld, and Tendulkar was given out, despite not making contact with the ball. The bad light had clearly affected Bucknor's view, and 2 overs later play was ended for the day.
---
Day 4: Karthik and Dravid seize the initiative
The Indians began Day 4 knowing that Tendulkar's dismissal was a huge blow, but they would need to graft to build a safe lead. They began the day at 133-3, and were soon in trouble when a foolish needless pull by Ganguly was lofted, and ended in his dismissal. A huge partnership was required from Dravid and Laxman, but Sami struck a vital blow - literally. A bouncer crashed into Laxman's helmet and forced him to retire hurt and the young wicket keeper, Dinesh Karthik took guard. By now, a total of 300 for Pakistan to chase was looking far-fetched, but Karthik played the most important innings of his life.
Dravid continued his 1st innings heroics, and got his 2nd century of the match, the 2nd time he'd performed such a feat. He was again proving to be India's saviour, but the strength of Karthik's performance was adding to India's chances, and the match was slowly coming into India's control. Dravid was dismissed with India effectively 335-5, and India already in a good position. The superb contribution of Irfan Pathan, and further heroics from Karthik were frustrating the Pakistanis, and Karthik fell 7 short of a much-deserved maiden ton. This inspired show meant that India declared on an unbelievable 407-9, and Pakistan were under pressure.
The visitors would have to either chase down a world record 422 runs to win the test, or survive 110 overs. Their tactics were made clear by Shahid Afridi, who came out, again blazing away, and had Indian fans worrying. It was possible that if Afridi's luck could hold, Pakistan could benefit, but a vital strike from Kumble had Afridi leaving with 59 at a run a ball. India knew that again, the run rate would drop, but Afridi had ensured that Pakistan ended the day on 95 for the loss of just his wicket, and they needed 327 runs on the final day. While India would have seemed clear favourites before Pakistan began their innings, Afridi's assault meant that all 3 results were now possible, and a game that had swung to both sides was now in the balance, although still marginally favouring India.
---
Day 5: Kumble wraps it up
Day 5 began, with India's bowlers needing to pull off another great show at Eden gardens. The crowd was ready, and vociferous with more people being able to attend on the Sunday. The Pakistani's were further boosted by the fact that the pitch had not broken up as expected. India's spinners were going to be crucial. The perfect start would be an early wicket, so it was no surprise that the crowd erupted when fantastic glovework from Karthik removed Younis Khan off the day's 1st ball. Kumble was ecstatic, and Younis Khan, looking to come forward, had put his side under more pressure, which would help India.
Inzamam strode out, promoting himself ahead of Youhana, and hoping to pull off a great knock under pressure. The run-rate was helped by him immediately playing his shots, but there was a hint of uneasiness about his play. The Pakistani captain went to defend against Kumble, and deflected the ball on to his bail. Kumble had 3 wickets, and a repeat of his perfect 10 against Pakistan was being discussed. This was ended immediately, the very next ball in fact, when Balaji had Taufeeq Umar caught by Sehwag in the slips. Pakistan were 115-4 and in serious trouble. India, were on fire.
It would have been a wise move for Pakistan to attempt to save the match, a win was extremely unlikely now, a draw was also not looking to be on the cards. Both Youhana and Kamal had previous experience in frustrating India, and began resisting for the rest of the session. They came out after lunch knowing that victory was not an option. India were also looking more relaxed knowing this, but there was still a job to be done. After lunch, they faced up to Balaji and Harbhajan, who was surprisingly finding success evading him. The Batsmen were beginning to find their feet, and look settled, so Kumble was put back in to the attack.
With his 3rd ball in the session, he removed Youhana, who got a thin inside edge, to present Gambhir with a chance. Kumble was winning it for India. Kumble then removed Razzaq, and Harbhajan picked up Akmal, his 1st of the innings, to bring in the tail. Kumble finally broke down the defiant Asim Kamal too, and the Indians went in for tea needing to take 2 tailenders out, in the final session. 1st ball after tea, and Anil Kumble continued to thrill the crowd, catching Sami plumb for a leg before decision.
Harbhajan soon cleaned up Kaneria, and India had won against Pakistan at Kolkata for the 1st time. The victory had put India 1-0 up in the test series, and meant that whatever happened, they could not lose the series. It was 18 years and 3 days since Pakistan had won a test series against India, their dominance was surely no more, if any doubt was still left after the 2004 series in Pakistan. The Pakistanis had been undone for the most part, by Anil Kumble, and Rahul Dravid (man of the match). Both players had troubled Pakistan before, yet the Pakistanis still struggle to find the answers to such class.