Indian Fan reacts to Tendulkar innings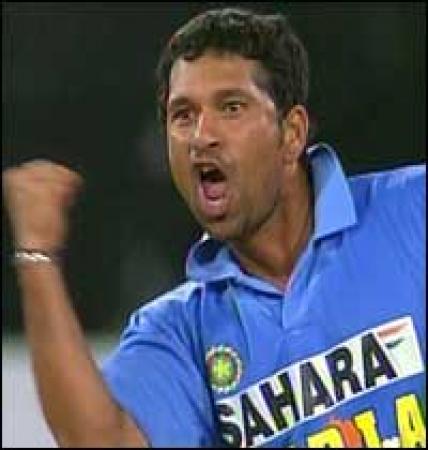 By DTB
April 7 2005
An Indian fan's reactions to the many innings of Sachin Tendulkar. Expectations run high, but disappointment is always looming on the horizon. Scenario 1: Sachin Tendulkar scores 105 in ODI, and India loses by 10 runs while chasing.
Desi Fan: How could he get out at 105? He is not a match winner. He should have finished the match. So what if 6 wickets fell for 20 runs after Tendu got out. It's all Tendu's fault.
Scenario 2: Sachin Tendulkar scores 105 in ODI, and India wins by 10 runs batting first.
Desi Fan: Yaar, he slowed down between 90 to 100, which could have cost us the match. Damn, he is selfish. I don't care what his contribution is. All I remember is that he took 15 balls to score ten runs between 90 and 100.
Scenario 3: Sachin Tendulkar gets out scoring zero in ODI, but bowls a crucial spell to bowl India to victory.
Desi Fan: Why the hell can't he be consistent? Out of five matches, he scored in only four and that too only two hundreds, one fifty and 38. How can he score a zero in this crucial match, man. Should have scored at least a quick 30. I don't remember his bowling contribution. All I can see that he didn't contribute while batting.
Scenario 4: Sachin Tendulkar comes back from injury and scores 100 even after a long layoff.
Desi Fan: Damn, his scoring was slow. A strike rate of 70 won't do much for us. I have selective amnesia and I conveniently forget that McGrath bowled badly for the first few ODI matches during his comeback from injury. Don't expect me to use common-sense when it comes to commenting on Tendu.
Scenario 5: Sachin Tendulkar hasn't scored a 100 for the last five ODI matches, but still averages 40 in those matches.
Desi Fan: Yaar, he isn't consistent. He should retire, man. He is past his prime. Forget that he has been consistent for 15 years.
Scenario 6: It's off season and no matches have been played for the past 2 months.
Desi Fan: How come Tendu hasn't scored a 100 in the past 2 months!! And he should have at least taken a few wickets! Do I hear somebody telling me that no matches have been played for past 2 months? Why do I care? I'm an Indian fan and when it comes to comments on Tendu, I don't believe in logic or common sense. As far as I am concerned, Tendu hasn't done this. Or that. He is not a James Bond. When he becomes James Bond, I'll still complain about him not being Superman. Even if he becomes both, I'll complain.