Tendulkar vs Dravid - Part 2 Alternative View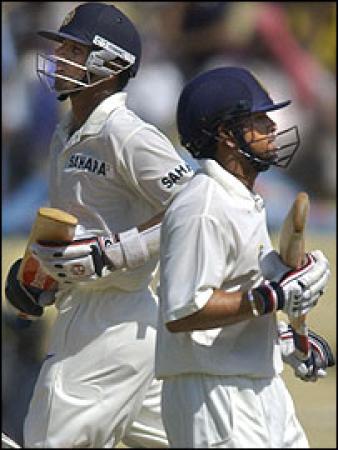 India's finest
By Shwetabh S
June 27 2005
Who was a better Physicist, Newton or Einstien? Who was a better painter, Michaelangelo or Da Vinci? A better writer, Camus or Sartre? These, like who is a better batsman Tendulkar or Dravid, are questions to which finding an objective answer is not possible. They are great batsmen with their own styles, strengths, and weaknesses. Statistics, and specially their selective use, can be used to portray one as better than the other, but what one does is merely to highlight their strengths or weaknesses.

Tendulkar supporters will point to the depressing 90s to show that he is a better batsman when he performed in a team lacking cohesiveness, a top quality bowling attack, and good openers. Dravid supporters will jump on to argue that it is Dravid who has actually made use of this improvement in the team to produce match winning innings. But the issue of who is better will remain unresolved because what both camps have done is merely to highlight the strength of their hero while downplaying the strength of the opponent. It can equally well be argued that if Dravid lacked the ability to produce stirring innings in a team which was given consistently poor starts, Tendulkar lacks the ability to pick up his game those extra couple of notches to make the opposition pay for those consistently good starts.

The Tendulkar fan club will argue that he is a better player by the virtue of having performed for a longer time at the international arena. The Dravid group will have its retort ready that it cannot be held against Dravid that he made his debut at the age of 23 and even before his purple patch of the last four years he was averaging just above 50, same as what Tendulkar did in his first few years.

Then with the debate going nowhere the topic would move to "matchwinning" innings, negating the fact that cricket is a team sport and there will always be more than one stand out performance over five days. The Dravid group will take the lead here and point out Kolkata, Rawalpindi, Adelaide et al. and the Tendulkar group after going on the defensive initially will point out to the pathetic support received from other batsmen when he scored big. They will also use this point to argue he made his runs in more difficult situations when all failed.

By now, both sides would be a bit exasperated and willing to concede that the guy in the enemy camp is also a pretty decent bat but this but that and suddenly one of the sides will say aahaa, Dravid has a better defensive technique and but will quickly sit down when wounded but not any less passionate the Tendulkar camp will point to his extraordinary stroke play. And then the two enemy camps will go off in a slumber till one of their heroes once again produces an innings of breathtaking brilliance and normal services will be restored.

Though, none of the two groups will be able to convince the other that their hero is better, but it would have been a wonderful debate leading to a much better understanding of two geniuses playing in the same team by a freak coincidence of history. Hats off Sachin and Rahul....