The C&G Final - not enough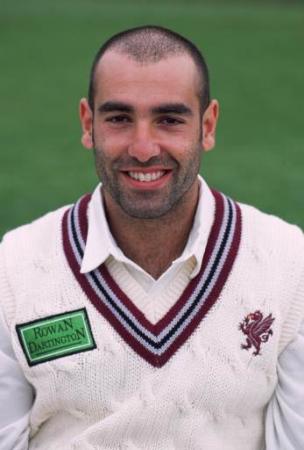 Fiery Rich!
By Grockle
September 2 2002
A total 30 short and not enough bowlers at the races was the story of a day when we came out second best to a third rate Aussie! Matt Elliott doesn't think he'd get in Australia's thirds...roll on the winter I say!
C&G Final v YORKSHIRE@ LORDS 31 August 2002
The great adventure ends...
Possibly the best chance of some good off-season memories were to be had in this game.  If the game wasn't particularly good then we could always remember the event and the drink and the friends and the atmosphere.
Jamie Cox captained because although Marcus Trescothick played, he was nursing a heavily bandaged hand and was away from play, fielding in the deep to protect it during the Yorkshire innings.  The team was probably as expected with Bowler and Burns as the other top order, Parsons, Blackwelland Turner as the middle order and Dutch, Johnson, Caddick and Jones (in favour of the left arm variation of Bulbeck) as the bowling attack.  No surprises, they went for experience over youth with Bowler and consistency over variation with Jonah but no-one was really surprised.  The surprise came when we won the toss and chose to bat!  A few expected the game to be over by about 3 o'clock given our recent batting form.
Banger and Bowler came out to open the innings and faced 5 hostile opening overs from Hoggard and Silverwood.  But we did not crumple as usual although Pete Bowler didn't look to have a great touch on the ball.  Hoggard was giving away free hits like they were going out of style and although Trecothick made nothing of the first, he took two off the second before tonking him over his head to the pavilion off the next legitimate delivery.  17 off 5 became a far more respectible 37 off 6 as the England opener took Hoggard for 20.  A good start but just as Marcus looked in prime nick, Vaughan pulled off an excellent one handed mid-wicket catch and our main strike batsman was on his way back to the pavilion for 27.  41 for 1.  Out came the captain, looking determined and ready to get a good innings under his belt at Lords - helped by another free hit off Hoggard early on which he put away for 4.  The 50 arrived off 8.2 overs and Sidebottom came on early for Hoggard at 9.  McGrath (who I don't remember seeing bowl before) replaced Silverwood at the other end after the 15th over restrictions had been removed with Somerset on 90 for 1.  This was closely followed by a welcome 50 partnership between Cox and Bowler.  It all looked steady and solid, somethin to build on.
The press...in more ways than one!
Dawson started the slow bowling press quite soon after the fielding restrictions disappeared and although we got to 50 at a run a ball, they started to peg back the rate and we reached 100 off 116 - we'd only got to 105 by the 20th.   Added to this we also lost Cox LBW (well there's a surprise) with the score on 122.   Out strides Mike Burns, just in time to congratulate Peter B for his 50 at 129 for 2.  This is where I decided to use my brand spanking new Media Pass for Lords and go and have a look at the game from where the big boys were watching it.  The 'Lozenge'.   Up I go in the lift, just in time to see us get to 150 - but still off 164 balls.   My seat was in the front row so the view was really something else!
What I was seeing though was not so good!  Vaughan was into the attack at 31 overs and first Bowler went for 67 and then Hoggard returned to get Burns LBW for 21 and we were 171 for 4 at a time when we needed to be starting to put the foot down and get the score into the 270 - 300 area.  Parsons and Blackwel were in at the right time.  Keith Parsons, the big game player who did so well last year here and Ian Blackwell, off on England duty soon to do exactly what his county required in this situation on these kinds of ground.  But Blacky was bowled at 191 hitting across a Sidebottom straight one and Turner was faced with getting us up to 250 at least with 10 overs to go, Yorkshire pressing and no time to settle.  The 200 arrived at 41.3 but the boundaries were few and far between and we only had 219 with 5 overs to go when Dawson finished his 10 for 48.   Now, with Hoggard and Sidebottom on we had to push it and Turner bobbled it up to White doing just that (although not very well) at 230.  We all wanted them to send in Richard Johnson for a last hurrah with the bat and that is exactly what they did.  It lasted 3 balls when he was clean bowled by Hoggard for 2 - 233 for 6.  Dutch joined Parsons and the rate started to move again, although there wasn't a lot of time left.   237 off 48 became 246 off 49 and although Parsons went in the last over, he did see the 250 up before a boundary off the last ball gave us 256 to defend.  Was it enough?   No, we were at least 30 runs short although we would have probably taken that at the start given our recent form.  We lost the vital run makers in the second half of the game and couldn't push it on as much as we ought to have.  It was down to the bowlers to give us early wickets and make it a total we could defend!
The reply...
Lunch in the Media Centre was quite nice, the chat with Blowers was strange.   Roebuck looked his usual angry self and Botham (the real one) didn't seem to like the food at all!  Then it was back to the "plebs" to watch the second half in the Somerset stand, the Upper Compton and cheer the bowlers on.  Johnson and Caddick opened and we needed good spells from both of them against White and Wood.   The main objective would be to get to Vaughan and Elliott as soon as possible and get past them for as few runs as could be managed.  The Yorkshire second half was takeable but only if the first half didn't score big.
Yorkshire took 8 off Caddick's first, not always an indicator because he usually settles down after the opener but it was Johnson who looked dangerous from the start.   His lazy run in seems to put batsmen at their ease, but the speed of his arm makes him much more of a handful than he looks and the ball started to climb in speed from the low 80's to 87 and 88 miles an hour as the overs went on.  After a 6 run over from Caddick to give Yorkshire 19, Johnno gave us what we wanted with the wicket of White, caught behind for 12.  This brought Chris Silverwood in as the 'pinch hitter' and Johnson showed him a clean pair of heels with a ball that took out his stumps without him scoring.  A double wicket maiden fourth over and Yorkshire were exactly where we wanted them at 19 for 2.  In came Matt Elliott to shore up the innings and throw down the gauntlet..  We needed Caddick to close down one end and allow Johnson at him while restricted at the other end.  But Andy seemed less sharp than usual and was finding it hard to keep the batsmen in check.  23 at 5 overs became the 50 up at the end of the 10th so we were holding them down.  The problem was, with a run rate under 6 we needed to pressurise them as well and that wasn't happening at both ends.   Caddick went for 10 off the 11th over and we all expected him to be replaced but he was still on at 13 before Parsons took over at 15 with 67 on the board.  This was part of a double change  but not before Johnson gave us another wicket when Wood played on to a slower ball (79mph) and the 'Hairy Greek' finished his first spell with 3 for 20 off 7 overs - just what the doctor ordered.
Vaughan and Elliott were in and the 15 over restrictions had only just been removed.   This is where we wanted to be and it was here that the game would be won or lost.   Could Jones and Parsons keep the score in check and pressurise these very dangerous men into making mistakes that would expose the White Rose's underbelly ?  They didn't reach the 100 until the 21st over - 100 off 127 balls was behind us but not by enough.   By the time the Australian had reached his 50 off 61 balls, the crowd was getting much more restless on the Somerset side and much more vocal on the Yorkshire one!   The 50 partnership came and went (114 for 3) and there was a feeling that the urgency had left the fielding side when Johnno haad gone into the deep.  Singles were being allowed by close fielders who were leaving balls for deep fielders to come in to collect.  There was little 'geeing' up of each other, Rob Turner was decidedly quiet and the cheers of the early overs started to turn into shouts of frustration from the stands as the Yorkshire total mounted with very little pressure being applied.  31 overs down and 150 was on the board.  Niether Yorkshire player looked troubled aas Dutch and Blackwell took over the bowling duties and bowled tidily but at 4 to 6 an over. Wickets in hand and a gettable target...it was looking serious!  The only way Somerset were ever going to win this game was by bowling Yorkshire out and the great start seemed to have fizzled out into a workman-like fielding display with no sense of urgency.
Time for a change...
Jamie Cox seemed to realise that something needed to be done in the 32nd and brought back some Welsh fire by re-introducing Jones at the Pavilion End.  Despite the fact that George Sharp seemed to lack any fingers at all on a few occasions earlier, he finally broke through by trapping Vaughan LBW for 31 but the score was 157 by then and they were looking for less than a hundred.  McGrath came out and faced a fired up Jones at one end and spin at the other.  Cox did not re-introduce Caddick at the other end until the 39th, by which time the new boy was set and the old boy was making whoopie!  With 10 overs to go Yorkshire needed 62 and we needed wickets badly.  Caddick simply wasn't there - he came back on to be smashed down the ground by Elliott and finally was replaced by Johnson to finish with 9 overs 0 for 53. Dutchy bowled manfully but he wasn't that threatening and when Johnson came back with 7 to go, it was a forlorn hope and his figures suffered in the final run chase to get to 257.  Elliott went to an excellent hundred off 110 balls in the 43rd, just after McGrath had helped him to another 50 partnership off 54 balls and it was all up.  Yorkshire won with 2 and a bit overs to go and we were the 'also rans' in another game.
Not so bad?
Cox got some runs, Peter Bowler got over 50 and we put up a decent score.  We did not embarass ourselves in that area although we showed a lack of confidence to take the bowling on at crucial times.  Johnson was easily the player of the match for Somerset.  His 3 for 51 does not reflect the venom of his early spell.  He went for 10 an over when he came back with Elliott in his pomp. The slow bowlers 8 for 43 (Dutch) and 6 for 30 (Blackwell) held up against any other bowler and we did well to make them work for a total that seemed light at the interval.  But we lost and we now have to concentrate everything we have on the Championship to try and avoid relegation.   Nothing to hide behind now there is no silverware and survival is the minimum we should demand from the awful season.  We did see the Blackwell stand boys...but only outside the ground - they were confiscating anything bigger than a postage stamp inside!!
They gave us something to smile at after the game and the banter and comeraderie between fans was excellent.  Now we need the players to give us something to smile about in September with the best season's finish for many a year.  Keep smiling people!