Normal Service - different cast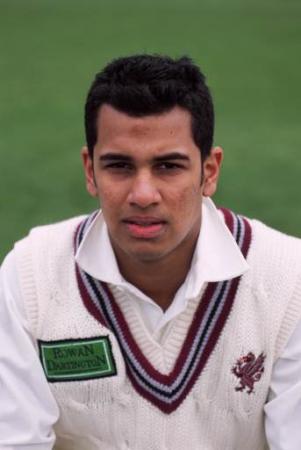 New boy
By Grockle
September 3 2002
Someone listened and the new guys get a run out in the NUL to see what they can do now that our attempt to stay up is over. Same script though..too few runs, early breakthroughs, Aussie allowed to get away and....loss
v DURHAM @ RIVERSIDE NUL1 2 SEPTEMBER 2002
Normality Returns...
Excellent to see that someone listens to the pleas to try out the younger players now that the NUL campaign has little relevance. In comes Arul Suppiah, Wes Durston (surprise that) and Peter Trego and Marcus Trescothick captains. Could we do something with this fixture? Seems not although there were some promising aspects.
We won the toss and decided to bat but lost Matt Wood early with only 15 on the board. Enter 'pinch hitter' option for this game - Keith Dutch and he did a much better job than some who had preceded him. He helped Banger put on 70 before the captain went for 41 at 85 and then worked with Suppiah (lots of faith in him by letting him come in at Number 4) to add another 50 before the young allrounder was stumped off Gough for 22. He finally finished his role with a score of 64 with Somerset on 145 for 4 and set up to push on.
Running Scared??.....
What the hell is it about run outs and us? Rob Turner and Ian Blackwell managed to create a run out situation, with Blackwell the victim for 3 after one over. In came Durston, to be run out only three balls later with no score. Next we have Trego but Gough skittled him for 7 and the middle order had been ripped out with only one going to a bowler's skill. Rob carried on the debacle by managing to become the third run out victim at 193. Was Durham's fielding just brilliant or are we just poor at batting procedures? 145 for 4, a strong position became 183 for 8, a weak one and when Bulbeck was LBW to Phillips just before 200, we were not going to have enough to make a game of this. We reached 204 - should have motored to an awful lot more than that.
The reply...
Simon Francis and Matt Bulbeck opened the bowling and we needed a tight spell from them, not something they have been renowned for this year. They gave us exactly what we wanted. Bulbeck bowled 9 overs for 19 runs and 1 wicket (maybe we should have gone with him on Saturday!!) and Francis put in 7 for 30. More importantly, they both struck in the first phase. Francis had Peng caught by the captain with 4 on the board and Bulbeck had Gough LBW with only 31 on the board. Unfortunately, we met another Aussie in form and the backup pacemen couldn't hold it together. Wes Durston went for 19 off the two overs he bowled and Jonah went for 27 off his 5. Suppiah looked confident but 5 for 26 was still too many given the target. Dutch continued to improve in the ball department with 9 for 33 and Blackwell took the wickets (the other 2) but went for 47 off his 7. Hodge and Muchall put on 128 before we took the third at 159 and although it took them until the 44th over to get there, they passed our total with the loss of only one more wicket. Another loss. Another middle order failure and lack of pressure in the middle of the opponents innings.
Somerset put it down to the difference between the white and red ball versions of one day cricket but what are these differences? What do others do that we don't? We don't push through the first 15 and consolidate before accelerating in the 40's. Therefore our totals are lower? We take wickets in the first 15 but don't seem to 'press' very well and allow far too many singles to be turned into twos because of complacent fielding. It has to be in the tactics because the players seem to be able to hit the red ball and bowl with it. Or is the white ball completely different to the red - who knows. Wonder if anyone will ever tell us?