And so.....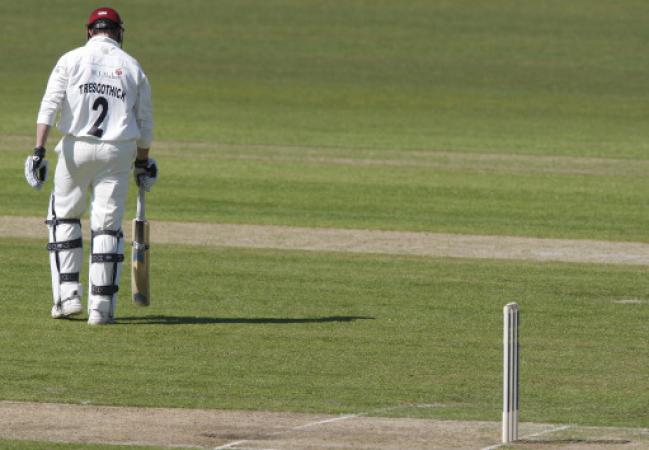 By rGockle et al
November 27 2019
Here we are then, the picture of what our 2020 season will look lke. Marcus is trudging off the field but he is returning as an assistant coach but what else is new?
It's one month before Christmas and the fixtures are out on Tuesday of this week. There has been some good news on the contract renewal front while the 100 Draft in late October took away some of our best white ball players to perform abroad in Wales while we work at our home season in the 50 over 'Whatever' Cup.
Little overseas news at the moment, I think people are assessing the effect of the new stuff going on around the game. Babar Azam is doing good things in Australia for his country as the captain while English cricket is getting a lesson in how to play Test cricket from the Kiwi's and our ex wicketkeeper Jos Buttler is moaning about the lack of decent Championship wickets and games while looking forward to spending the first part of the four day season in the IPL.
The ECB has decided to penalise any kind of pitch that has life in it - flat pitches only please boys and no spin until at least Day 3. They meted out a 24 point penalty to us for the Essex pitch for 'uneven bounce' it seems. They waited 2 months to set the penalty, put half of it on a season we haven't even played yet and re hoilding the other 12 over our heads just in case we look like making a bid for the trophy in their first 100 year as a 'non urban' county - can't have that now can we?
Somerset have no real chance of appealing as we have neiither a Chairman or CEO to formulate a plan and we've proobably signed away all rihts to crticise the governing body in any way for the £1.3m bung we got as part of the 100 deal.
There are some fresh faced new Academy boys - let's hope they get to play before the county disappears into the gloom of the new ECB world. Harrison and Graves lied and spun their way through a Parliamentary committee and Ben Warren announced that we have had over 2 million internet hits for our streaming service - as one door is held shut but the people running the game another one opens if you are inventive enough.
AGM season has not exactly opened the floodgates of new information. 'No Comment' on the Cornish situation though there will be appointments in January to replace him and create a new Chair. No one can explain how the ECB decided who will play who once and twice in the new exciting "you don't play everyone home and away" CC1. But there is a local derby in the four day game at both Taunton and Briistol as Glos return to the top tier in that competition. No Comment either on whether Jason Kerr is in someway contracted to be in Cardiff during the 100 rather than where he should be,running his county side. It seems that the arrangmenets for the ECB White Elephhant include secret arrangments in terms of personnel involvement and the amount and type oof comment the non 100 counties can make aboiut this debacle.
And so we look forward to the holiday season and then the start of 2020. I'm not full of the spirit I am afraid but I am certain that the governing body of English Cricket is full of freeloaders, ego maniacs and people with no clue concerning what they have and how they should manage it.
Get to games while you can people, enjooy the skills you see from players from the South West playing in their natural habitat. It may very soon become a thing of the past.
#watch your county
#opposethe100
#stuffwelshfire
View a Printer Friendly version of this Story.
And so.....
Discussion started by Grockles.com , 27/11/2019 01:32
Grockles.com
27/11/2019 01:32
What do you think? You can have your say by posting below.
If you do not already have an account
Click here to Register
.
Edited 1 time(s). Last edit at 2019:12:08:13:38:05 by Grockle.
Sorry people. It took a while to get them to reset. But we're here again. I had a bit of a miserable rant.,Apologies
---
Well summed up Grockle.So many questions and so few answers as yet from anyone within the club.At least we have some weekend championship cricket,but still a huge hole in fhe fixtures during most of July when we want to watch cricket.
Overseas signings nothing forthcoming and no new news about the pitch penalty.
Championship fixtures just don't make any sense at all.Maybe this is the ECB s way of downgrading it along with the 50 over competition,and then they can re invent it all singing and dancing at the test grounds.Cardiff will probably get dropped at the same time.
All we can do is keep supporting and hopefully get bigger crowds for our 50 over games than Welsh fire get for the 100.That will really hit the ECB where it hurts.
Not terribly impressed with the fixtures:
The championship is severely compromised, not only playing 14 games in a table of 10, but a strange system in place for teams we only play once (Northants and Yorkshire at home, Kent and Lancashire away). What was the criteria?
The 'tourist' game is a 4-day England Lions versus West Indies Lions the same days Somerset are away at Warwickshire.
IF we are successful getting to the RL50 play-off final, like last year there's a very short timespan before the semi-final!
The T20 includes another back-to-back away fixture, travelling to the Rose Bowl for a floodlit match 18th June, followed by a floodlit the next day at the Oval.
The percieved plan was there would be a "seeding system" in div 1 to decide who played which team just once. Would have been nice to see an explanation of precisely how this worked from the ECB when, or better still before, the fixtures were announced.

My very first thought when I saw them was "look, they've made sure they've got two Roses matches". Oh and we have two v Glos. Is this a lucky coincidence or is it the same "luck" by which India are always "drawn" in the same group as Pakistan in ICC tournaments.
Somerset LaLaLa
28/11/2019 09:42
Club website advertising for new CEO, does that mean a Chairman has now been appointed?

"With the Board, continue to formulate, modify and implement a strategy for the period 2020-2024 that aligns itself with the ECB strategy and support the delivery of a change of governance and constitution"
Losing more and more interest in all things Somerset, seeing the fixtures is all a bit Meh !
Might be part of the great plan Phantom. Sow apathy marginalise non 100 games, fill the trough and stick the snout in.
The 20's may not be cricket's greatest decade...
---
How does us playing Glos twice next year fit with the plan to balance the CC1 by ensuring the top end played twice and the newcomers faced the top once? Lancs Yorkshire fits I think but really?
---
Going to take a while to appoint a CEO; anyone in post somewhere else likely to have a 3 month notice period. May as well get it advertised.
We were told Mr CEO would be in place by the AGM, Jan25.....

There is every chance the process is well under way. My understanding is legally we have to advertise the position openly. The likely reality is we will have identified 1 2 3 hopefuls & this part is just to show we are doing things by the book.
As stated anybody in a job now & sitting interviews w/c Dec16 is unlikely to be able to start before mid March at the earliest depending on their circumstances.
Roger ivanhoe
29/11/2019 16:06
We were also told that the Chairman (when appointed) would take a active role in the appointment of our New CEO.

Is it likely our new chairman could be within our current management committee, several prospects there , Malcom Derry must be forerunner I would have thought.

But highly unlikely that the Club will have a CEO in place by the January AGM, unless of course the club appoint a person who is "between positions " , as was Mr Cornish at the time of his appointment.
Sorry, only registered users may post in this forum.