Big Ask at Bristol - Glos v Somerset Part 1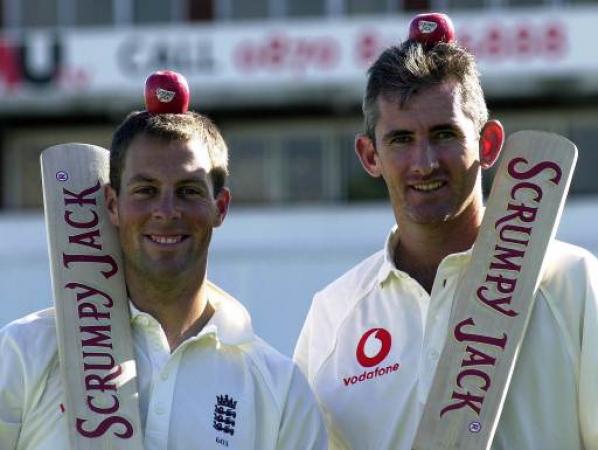 The boys are back
By Grockle
May 5 2002
Big day, big boys back, big first innings score for the old enemy. Somerset are now 9 for 2 as Cox goes LBW again and Ian Harvey has two wickets...going down again?
BIG ASK AT BRISTOL
The big rivals reach 270 for 7 from their 50 overs and will be asking a number of questions of the Somerset batting line-up in the next few hours
The Sides
Marcus Trescothick made his 2002 debut as a county captain today, in one of the few matches we'll see him in, with a squad that has real injury problems and in a match we need to win. With a poor record up to now, although it is early in the season, Somerset's chances were not helped by Richard Johnson's injury at Taunton on Friday. They went into this match with ANDY CADDICK back for one of his limited appearances and boy did we need a good performace from him. PETER TREGO made way and PETER BOWLER is absent...no idea why that is! Strange decision. KEITH PARSONS will have to bowl because it is doubtful that MIKE BURNS can. Where the hell is GRAHAM ROSE? If he can't be called on for these kind of games with these problems shouldn't he call it a day? Is he really going to be satisfied with Second XI cricket all season? Has he been allocated to the 'professional mentor' role for the young seconds?
The Gloucestershire Start
Gloucestershire won the toss and decided to post a score - not a bad decision with our present form. The home side are in phenominal one day form and their big hitting first two have done a lot of damage. So, when MATT BULBECK got Spearman early for only 20 with 26 on the board, it looked promising. It brought in the other big man, one day specialist Ian Harvey and he set his stall out early. Bulbeck and Caddick made them work for it but anything down legside smacked into the boundary. Barnett and Harvey were waiting for the change in bowling which came late when Caddick changed after 6. On came SIMON FRANCIS and the run rate increased. Harvey came up the wicket and lofted him so Turner came to the stumps and took a brilliant catch when one from Francis bounced more than the Aussie expected as he tried to hook. 67 for 2 but he'd hit 24 off 19 and the bowlers were still going for too many.
The Middle Order
Kim Barnett has settled in at one end...again. Taylor went for his shots but at 'nelson' he went for KEITH DUTCH's first ball and brought a storming catch from JAMIE COX which also brought about another injury worry as he seemed to damage his back as he took the ball just inside the boundary in true Cox manner. He left the field later and may not be in the top five.
Matt Windows didn't get going and went to Parsons with only 2 runs to his name. 117 for 4 meant they needed to re-start the innings and the slows needed to do what they tried to do in the Friday game - keep the score below 300. Mark Alleyne and Barnett dug in and put on 59 before the next wicket went when IAN BLACKWELL decieved him on the slog sweep and he went for another 67 - 176 for 5. Put the thumbscrews on boys. Dutch took the next one when Alleyne tried to go big and found MATTHEW WOOD for a very good 47 but it took 45 runs before it happened - 221 for 6. Trescothick brought Caddick back early to put some pressure on the tailend but Snape and Ball kept accumulating and although Caddick did finally get Snape, he made 35 off 37 and the seventh wicket put on 45. The innings finished at 270 for 7 - 5.4 an over.
Bowling Calamity
Bulbeck 10/0/1 for 52 = 5.2 per over
Caddick 10/2/1 for 39 = 3.9 per over
Francis 6/0/1 for 49 = 8.1 per over
Parsons 8/0/1 for 39 = 4.9 per over
Dutch 9/0/2 for 43 = 4.8 per over
Blackwell 7/0/1 for 40 = 5.7 per over
Take wickets or keep the runs down. Besides Caddick, the pace attack is too expensive. The middle order Dutch and Parsons did their job to some extent but we can't accept 8 an over. Simon Francis has to go back to the nets and sort this.
As I finish this, Matt Wood is out LBW to Ian Harvey 7 for 1 after three overs. Cox has come in at three but he's gone for 0 LBW adding only 2 - 9 for 2 and it's all getting very depressing. Five overs down with Marcus Trescothick and Mike Burns looking to re-build after 30 balls.