Damp and Dreary - the end of Somerset's B&H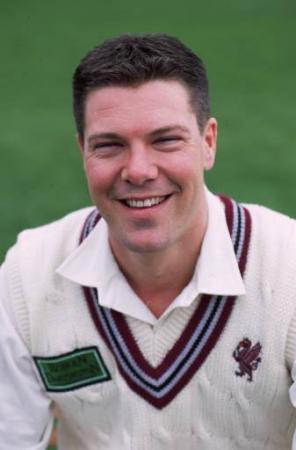 Some good news
By Grockle
May 6 2002
Not wet but cold Taunton and the end of a series we'd probably rather forget. Not the ending we wanted and some real worries about the rest of the season.
B&H - DAMP AND DREARY END
Worcestershire win the final regional game at Taunton as our one day stars undr-perform once again.
I'm writing this before the end of the game and I'm in no danger of being wrong about the result. Admittedly the conditions were not the best and the ball has been swinging all over the place. However, taking intoo account that we managed 126 for the loss of 9 wickets in a rain reduced game (38 and then 32 overs) and the opposition are at present on 73 for 1 after 10.4, I think the comment of under performance might be justified.
Somerset chose to leave out Simon Francis and Peter Bowler is not fit so Peter Trego came in as the third seamer and Matt Wood opened with Marcus Trescothick. These guys were not expecting to be playing at this level this early and it shows. The fact is that if they aren't ready for the game then they can't be classified as professional cricketers and the steep learning curve will not get any easier. Wood is not ready for the shorter game and didn't stay long. he was cought behind (the first of many) for 4 with the score on 8. Jamie Cox wasn't fit enough to field so he's another one carrying an injury but at least he got more than 2 this time...and he wasn't out LBW either. Instead he was caught behind for 6 with the score on 26 and we're chasing the game again. Trescothick made a mistake yesterday by trying to smash us out of trouble when we needed him to get a big score. Today he hit out far too early and he went for 20 with only 31 on the board. Time for a collapse. Parsons caught for 5 - 36 for 4. Burns caught for 7 - 51 for 5 and although the rain elongated the innings and revised the overs to 32 Blackwell still can't get going bowled for 2 - 60 for 6.
Rob Turner and Keith Dutch have been here before within the last 24 hours and tried to give us some respectability by putting together some form of a partnership but after they were bowled for 30 and 16 respectively and we were 98 for 8 the game was over without Worcs really having to bat. Matt Bulbeck and Peter Trego made a fight of it with some reargaurd batting and Caddick did hit 4 without running anyone out but I ask you...Could anyone win a game with 126 for 9 off 32 overs?
If we bowled badly there could be an excuse for it - we've been decimated by injuries to our main attack but we will not lose this game on the basis of our bowling. The media assess our batting as very strong in the one day format...not on the basis of the last week obviously. We spent the first half of 2001 wondering why our top five couldn't amass over 50 between them and we are back there again.
Worcestershire were held back at the start by tight bowling from Caddick and Bulbeck who kept the score to 10 off the first four overs. Once Peters was out caught off Caddick and Hick joined Solanki the run rate started to rise Caddy went for 14 off his third including 5 wides when Hick arrived and by the 10th the score looked like being passed before the 20th over. Trego and Parsons came on first change and both got wickets. Keith had Hick C&B but he'd already made 39 and Ben Smith was LBW to Peter T but the score was in the high 70's and nothing short of a miracle was going to save this game.
I don't know when they'll win but they will and we'll end the B&H with one point from the game we didn't have to play (probably a good job too!) At the moment it's 88 for 3 in the 15th...sorry 92 for 3 with Keith Parsons looking a bit more fluid than he has and Trego at least looking fired up for it. BIG CHAT needed after this game...the season starts for us on Wednesday when we have Yorkshire in the important competition. Jonah should be back, let's hope he's ready...then again, let's hope they all are!!!
It took 18.5 overs in the end 122 for 3.