Blackwell sixes Yorkshire - Day 1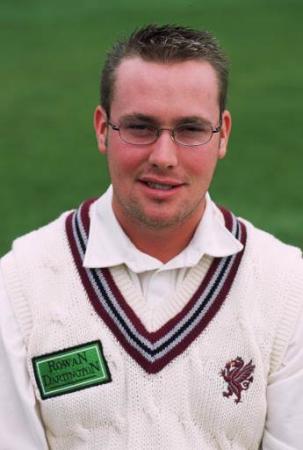 Good Feelings!!
By Grockle
May 8 2002
The White Rose comes to the West to check out whether we really are pretenders to the throne or not and the first impressions look good! The first good day of the season!!
V YORKSHIRE CC1 @ TAUNTON 8 MAY 2002
| | | | | |
| --- | --- | --- | --- | --- |
| DAY 1 | DAY 2 | DAY 3 | DAY 4 | NUL |
The Sides
Yorkshire arrive at the County Ground as champions of 2001 and one of the main sides in 2002. We meet them off the back of a poor B&H with aspirations for the Championship this year. We need to WIN games at home, we've been criticised in the past for being able to draw at home but lose away. 'Fortress Taunton' has to become our place for points. The visitors come with batting to spare - Vaughan, Lehmann, McGrath, Blakey - it's a shame we've met them before all the central contractees return to Lords but there you go. The bowling has a few surprises. Gough isn't fit enough to play - he's turning out for the seconds this week and Kirby - the find of last season is nowhere to be seen. Even then we're facing Silverwood, Sidebottom and Hoggard.
Somerset have the batting line-up we'd want every week. Matt Wood makes way for the captain for the game - Trescothick. We should bat a long way down...but at the moment we aren't doing that. Bowling-wise, this is the game when we have Caddick and we need to make use of him. Matt Bulbeck has looked good but he needs to be taking wickets and Simon Francis has been chosen in the third spot ahead of Peter Trego. Steffan Jones is not yet ready and Johnson's hamstring injury has turned into minor knee problems which he has been carrying since the start of the season it seems. he won't be back for three to four weeks and therefore we have to hope that Jonah is ready for Sunday and to take his place into June. The third seam options are limited and having faith in Francis is to be admired...as long as it bears fruit this game.
Session 1...
Banger won the toss (no chance of him becoming England capatin then!) and chose to field on a strange sort of misty morning, expecting it to move around you would assume. Craig White opened forYorkshire with Vaughan and neither of them staued very long. Caddick had White caught by Dutch for 16 with the score on 19 and then his opening partner skittled Mr Vaughan with only another 6 added. This became 48 for 3 when the vital wicket of that damn Lehmann bloke went to Caddy LBW. The main men out and not 50 on the board...this is better!! Lumb and McGrath put together a 50 partnership but Francis had McGrath LBW as the score reached three figures and at lunch Yorkshire were 119 for 4
Good things, they were only scoring at 3 and over. Caddick looked sharp, their major run scorers were spectators and our three bowlers were tight and on the money. Caddick 15/4/49/2, Bulbeck 10/1/43/1 and Francis (much better) at 8/2/24/1. Keep it up gentlemen.
Session 2
But it didn't quite stay that way.  After lunch England's first bowler came back and took Yorkshire apart.  His 2 for 49 became 5 for 72 when he added Lumb, Blakey and finally Hoggard to his morning total and along with Bulbeck, Parsons and Francis put the visitors out completly for 213.  Bulbeck went for a few (2 for 90) Francis finished with 2 for 37 ( good figures) and Keith added a valuable 1 for 8 in his 3.  A good bowling effort...but it all went wrong again!
Trescothick - 0 (4 for 1), Cox - 4 (2 for 13), Bowler - 0 (3 for 19) and Parsons - 6 (4 for 26) returned us to the usual feelings of 'I've been here before'.  We simply can't keep doing this!!  Yorkshire were in trouble and in less one hour, we'd given back the initiative.  Burns and Blackwell were in the usual position and we were hoping to be less than 100 behind at the end of the first innings.   People were predicting scores in the 120's and depression had blanketed supporters again.
Heroics
Burns stood his ground and dug in and Blackwell didn't hit the first ball for four.  we all hoped he'd get past 10 for the first time and then we could start building again, if only he could get past the first few overs.  He did and started to increase the score.  Unfortunately Hoggard sneaked one through Burns' defence on 49 and we were 75 for 5.  In came Turner, one positive aspect of the B&H and he did exactly what we didn't want him to do and what professional sense should have told him not to!!  At 75 for 5 in the first day of a four day game with 15 wickets down in the day and the need to dig in, HE TRIED TO HOOK.  Leave the bloody ball Rob...accumulate runs over time, stabalise the situation.  Maybe we should make it compulsory for the opening batsmen to watch our middle and tail enders in order to understand the differences between a game of four innings over four days and a 40 over slog.
So, we're 75 for 6 and we need a commanding presence.  Then it gets good.  Ian Blackwell in 60 glorious balls changes the feelings in the ground, restores faith and makes the world rosey again.  At 40 with Dutch at the other end doing his job of giving Ian the strike, Blackwell snatches back the game.  He goes to 50 in 62 balls with a four and a six off successive balls.  His partnership with Dutchy reaches 74 with Keith on 9 before he starts to get in on the game and moves from 9 to 30 in three overs.  Yorkshire start to get jumpy and Hoggard sets Blackwell up in the 35th over.  Theory - whack two fielders on the River Corner boundary and entice Blackwell to hook.  Practice - Hoggard bounces him and he puts two over the fielders and the boundary (including an 8 off a no ball) and puts three more between the two fielders to add 26 from the over and hit Hoggard out of the attack.  They try Fellows but he doesn't do much better and the two Somerset men reach the 100 partnership with an over to go.  The last over, bowled by Dawson was designed to keep Blacky in the 90's and both the players knew this.  We are all praying he takes it easy but Dutch knew exactly what he was doing and Blackwell had enough faith in his own ability to take hold of the game before the day ended.  In come the close fielders so he flips it over them for four and then two balls before the end, with a score of 98 he simply hammers the penultimate ball straight into the graveyard to take himself to a great 104 off 100 balls (second 50 off 48) and then forward defends the last and heads for the pavilion before the ball stops rolling to an ovation from the faithful.  186 for 6 - not out of the woods yet but in the shrubs on the edge of the forest!
Supporting this side is gut based.  You feel a deep heaviness when they are doing badly and the feeling gets worse as they get worse. Then suddenly, you get a 'Rennie' when there's a gem like the last hour and the feelings go away as if they never existed.  Good morning, Great evening and a very poor hour about 3 o'clock.  How much of this up and down type of play can the average 'gut' take?  We need Blackwell to carry on tomorrow, Keith Dutch, Matt Bulbeck, Andy Caddick and Simon Francis need to give him all the support they can and if he goes they must bat intelligently to accumulate runs.  There is really no hurry.  It looks like it is going to be an interesting day.