Mouthwatering - Surrey CC1 Day 1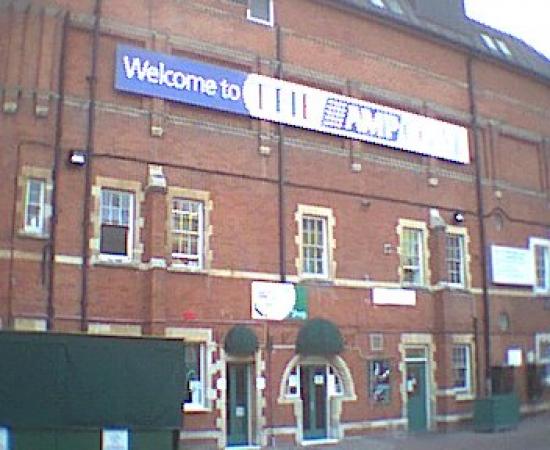 The Oval
By Grockle
May 25 2002
The big one against the full Surrey side and we have the best of Day 1. Andrew C takes 5 and Mr Bulbeck weighs in with 4 as Surrey struggle to get past 200 in a game both sides need to win. A battle for supremacy par excellence!
SURREY CC1 @ THE OVAL 25 MAY 2002
| | | | |
| --- | --- | --- | --- |
| DAY ONE | DAY TWO | DAY THREE | DAY FOUR |
Mouthwatering...
The weather is going to be crud according to the five day forecast but this is THE fixture of this month and probably of our Championship campaign. Everyone is here..we are at nearly full strength because Steffan Jones is back and both our internationals are playing. Surrey have all 13 of their internationals to choose from and wouldn't it be sweet to beat them with a full strength side on their own patch? Too much enjoyment for any sane cricket supporter (except a Surrey man I suppose). Will the weather give us enough time and can we bowl them out and score enough?
Day One...
I expected to report this from scorecards but I found myself at the Oval with play going on and Somerset in a great position. Over 50 overs on a day when we were told we were going to be lucky to hear bat hit ball. Surrey at 2 for 7 in the morning and Caddick with figures of 28/10/66/5 bowling uphill into the wind. I left Russell Square at 3:30 with the hope of play and when I arrived at just after 4 it was 'hissing' it down and there looked like no chance. But they got on at 10 to 5 and the large and lanky one took a wicket with his first ball a glorious full delivery skittling out their number 7. 156 for 7 and Jonah made it 168 for 8 when he did the same to the impressive Tudor (he really can bat better than a number 8...put him in against Sri Lanka!). It all looked over with Salisbury and Saqlain at the crease. Problem is that Salisbury loves batting against us and is a fatherless son to get out. These two took the score on over 200 and it looked like they would survive to stumps but Saqlain went and a very big Ormond (he is bloody huge!!) did not look hugely gifted with the willow. Bulbeck got the last wicket when he claimed an LBW and we had them back in the pavilion for 220 with a smattering of overs to survive. Day One to us I'd say. Banger and Buzz lasted out until the end and we had 10 on the board. Matt Bulbeck had a good day at 20.1/2/60/4 and was an excellent pairing for Caddy. Steffan was back to normal although he only got one for his 69 in 17 overs.
Somerset outpost...
It is funny what you see at other grounds. There weren't a lot of people at the Oval, but there were four very obvious die hard Somerset fans. How do I know this? Because they were wearing Sabres one day shirts...brave lads! The Chedzoy brothers Bob and Michael and their mates Matt Sharp and....(he went before I got his name) were vocal, totally Somerset and unwilling to compromise on their support in enemy territory. Then again with a surname of CHEDZOY what the hell else could you be? They've been going to the Friday of this match for five years and have promised some other reports from the away games so thanks to them from us and from the team who must be grateful to see guys making the trip and the effort when theyre not at Taunton. The photo is crap lads so if you have a better one, attach it to a mail and I'll alter it. If you get the time also, please send me the name of the guy who pissed off Mr Bicknell so nicely with the comment; "Never mind Martin, there's always the C&G!" - He was not a happy bunny at the end of the day and weren't we sorry? It was a decent evening session all in all lads and good to meet Sabre missionaries in heathen lands. Hopefully see you at Bath.
Four Day form...
We came up with the theory of why we seem to have become a bunch of four day specialists. Two theories. ONE - this is the competition where we have had our bowling pairs most of the time. Caddick and Bulbeck, Jones and Parsons, Dutch and Blackwell and no over pressure on them. TWO - because we haven't batted particularly well in one day games, our middle all rounders have had to dig in and put together an innings and have therefore found the patience that has eluded them in four day games before and can now either smash the ball about for 60 off 10 overs OR stay in all day and accumulate runs. Maybe our poor one day stuff has been a good thing...but we still need to win one!!