Fox's Early Bath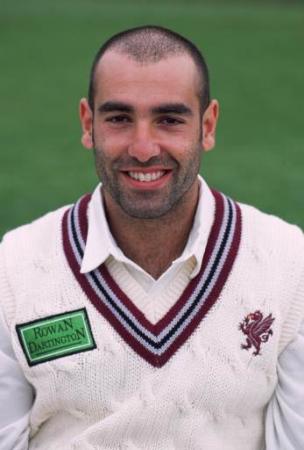 Festival Man
By Grockle
June 16 2002
The Bath Festival comes to an end with the NUL game against Leicestershire Foxes. Needing 148, we made heavy weather of it at the start but got into our stride with Keith Parsons and stand-in captain Mike Burns seeing us home by 6 o'clock with over 10 overs to go!
v LEICESTERSHIRE @ BATH NUL1 16 JUNE 2002
Strange Days...
Arriving at the Recreation Ground to the announcement that Jamie Cox was not playing and Matt Bulbeck had "..gone home.." was not really what was needed.  It seems that Buzz got hit on the hand yesterday and although he was taking out drinks, he was not going to be risked in the game. The absence of Bulbeck after such a good Championship match is more of a mystery and I have no explanation for it.  I can't explain the obsession with Simon Francis either with Graham Rose present and kitted out to play.  I'm all for going for youth but Frankie hasn't proved his worth in the one day game and we need the points.  One question was answered though.  Piran Holloway is alive and living in Somerset!  He playes today after many rumours that he had buggered off to Cornwall for the rest of his playing career.  Let's hope he has profited from the rest.  Bath was cloudy although it was warmer than recently and we won the toss (captain Burns took it) and put them in first.
Foxhole...
Somerset opened with Johnson at the Pavilion end and Francis at the North Parade end (from now on called the Other end).  This was a surprise with Steffan Jones returning but he loves coming on first change and so Francis was first up.   We didn't need a good performance from Johno, Vic Marks has been suggesting he ought to be considered for the one day squad after Caddick's injury (he may be out for two months) and I'd personally rather see him bowling for us than carrying drinks to lesser men at different venues around this scared isle.  However, we did need hinm to take wickets.  It actually was Francis who looked more dangerous early on, but it didn't last and after he went for 13 in his third, we settled into our usual situation of one end producing chances and the other leaking runs. Sutcliffe and Ward opened and It was Johnson who made the early breakthrough when he had Sutcliffe LBW with the score on 11.  The Foxes managed only 16 off the first 5 but we did think that we were in for a hiding when Sutcliffe's replacement Stevens hit one straight up from Johnno only for Burns to get under it, pouch it, jugggle it and then drop it!  Deja Vu?  Looked that way.   The miss wasn't as much as a problem as we had expected because Stevens was Johnno's second LBW at 38.  But it was Ward who was looking like the problem.
Flowers in the field...
Grant Flower arrived at the crease with Ward on form and 44 off the first 10 overs.  The 50 came up one over later and Steffan replaced Johnson in the 12th at 53 for 2.  The captain persevered with Francis at the other end and Ward reached 50 in the 14th.  Without him there wouldn't haver been a lot there, he'd scored 50 off 43 balls out of 72 and 40 of that had come in 10 shots.  Finally Keith Parsons came on at the other end and the sun came out!!  When Blackwell dropped a very difficult chance off Flower you might have assumed that he was going to go on and produce a big score but he had been frustrated and this resulted in him skying Parsons at 83 and Burnsy took a high catch to balance the drop earlier.  83 for 3 became 86 at 20 overs.  Jones and Parsons had pulled back the game and Leicestershire had only added 14 in 6 overs. Wells was next man in but they needed another quite quickly as Ward snicked Jonah with the score on 90.bringing Darren Maddy to the crease and removing their form batsman.  Dutch replaced Jonah in the 22nd and the Foxes reached 100.   They'd moved on to 109n when Maddy tried to chop Parsons and didn't get enough on it to divert it from Rob Turner's gloves.  109 for 5.  Burns looked in all kinds of trouble against Dutch at one end but the next breakthrough came at the other when Parsons clean bowled the Foxes captain at 112 bringing in DeFreitas with Leicestershire 32 short of their worst ever score against us.  It got worse!  'Daffy' was brilliantly caught and bowled by Dutch - who loves fielding on this ground - 113 for 7 before the 30th. 
Tail wags...
Crowe arrived at the crease with a hell of a job to do.  With only Grove (remember him) and Wiley (of the Beckham hairdo) to come we were cleaning up.  When Blackwell took a nonchalant but quite amazing, one handed catch on the boundary and then Jones had clean bowled the ex-Somerset bowler, the only real target was to get past 144.  They managed it by 4 runs and were all out with well over 10 overs to go for 147.  The tail did wag but with not a lot on the board beforehand it didn't make much of a difference.  Keith Parsons did it again, he looks so easy to hit but keeps on taking wickets. It's good to welcome Richard Johnson back and Blackwell and Dutch pulled off their usual Bath fielding tricks.  First part of the job done!
Somerset optimism....no chance!
This should be our first four pointer but it's a strange pitch and we have been here before.  Somerset optimism is a rare commodity and when Ian Blackwell comes out with Peter Bowler and is caught behind with a score of 20 and then Peter Bowler is caught and bowled without the score progressing you can understand why.  20 for 2 in the 3rd over.  Holloway and Burns at the crease.  This game is not over at all!
But it did get better!  Piran Holloway had a poor return, not his fault but he fell at 33 and we were in trouble.  Keith Parsons and Mike Burns steadied the very rocky ship  The 50 came in the 8th and Jamie Grove, finally getting the first team cricket he wanted, was not too effective so they brought on 'Daffy' to use his wily seamer ways on our boys.  KP has been here before and brought the 100 up in traditional Somerset v Leicestershire style with a six over the sponsor tents off DeFreitas.   They tried Flower and Crowe but the partners were settled.  After 25 we were 27 away from victory and both batsmen were moving towards 50's.  Parsons got there first with another six (off 60 balls with 2 sixes and 5 fours).  The 100 partnership came before Burnsy got his half ton at 144 for 3 (88 balls with 6 fours).  All that was left was to put the ball to the boundary to finish the game and the captain did that next ball.  Four points - our one day season is finally moving in the right direction.
Conclusions...
The Festival managed to keep its most important day.  We won our first NUL match and should have really won the Championship game yesterday after doing all the hard work.   The Player of the Championship game was Richard Johnson for his 10 wickets in the game.  The Man of the Match today was Keith Parsons who bowled well and kept our reply on course.  There was a Champagne Moment award for the truly brilliant catch that Ian Blackwell took on the boundary today (although there was a better one last year!).  The Man of the Festival?  Well it's not often you take 10 for 75 so it also went to the returning 'Hairy Greek'.