Umpires steal the game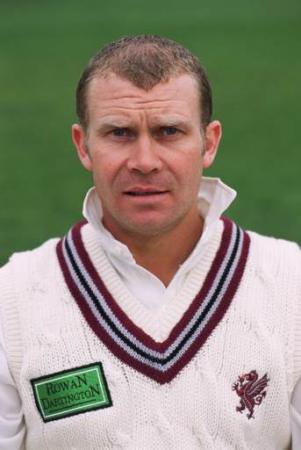 Another Cap's score
By Grockle
June 30 2002
I've no idea what the hell happened. One ball we are winning a game and the next it's been taken away with no explanation at all. It seems that during the final two overs of the game, the umpires fined us the needed margin for a tie (6 runs) for a slow over rate. Bureaucratic farce or what?
v GLAMORGAN @ TAUNTON NUL1 30 JUNE 2002
Expect the worst....
When you get on a train in London at 1:06 in order to get to Taunton for a one day match and you log on to find that Somerset are 10 for 1, it cloarifies your mind! Should you bother to get off the train? If you do, should you go anywhere near the ground when it is quite obvious that the game's gonna be over about 10 minutes after you arrive? Is suicide the best option?
An hour later, steaming through the countryside around Pewsey, you log on again to find that the score after 17 overs in 54 for 4 and all those thoughts pass through your mind again. What the hell is the point? The bowling attack is weakened by the loss of Johnson, our batting line-up seems to be our only possible winning option and it is falling apart on the other end of a mobile phone! Cox, Bulbeck and Johnson are out, Francis, Wood, Holloway and Rose (thank you) are in but it all seems a little academic with a batting performance like this. Is it Glamorgan's unplayable bowling attack? Kasporwicz didn't exactly ignite fires last time he was here! Is it just that we have trouble batting ourselves out of a paperbag?
At 3:15 I arrive at the ground. 160 for 6 with 8 overs to go...looks a bit better. Burnsy (captain again) has hit just over 50 and Wood (coming in at about 6) has also put 50 plus on the board. Turner and Holloway are at the crease and Rob is in the thirties so the 200 is suddenly on the cards. At least it is until Piran spends more time watching the ball going to the fielder and no time watching Rob pass him while he is still in his crease! As he never left it, the wicketkeeper goes and Graham Rose comes out. Holloway tries to redress the balance by hitting a couple of lusty blows into the outfield but he soon perishes to the catch in the deep and Simon Francis arrives at number nine to show that he is far better with the bat under pressure than he is with the ball. After an aggresive smash to the Old Pavilion for four, he loses his stumps and it's left to Rosey and Jones to get us aas far over 200 as possible. 220 is better than I would have expected. After about an hour, anything over 100 would have been snapped up and 150 was more than we could hope for. Sorry I haven't given you the full batting story but to be honest, what's the point? Lots of people got out for far less than they should have and the usual suspects held the innnings together when they shouldn't have had to. That should suffice. The scorecard is accessible from the Messageboard. It's the bowling and fielding that is now important in this game.
Is 221 defendable? Well IF the bowlers play a better game than has been common this season. It's less than 5 an over and we haven't done too bad at keeping rates below 6 here in 2002. We shall have to wait and see won't we.
Now that's put the cat amongst the pigeons...
He's not good enough to earn a consistent one day place, but he's OK to open the bowling before others and he did get Steve James with his 3rd ball! Graham Rose would be miy choice in times of crisis and possibly our one day season would be more stable if he'd been chosen more often. Then again we don't know what is going on behind the scenes...still, his ommission has been strange to say the least. This caused clapping in the Stragglers end, which I am sure caused some VP's to wake up and be disturbed so the place will probably be closed for the next game because of a breakout of excessive enthusiasm. (Go and have a look on the messageboard if you have no idea what the hell I'm on about).
Jones carried on the mayhem when he got rid of Croft with his first ball and Glamorgan were 2 for 1 after 7 balls. The problem is, as Surrey found out last week, that this lot bat to the toes of their tailenders so it's not over yet. But, at least there's a game going on now.
Sorry....
Delete that last sentance. It's 5:00 pm Glamorgan are 12 for 2 off 6 overs needing 51 off the first 10 to win on D/L and we're off for rain. Then we're back on with a revised total for the Welsh of 210 off 40. Loss of 5 overs = reduction of 10 runs! Maynard and Dale look like they are going to treat this game as a 10 over slog and try to hit Rose and Jones for big runs to try and get to the 67 needed off 10. But it doesn't really come off because they are 33 short by the tenth and Maynard tries once too often at the end of the eleventh and is bowled by Jonah to leave Glamorgan on 47 for 4....more rain and they're 42 runs behind.
Break Two...
Ten minutes later and the game is back on. Revised Target is 209 off 39!! It's a wonderful system this Duckworth Lewis!! The start brings Francis on at the Old Pavilion end and the game moves into its most important phase. Our second string bowling is where Glamorgan will get the runs they need and Francis is key to winning or losing. At 15, with Dutch replacing Rose (figures of 1 for 29) they are 70 for 4 and the difference between what they have and what they need is closing. Frankie is replaced by Keith Parsons...he's going for too many but with 20 overs to go, thay are only 11 behind the rate and the clouds are closing in. At the rate they are closing the gap they'll overtake us at about 24 overs and we need a wicket. We are also now praying for the rain to stay away. If it comes in the enxt half hour they will be in the winning seat and we'll be knackered. Francis is switched to the River End and Blackwell replaces him at the Old Pav. This changes things. Powell and Dale are moving towards a 100 partnership when Frankie, bowling much better from the new end, castles Powell with the DL 2 runs to our credit. 120 for 5 and it swings to us again. Blackwell pouts in a maiden for the 26th and Darren Thomas, the new batsman, is still finding his feet. Still need wickets though. Thomas provides the next, skying Francis to Rose. 140 for 6 needing 69 off 11.
Nonsense....
It is all getting tight and we're trying to speculate as to which end Steffan Jones will come on to put his two overs in. Francis finished his much improved spell from the River End (8/0/2/54 - the second phase of this was much tighter and his wickets came at important times...and he was up for it) and Blackwell is still making the batsmen question at the other and he finally gets some reward when Wallace tries to force him away and pops the ball up to Dutch who juggles it before holding on 166 for 7. Burnsy leaves Blackwell on and puts Jonah on at the River. It then becomes run out time! Dale - the important batsman - on 63 is run out by Jones as he tries to push the ball pass him. Jones follows up and gets to the ball, and the wicket first. 192 for 8 and then Wharf is run out with only another 3 runs on the card. It's coming down to the wire and at the end of Blackwell's final over there is applause from the Somerset contingent.
While that is going on, Blackwell seems to bowl another ball and the umpires start waving to the scorer in the Botham Stand. Blacky must have bowled a ball too few. We start the last over with Glamorgan needing 12 off 6 balls and our best bowler facing their last two at the crease. It doesn't start well, Jonah's first ball goes to the boundary. 8 from 5. Would you bet on Jonah NOT getting us there? Remember the Yorkshire game? I'd rather bet on him with the ball! Ball 2 is a single - 7 from 4, Balls 3 and 4 are both dots and it's 7 from 2. If there's no boundary then we have won!!
The next one only produces a single and everything seems strange. The players start to leave the field shaking hands and the scoreboard seems to have changed to a situation where GLAMORGAN have won! What the hell is going on?
Well chums, it seems that the umpires decided at the end of the penultimate over, that Somerset were bowling too slowly and penalised us 6 runs meaning that the Welshmen only needed 6 to win off the last over and that they managed with one ball to go. Stoppages for rain don't seem to have meant much and the fact that we all stood around waiting for an umpire decision on the stae of play after the second stappage was not taken into account. We lost on a technical knock-out and we have no appeal.
Was anyone at the Yorkshire game? Didn't it end a lot later than this one? Wasn't the light much worse? Didn't people wonder about time wasting? Where was their penalty for a slow run rate? There were no stoppages in that game so why is there one set of rules in one game and a different set in another? Another cock-up and inconsistency...let's hope it doesn't cost us first division cricket in the one day form.
Hands up all the happy people who are not Welsh!!