Flat Track Bully beats us again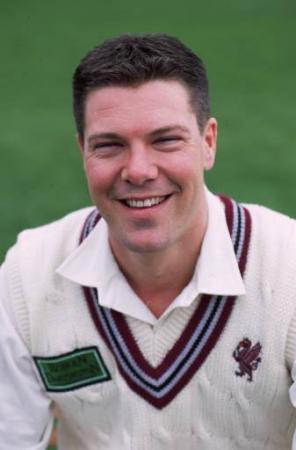 50 for Benefit boy!
By Grockle
July 7 2002
Graham Hick does it again on a batting pitch. We would have had problems protecting 300 today. On a flat track the Worcestershire man can beat anyone..shame it is only there and he really loves Taunton! Maybe we should have Tests there and pick him!!!
v WORCESTERSHIRE @ TAUNTON 7 JULY 2002
Setting the standard...
It was very nice of the announcer before the game today to explain to the crowd exactly what the slow over rate rule actually meant and how it would be applied. What difference it makes if the rule isn't applied consistently is beyond me. Worcestershire arrive with a full side and we take them on with the men who are fit. Having said that, we are really only missing Cox and Johnson from a line-up most of us would expect. I would personally pick Rose over Francis in the one day format and Tresocthick and Caddick were never going to be available for these games. Burns carries on his captaincy resposibilities, wins the toss and decides to bat on a pitch that has offered a lot to the batsmen over the past few days. We aren't using the same strip - not surprising really with Hick in the side
Matt Wood and Peter Bowler open. Not my opening partnership I have to admit, Matt Wood seems to be the perfect replacement for Peter B when he finally decides to call it a day. Nevertheless they are both solid and we want a steady start against the Royals opening attack. After 5 overs its OK but not stunning. Ali replaces Mason in the 7th and Wood takes him for 14...maybe he is the swashbuckling partner for Bowler after all! They don't stay together for much longer because Peter is LBW to Bichel for 16 with the score on 45. In comes Ian Blackwell...is this too early? We can only assume that with the pitch so flat, they expect him to settle in and then go big later on in the innings. He certainly starts quietly. The 50 arrives at 9.2 overs and we're at 51 with 10 down, it's 77 azt 14 and 86 at 15. It's trundling rather than galloping!
Put your foot down....
Things start to move as the 50 partnership comes up at 95 and then Wood departs, trying to smash us to 100 with the score on 99. He is bowled for 37 and Mike Burns joins his big hitting partner. Blackwell has hit a couple but he now decides that he's taken too long to get to 50. He deposits a six into the Old Pavilion in the 19th and puts in another boundary to reach 50 off 39 balls (6fours and the six). 121 for 2 in the 20th and we should be looking at something over 250. Unfortunately, Blacky misjudges one and is bowled for 55 at 131. Parsons arrives and nurses the score to 150 (although he was dropped on 148 in the deep) but he is also bowled next ball and we need someone to put the hammer down. This is not the place to bring in Piran Holloway. He can do a job but he is not the attacking batsman we need. Maybe the line-up should have seen Holloway and Blackwell swopped, or maybe someone else is needed. Rob Turner would have been a better choice possibly.
Burns takes up the baton and looks to be the attacking batsman while Holloway holds up his end and supports his captain. Hed puts the ball into the Colin Atkinson after we hit 166 at 30 overs but he loses Piran when he is ajudged LBW trying to hook a ball - how does that work? 182 for 5 brings Rob Turner to the crease during his benefit match and he seems intent on getting us over the 250 target as we reach 193 with 10 to go. The 200 up arrives soon after and we start to move at pace - 217 at 38 and Burnsy to another 50 at Double Nelson- and the loss of Burns at 226 for 54 doesn't slow it down much because the wicket-keeper has decided to give it the long handle. Dutch is in and out for one in short time and we're 230 for 7. 250 looks a long way away but we have Graham Rose at number 8 (although Francis would have been as good with the bat). It's 245 at 42 and the 250 does arrive before the end of the over. Hagar hits the ball straight to a fielder at 253 but Jones supports Noddy in full flow and he puts the score up to 259 with an over to go, reaches his 50 off 44 balls (6 fours) and takes us to a finishing total of 269.
Worcestershire need 270 to win and we need Hick and Solanki very early on this pitch. It is a score to defend but this lot are a side who can get it if we don't bowl tightly. A decent knock and they finished within the time!!!!!
You know that defendable total.....
When Rose opened with a four run over and Matt Bulbeck took Bichel's wicket with his second ball, there was a feel about this game that we were in with a shout. When Vikram Solanki put the ball between the CA Pavilion and the Botham Stand at the start of the fourth over and the Royals took 40 off the first 5, the feeling started to fade. As the Hick/Solanki show continued with 50 off the first 6, Burnsy brought Jones on for Bulbeck at the Old Pavilion. The boundary boards kept on being smacked and our outfielding didn't help an awful lot. Hick reached 50 off 34 balls just after the Pears reached 85 in 10 overs. It all looked academic.
100 up in 11, Solanki to 50 at 112 off 38 balls with 1 six and 7 fours but we slowed them down a bit...they only reached 121 by the 15th and we had slow men at each end. Dutch at the River and Blackwell at the Old Pavilion. This brought a bit of hope when at 131, Burns took a wonderful diving catch to say goodbye to Solanki for 58. This brings Ben Smith to the crease and a couple of wickets would have changed the complexion of the game. The rate had slowed with the Blackwell/Dutch partnership. The fielding had improved after the example of the captain as well.
But you've got to bring your seamers back on and as soon as Parsons replaced Dutch at the River and Bulbeck came back at the Old Pavilion, Worcs were back in first gear. The 150 came up in the 23rd, it was 168 at 25 and Hick reached 100 in the 27th off 81 balls with 1 six and 18 fours. Burns had to go back to the spinners but 200 arrived with more than 15 overs to go and by over 35 they actually needed 35. Ben Smith reached 50 from just over 60 balls and the announcer requested that the kid who had bowled 'Stumpy the Dragon' at the interval should report to the office. We all assumed that he or she would be on next change to stop the rot.
It's 236 for 2 in the 36th and the game is over even though the 'burly and excitable man at the Stragglers' is yet to sing. Four more points gone. It would have been difficult to defend 350 on this pitch. There's some work to do before the C&G quarter if we're gonna beat this lot with what we have at the moment.
Look at the scorecard for when we actually lost - although it can't be long away as Hick has just gone to 132 wiith a six back over Jonah's head. To coin a phrase...Ho Hum!