KP Nuts about the C&G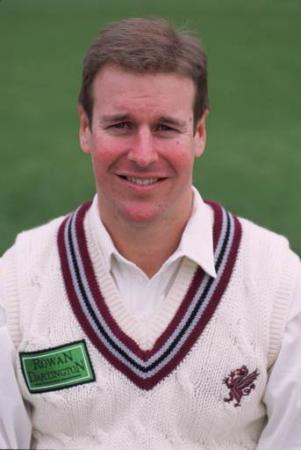 Brilliant Again!
By Grockle
July 17 2002
Keith Parsons really does love this competition. He leads a great fighback by the boys from the West. Worcestershire will go no further and it took a lot of guts and heart to pass them and go on...Somerset showed loads today!
v Worcestershire @ Taunton 17 July C&G QF
No Caddick, No Johnson and the 2002 home debut of the 'youngster' Jarvis. Trescothick has won the toss and put them in so we will have cricket up until mid-afternoon at least he says pessimistically!!
Solanki and Peters are facing Jonah and Bulbeck and 'Bully' looks in better form than on Sunday. 10 for 0 in the second over. No Wood so we could have played the extra batsman, which suggests that Parsons and Burns are not completely fit - in other words they won't both bowl a full ten. But the sun is out, the sky is blue and we're still in and Gloucestershire aren't so all is right with the world until at least 2:00.
Making hay while the ball shines...
Peters and Solanki go off at a hell of a rate. With Bulbeck passing the bat at the River End and Jones going for a few more at the Old Pavilion. It's 8 an over and rising when Jones breaks through and gets Peters LBW for 18 with the score on 37. In comes Hick and all Somerset supporters cross their fingers. Bully tests him in his first over but he soon gets into the swing and the 50 comes up in the 8th when Jarvis replaces Jones. The debutant starts with 2 wides, adds a couple of boundaries, adds another wide and finishes with 11 off the over - deja vu? 74 at ten overs suggests a score in the high three hundreds and our season over and done with.
Bye Bye Banger...
What the hell do you do when your fast attack is going big time? Bulbeck compounds the position by starting to bowl off a shortened run up after three, even then he's still the most dangerous bowler by far. Solanki is using up all his lives, playing and missing consistently! By the end of the 10th, PJ has gone for 25 and it's time for another enforced change. Well what do you expect from a club bowler on a batting track against Hick and Solanki? 87 after 11 and the problems pile up. Attempting to field a dipping ball, Trescothick does something horrible to his left hand and immediately has to leave the field. Depending on the story you take, he's broken his thumb in two places. ripped the webbing between his thumb and his finger or chipped his thumb bone. Whatever he's done, he's out for 6 weeks and we will start at 0 for 1 in our reply. It is looking very bleak indeed.
Keith Parsons - Cox's Pippin!!...
Hick brings up the 100 with a huge six into the Brewhouse seats and with 111 arriving at 15 overs we are still looking at 350 plus, even though KP has brought some sanity to the Old Pavilion end bowling. He adds a bit of hope to that when he bowls "Mr Flat Track" at 118 for 39 and Ben Smith arrives to pair up with Vikram. Thank the Lord! Cox seems to have decided to bowl Bulbeck out at the River end, partly because he's the one making the batsmen think and partly because he probably wouldn't be able to come back on if we stopped him. He finishes with 10 for 61 and that does him no justice at all.
Burns baby Burns (sorry!).....
Although Jonah has been marking his run up out, the replacement at the River is Mike Burns. So why the hell is PJ playing when Matt Wood and Piran Holloway are available? The only reason we can think of is that no-one was sure if Matt B would manage a full 10 overs. By the 22nd, when the 150 comes up, we are back in this and the jobbing bowlers have pulled the rate back to something manageable. It gets better when Blackwell catches Solanki off Burns and it's 153 for 3. 158 at 25 and the eight an over has been halved in the secoond part of the innings. The position improves even further when Parsons continues the clawing back by having Leatherdale, again off the bowling of Burns. 163 for 4
By the 30th Worcester have been restricted to less than six an over and that is a considerable achievement. 178 for 4 is a hell of a lot better. One run later its even more promising when Cox takes a pearler of a catch off Parsons to send Gareth Batty home and bring in that well known stroke player Andrew Mitchell (whoooo?). Parsons finishes with 37 for 2 off his 10 - who says we've got no bowlers. Maybe we've just got no faith.
No use of Dutch today but Blackwell is introduced late at the Old Pavilion end in the 32nd and the opposition pass 200 two overs later. Now the fielding plays its part. Mitchell whips Blacky into the in-field and hammers down the pitch. Cox sweeps in, picks up one handed and releases at the one stump he can see. Andy Bichel is run out and there's only 201 on the board. In comes Steve Rhodes.
A comment - At the start of this game there was considerable moaning and groaning from the back of the Stragglers about the quality of our bowling, the absence of slips, the poor bowling by everyone etc etc.... Now the game has been turned around and what happens? Positive support for the side? No bleeding chance? The same people admitting that Somerset have pulled their collective act together? Do me a favour. All we get is sullen silence now that the men they are supposed to support have sorted the game out. It's almost as if these people aren't happy unless we are doing badly - surely that can't be the case can it?
Mike Burns is bowled out at the River end and is unlucky to have gone for 53 for his 2 - 8 of those came from two sets of 4 leg byes. It's the 40th over and they've got to 226. Steffan Jones returns in his favourite place, at the end of an innings with wickets to get. He really doesn't like opening the bowling and isn't at his best doing it. He proves this at 234 when Rhodes chips to Parsons and is replaced by Kabir Ali. The score pushes to 249 with 5 overs to go - could they get it to 300? We reckon 275 is about right. Ali tries to push the score along by hooking Jones into the deep....straight down Bulbeck's throat 253 for 8. In comes Lampitt and they move towards the 270's but at 268, Lampitt gives Bulbeck his second catch in front of the cemetry and then Parsons runs out Mason at 271 leaving Ben Smith on 85 all out.
From dead and buried to a gettable target with a really impressive second half of a game. The second string bowlers supported like demons and the little fielding cameos added the topping. Now can the batsmen put THEM to the sword?
The word is that Trescothick WILL bat if he's needed at number eleven....but we won't need him will we? Will we?
Early Jitters...
Well at 29 with Cox wandering back for 15 it was possible that we would. 8.2 overs down and we were already on the back foot against the one day form team of 2002. When Bowler followed him at 36 after 9 overs, we seemed to be in familiar territory. Burns and Blackwell looked comfortable but we could not afford to lose wickets with the ask we had. The loss of Burns in the 15th, LBW to Lampitt, was the first nail in the C&G coffin 87 for 3 brought Keith Parsons in and the rebuilding job began. 100 up in the 17th - well behind Worcs' early rate.
Cox's Pippin returns!...
119 at 20 meant that the rate wasn't moving fast enough but Parsons was still there and his 50 came off 36 balls with 9 fours, the 50 partnership arrived at 137 and Blackwell was the quieter partner. He went at 145 for 30 bringing Rob Turner in to make up the last recognised duo with another 127 required. The 150 arrived in the 25th and it looked good, we needed 100 to win with 20.3 overs to get them in, a five an over run rate. Should be ours shouldn't it? With only Dutch, Bulbeck, Jones ....and Banger wearing a huge boxing glove to come, it did not instill major confidence. Parsons and Turner (or "Tip and Run" as Lord Tetley the Flagpole Baronet kept shouting out) brought up the 50 partnership at 195 and by the end of the 34th over we still needed 5 per over with 75 off 15. The 200 came with a four from Turner and my darling wife who had accompanied me said " I reckon Parsons is going to go to his 100 with a six". As I turned around to patronise her unmercifully for her lack of understanding of the game the ball flew high into the Old Pavilion and Parsons accepted the standing ovation from the Somerset support. According to the radio it's his first one day hundred! Not bad when your first comes off 77 balls with 14 fours and one six!
Never make it easy lads...
Worcestershire moved their attack about and tried to upset the batsmen's rhythm but the 5 runs per over system that the two Somerset men worked to kept on accumulating. With 35 off 7, the guys seemed to decide to accelerate. Turner took them to the 100 partnership with two boundaries and 250 came up at 43.5. 37 balls and 22 needed. Then...disaster, KP was caught behind at 251 for a brilliant 121 off 100 balls. A truly stupendous knock and a storming ovation which would have gone on as long as he stayed on the pitch. 21 off 6 and Keith Dutch (who hasn't had the best season so far with the wood) in to nurdle. This became 16 off 5 and then 12 off 4. Dutch didn't look too steady and Turner couldn't get on strike. Kabir Ali came on at the River end and as Noddy came up the wicket to hit a boundary to reach 51, he was caught behind and we were 11 away with 21 balls to get them. Matt Bulbeck was walking out and Steffan Jones had changed back into his whites after spending the second half of our innings in the blue training kit with ultimate confidence! Bulbeck hit four off his second ball and we all prayed. at 47.2 Dutchy scooped a four over the field and we needed 3. No bother, Dutch just hit the next one to the same boundary and we were home.
The great, great thing about today was the mountain we had to climb and the heart and guts we showed in climbing it. Disgruntled fans, questions about our big event character, criticism about the level of ability of the side, praise for the one day ability of our opponents - all meant absolutely nothing. The side who played, won the game without the big boys (shutting up those who said we could only do it when the internationals played). They beat the best one day side about at the moment after a terrible start. They stopped the rot, turned the game around and won at a canter. The radio was calling it the best performance of a Somerset side in a one day game. Can't agree...the Surrey semi from 1999 was a more satisfying result. But this result was produced under the extremes of stress, with resources stretched to the limit and was the best performance this season. The players were a credit to the county and Kent might be a little worried about coming down here a fortnight tomorrow. The C&G is still ours and it's going to take some ripping from our hot little hands!!
Thanks on behalf of lots of happy smiling supporters who felt the faith being replenished today boys. All you need to do is produce the same again a couple more times and we'll all hibernate happily!!