Quarters Here We Are!! Middx v Kent at Uxbridge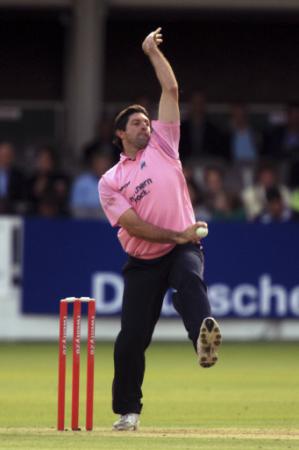 Bat, Ball, Drives Coach?
By Daria
June 24 2008
Daria's debut article and what an auspicious start she makes - relating the tale of Middlesex overcoming Kent in the final over of this Twenty20 match, thus confirming a Quarter-final place. Daria uses similies and rarified asides like John Arlott on speed. Joking apart, it's a corker of a debut piece and many thanks to Daria for this report - I hope the first of many.
On Our Way
Due to an extremely generous estimate of how long it would take to get from Reading to Uxbridge, we actually arrived at the ground at quarter to four, in time to watch most of the warm-up, which in its own way was highly entertaining. As well as the usual batting and fielding drills, there was what appeared to be a primary school ballet class "Let's all pretend to be a tree, children", skipping, and the most incompetent game of football I've ever seen (given the number of injuries we've had in warm-up games, I was quite relieved there were no tackles at all).
The ground was already filling up on a gorgeously sunny day, and we were lucky to find front-row seats just along from the Pavilion. I'd not been to Uxbridge before and I was very impressed, although laziness meant I didn't see much of the facilities – the pavilion seemed popular though, and the queues at the beer tent were short when I did finally venture there. The only complaint would be the lack of toilets, especially in comparison to Richmond where there were loads.

There were a lot of players out warming up – we seemed to have followed the precedent of Richmond of taking the entire squad along, including Smith who was behaving more like the captain than the actual captain was. I still have my doubts about whether he should be as involved as he clearly is when he's not actually playing – it can't be helpful for Joyce, who stood stony-faced throughout Smith's attempt to give the team talk. Also a good sign to see Asbo bowling, although I don't think he's up to full pace yet. There was no sign of Nannes however – perhaps he caught cold on Sunday when he appeared on the Richmond balcony in just a shirt and pants?
We soon heard that Finn was in to replace him. Also spotted, helping to put away the nets and refreshing himself with a pint of beer afterwards, a certain NRD Compton. His ankle wasn't strapped and he seemed to be moving freely.
Getting On With It

The Portrait won the toss and chose to bat, which seemed fair enough on what looked like a fast, bouncy pitch. Billy the Kid and Straussy opened, as they have done all through this tournament, and I have to say I have my doubts about this partnership. Billy doesn't appear to take comfort from having an experienced partner, and Strauss often appears to be thinking about the Times crossword rather than concentrating on the task at hand. Billy also appears to be suffering from a crisis of confidence (or so it seemed at the time; later events made me reconsider this view) and got caught by van Jaarsfeld off a good ball by Arafat in only the second over.
Joyce sent himself in, apparently thinking that a clear head was needed if we were not to lose the match before it was barely begun, our previous capitulation to Kent apparently on his mind. In the third over, Strauss dreamily played on and was clean bowled by Mahmood. I understand the need to have Straussy's experience in the top order, but it seems to me there's a good argument for letting Morgy open. As things go he's coming in early anyway, and he seems to thrive on bowling with the fielding restrictions. As undoubtedly our most consistent impact batsman, we wouldn't lose anything if he was dismissed at the top of the order. As it is, he's too often coming in early with the score 2 down for next-to-nothing, and the pressure on not to lose his wicket cheaply.
Incidentally, Geraint Jones MBE was keeping with fluorescent pink gloves. Maybe the award was for services to washing up; or perhaps the gloves just help him remember he's supposed to catch the ball. The MBE certainly couldn't have been for his keeping, which was lacklustre, especially when compared to the increasingly impressive Scott.
When Irish Eyes Are Smiling

The Kent fans behind us couldn't tell the difference between Joyce and Morgan. I know they're both short, Irish, left-handed and ginger, but it's not that difficult. Eoin's the one that was hitting the ball all over the park. Ed J was caught by McLaren for 11 with a ball that seemed to have grounded, but McLaren claimed the catch and after a slightly bemused pause, Ed sulked off the field. 43-3. The arrival of A.C. seemed to allow Eoin a bit more freedom, and after a very economical seventh over by McLaren the two of them decided to let loose a bit, and we proceeded smoothly enough from 48-3 after seven overs to 115-3 after thirteen, including some lovely sixes from both players and some very cheeky shots by Morgan. This information was brought to you with no help from either the announcer or the scoreboard, who spent the entire game correcting themselves from previous mistakes, and mispronouncing the players' names.
Eoin brought up his 50 with two glorious sixes and then a four for good measure, and Inter lived up to the promise that he's shown so far in this tournament. The Kent bowling was a bit curate's-eggish – Tredwell in particular leaking runs so fast that he must surely be called into the England ODI squad soon – but McLaren was impressive and we seemed to have become a bit becalmed, especially after Morgy got caught attempting another six over the scoreboard.
The Blacksmith came in on 137-4, and we all started to hope he was going to start smashing it all over the park but it didn't click for him today and he was soon gone for 22. A.C. was slowing down too, and was stuck on 49 for what felt like hours, not helped by the announcer telling everyone that he had made his 50 when he'd done no such thing. It wasn't Shaggy's day with the bat – falling to Mahmood on only his second ball – or Dial M's for that matter, making just one run off his three balls. At 169-4 with one over to go, we began to fear that A.C. had been jinxed, but he reached his much-delayed 50 in the last over and we finished on 171-7, Malan on 52 not out. And I admit, I thought that was 20-25 runs too short.
171 To Defend, Oh Ye Of Little Faith

When Dial M opened our innings with a Harmison wide, I was sure of it. I think Tim's a fantastic CC and one-day bowler but T20 is not his game; he looks about 5mph short of really troubling decent T20 openers first up. He was wayward for most of his four overs – we persisted with the swapping of the bowlers between overs, at least until the spinners came on.
Finny, too, looked a bit rusty and short on confidence. Joyce swapped him ends but without any apparent improvement. Kent were 11-0 after 2 overs and 41-0 after 5 and I began to fear the worst. The Blacksmith struck in the sixth, Denly going to a fine stumping by Scott, and van Jaarsfeld replaced him.
One of the obvious differences between the sides was that Kent never settled for running one where two were possible. We didn't do this at all – are we so worried about runouts that caution takes precedence? The 20 runs we thought we were short would easily have been supplied by a bit more urgency between the wickets. The team are, in the main, young and fairly fast and should be able to run twos far more often; this is an issue that needs to be addressed now that the quarters and possibly even Finals Day beckon.
That said, Kent were superb in the field, and Middlesex – weren't. There were a couple of misses, a few fours that needn't have been, and a worrying amount of lazy running (Morgan a rare exception; he was magnificent, but must be knackered after chasing every ball in the deep like Lassie on speed).
Worst offender was Billy the Kid - ambling across to collect a ball that hadn't quite reached the boundary, he proceeded to stand mindlessly gazing at it whilst the Kent batsmen cheerfully ran a second. Middlesex are not a bad fielding unit, but their indolence in the field has been a worrying theme this season for a young, fit team, and opposing batsmen are clearly aware that they're unlikely to come under serious, sustained pressure on their running. Middlesex's lack of hustle nearly cost them dearly today.
The two spinners came on as soon as the fielding restrictions were over, and managed to slow down the Kent batsmen, apart from one over from TSO which went for twelve, but that was more to do with poor fielding – again! - than bad bowling.
Shaggy got van Jaarsveld courtesy of another excellent stumping by Scott and at 79-2 from ten overs we thought it was going to be a close-run thing. Key departed on 49 (not actually jinxed by the scoreboard this time) courtesy of a skied ball and a confident catch from Captain Morgan , then two overs later Udal got Arafat in a very similar manner, with Malan the fielder. 107-4.
Stevens was next man in, and in the next over TSO bowled Kemp for 8 and at 107-5 with 5 overs remaining an elusive glimmer of hope appeared. Finny came back on for one expensive over, followed by much the same from Dial M, and with three overs to go Kent needed 34 to win. Which, having seen them this season, didn't seem like that big an ask.
The Denoument

Godleman actually took a catch from the returning Henderson, and Mahmood was gone, but McLaren was in and we weren't out of the woods yet. 145-6. Finny's last over then went for 12 – it wasn't his best day – and Kent needed 14 off the last over.

I shouldn't have worried. Henderson got McLaren first ball, and then it was the turn of JonesMBE, who lasted three balls for two runs before falling lbw. Tredwell – who must have an anti-portrait in his attic, he looks older than David Lloyd – was next in but by then Kent needed 12 off the last two balls and when the penultimate ball went for a single, we were home and dry.
And I never doubted it for a minute. Much.
View a Printer Friendly version of this Story.
Quarters Here We Are!! Middx v Kent at Uxbridge
Discussion started by Middlesex till we die , 24/06/2008 23:33
Middlesex till we die
24/06/2008 23:33
Quarters Here We Are!! Middx v Kent at Uxbridge
BarmierKev
24/06/2008 23:42
Great report.

Had I not been there and known result, from majority of reading I'd have guessed we'd lost.

But then again, throughout I wasn't conviced we were going to win and I share view that Kent were more determined to make 2's out of 1. Boundries, however, seemed to dominate majorly the proportion of scoring.

Daria for future reports. Ur hired!


---

Barmy Kev
I'm only here for the tele
David_Webmaster
25/06/2008 08:37
Well played!



Edited 1 time(s). Last edit at 2008:06:25:08:40:10 by David_Webmaster.
dynamo_harrow
25/06/2008 16:12
Wonderful report - more like this please!
Seaxe_Man
26/06/2008 04:51
An excellent report Daria - I agree with your sentiments with regard to the fielding which although it did'nt cost us in the end at Uxers, it did cost us at Richmond. The running of twos instead of ones, may have been inhibited a little by the early loss of Strauss/Godleman but your general point is valid. The Mafia also consider that returns to the wicket are wayward: and hitting the stumps from anywhere seems to be a lost art for The Middle; an hour's practice with Jonty Rhodes might help. Apart from that: we had an enjoyable evening in the Uxers Pav: being joined by Umpire Barry Leadbeater for an hour's chat. As he was one of the umpires at the infamous ' bad light ' game against Derbyshire: he received a lot of questions on that, which to his credit he answered fairly and fully. He confirmed that the umpires are now the sole arbiters of bad light. Batters and fielders are excluded. He also denied that the ECB set fixed light figures: saying that in the umpires view, each ground has it's own acceptable level. Lord's for instance with its high stands: is more susceptible to bad light than say Uxers where it is more open in his opinion. Anyway, after an enjoyable chat, he shook our hands and we weaved our way home up Gatting Way. C'mon The Middle.
Seaxe_Man
26/06/2008 06:31
As a footnote to your excellent report Daria: Charles Randall (D.Telegraph) reported it thus: How did it go: Midd-x decided to set a total, but struggled until Eoin, who narrowly missed the hog roast with the first of five sixes, began to dominate with fellow leftie Dawid Malan ( Dawid has been a find for us in 20/20, augmenting his steady batting with excellent fielding SM). Kent were pinned back by spin and slick fielding until they needed 14 off the last over, expertly bowled by seamer Tyrone Henderson. Good day: Veteran Udal, with 3 Kent wickets for only 19. Bad day: Simon Cook blitzed by his former county. X-factor: 2 sharp stumpings by Ben Scott undid Kent. What the result means: relief for Middlesex after 2 successive defeats. They re-open a gap at the top, and replica pink shirts are becoming a phenomenal best-seller at Eric Howes club shop. ( there were certainly a much higher percentage of pinkies in the crowd SM). Match rating: Exciting 9/10. Footnote: met Janet in the Ux Pav and she was excited and said her journey by Met to KX and then bus to Southers and vv had been fine with no probs
Seaxe_Man
28/06/2008 15:07
Ed Joyce interview with The Harrow Times: Skipper Ed Joyce believes the side can go all the way to the final. Joyce said: " We are on a bit of a high at the moment and have stumbled on a formula that works. It's really important to get a good start in the competition and we have just gone on from there." " The win over Kent was really important because we needed to bounce back after two defeats in a row. We made a poor start but Eoin and Dawid had a great partnership. But the combined bowling and fielding was again probably the difference for us. " " We need to make sure we get a home draw in the next round and that will give us a real advantage. It's pretty exciting to think we are one win from the finals day and we really want to get there."
One of my favourite recent discoveries is the King Cricket website, where people post occasional match reports, the main criterion being that the report must not talk about the cricket at all.
Not in any way detracting from Daria's superb MTWD report, I thought that some readers might enjoy a trip down memory lane with the Soviet Onion from King Cricket:
Soviet Onion's Match Report on King Cricket
Sorry, only registered users may post in this forum.