Kadeer Today, Gone Tomorrow, Day 3 Middx v Glos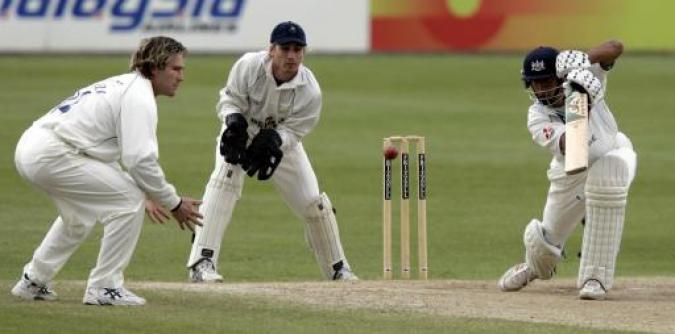 Kadeer
By Ged feat. Kev
September 5 2008
Ged describes a very much shortened day, including a very lengthy big match build up, a long lunch with Charley The Gent Malloy. And somehow, with the help of Barmy Kev in the Algarve, Ged has still produced a full match report. Learn, for example, whether the pigeons exceeded the humans in the crowd. It's a rip-snorter and, sadly for Ged, his last live cricket of 2008.
Kadeer Today, Gone Tomorrow
Washout For Yourself
The weather forecast for Day 3 had looked far from promising all week and so waking up to rain and a dismal forecast came as a disappointment but no surprise. Today was to be my last chance of live cricket this year, so it was disappointment indeed.
My guest, Charley "The Gent" Malloy (see match reports passim) and I had a contingency plan. We'd go about our own business in the morning, then meet for a late dim sum lunch at The Royal China on Queensway, to be followed by a cursory weather inspection with every expectation that we'd part company at that juncture.
My morning passed swiftly, as did a very tasty dim sum lunch. A special duck cheung fun was probably my highlight, although I also particularly liked the prawn with coriander dumpling, the fried pork bun and the spicy chickens' feet (the latter Charley didn't like).
We emerged from Royal China to the very enticing sight of sunshine. "Is it possible?" we asked each other. Only one way to find out. We leg it back to my place about 3:50 and phone the "prospects of play" line. No news. How often do cricket nuts phone that line to find out what's going on. We thought 15 minute intervals was suitably restrained. At 4:05 we learnt that the unpires had inspected and would inspect again at 4:30. The radar picture looked encouraging. Let's go.
Just one problem; Charley loves the pavilion but, expecting no play, had come out without a tie. No problem - borrow one of mine. Charley and I have had a standing joke for years that he always admires my tie when it turns out to be a tie that my mum has given me. So it simply had to be one of mum's choices of ties - a deep red jobbie. I grab a blazer and tie, jump in a cab and we should get to the ground around the time of the second inspection.
Yup, play is scheduled to start at 5:00, so we get ourselves some drinks in the upper terrace bar and take up prime seats under the south canopy of the sun deck - perfect placement for this match. Hardly a heave for the best spots - I have never seen the place so empty.
A flurry of rain at 4:45 and the hover cover returns. No sweat, just a flurry. Then out comes the roller as they start up the hover cover again to remove it. "Middlesex must have declared" I said, which impressed Charley no end when Mr Perambulate the announcer confirmed same two or three minutes later.
One Foot In Algarve
Meanwhile I have been in text correspondence this week with Barmy Kev, who is in the Algarve on holiday and wanted updates. The fact that all he knows about the match is the occasional text from me with the score has not prevented him from chiming in with opinions. And indeed his opinions in these circumstances are as valid as anyone elses as far as I am concerned.
Last night I told him that I thought Day 3 would be a washout.
He responded:
"Rekon we will get 30 ovas in 2 mor. dclare at 350. Then wots left our spin twins on clearly from wear i am is a damp wicket will destroy the glaws batting despite l8 resistance. W8er more sangria please. I'll do rport from my perspective insted if u want. It mayb mor aqr8. Or phaps a joint e4t".
I liked the idea of the double-feature you are now reading.
Just before Charley and I left the restaurant, I texted Kev to say that it had been raining all day. His response:
"from wear I am, dspite ovacast start little cloud cova but wicket 2 dry and flat 2 xpect rsult. W8er more firewater pls".
I then texted Kev to explain that the sun had come out and that there were prospects of play. His response:
"I blew weva 2wars lords from algarve - apols 4 dlay".
Back To The Match
Soon the sun was out.
I decided to count the crowd from where we were sitting. I ignored a few hospitality boxes. Upper Compo 6, Mound 3, Tavern 6, Warner 1. I couldn't see the Allen Stand and of course there were a few people other than us in the Pav.
There were seven pigeons clustered about 4 pitches North of the test strip. I realised, given my spectator count, that that was the largest spectator cluster other than members and hospitality boxes.
Dial M opened the bowling from the Nursery end with Big Al from the Pavilion end. They looked quite good, but perhaps weren't making the batsmen play often enough. When the batsmen did have to play, they often played and missed. Or drove for runs, sometimes edged, sometimes properly driven. One catch went straight through the slips (it was Murali Kartik's at 2nd slip, I think, Eoin Morgan at 3rd slip blameless) Kadeer's gaff off Richo's bowling.
The seven pigeons seemed to be walking in along with the fielders, which amused me and Charley a good deal.
After about 25-30 minutes we decided to relocate to the Bowler's Bar for the variety. While I was waiting for our drinks, Charley asked me what the black and white film on the television was. I replied "it's archive footage of Middlesex v Gloucestershire from the 1960's. Don't you recognise J T Murray's wicketkeeping style? Ben Scott has modeled his style on old JT". Charley bought it hook line and sinker until I put him out of his misery, much to the mirth of the bar staff.
I recounted the crowd. 7 Upper Compo, 2 Mound, 10 Tavern (whooah there) and still but 1 in the Warner. 5 Pigeons on Pudding Wicket North.
Soon the rain returned and that was bound to be it for the day, and in my case the season. 30/0 off 11. But as far as Charley and I were concerned, 40 minutes of cricket had been better than none.
Back To The Algarve
I texted Kev to let him know the worst. He replied:
"Me and Olivia playin dominos al fresco/ We may have to abandon due 2 strong winds. Liv ahead on D/L. Did someone say there was a cricket match of sorts goin on?"
And soon after:
"dspite driving rain and poor lite Liv won dominos last domino finish asif Daisy woz there. meanwhile middx need snookas 2mor with weatha and ability 2 bowl teams out. more Port pls w8er".
And Back at Lord's
So it was fairwell to another season (live cricket-wise anyway) and fairwell to Charley "The Gent" Malloy, who wandered off into the distance before I realised that he was still wearing that tie my mum gave me. Well, I have some good news for you, Charley. I've spoken to mum, and she says that I should let you keep the tie.
View a Printer Friendly version of this Story.
Kadeer Today, Gone Tomorrow, Day 3 Middx v Glos
Discussion started by Middlesex till we die , 05/09/2008 20:26
Middlesex till we die
05/09/2008 20:26
Kadeer Today, Gone Tomorrow, Day 3 Middx v Glos
There were a few more people in the Allen; not many though.

I thought the umpires were over-cautious tbh; it stopped raining just after three and yet there was no play until five. But that may just be the frustrated perspective of someone who had been there since half past eleven this morning.
Sorry, only registered users may post in this forum.