The Pluck Of The Irish Sweep Middlesex to Victory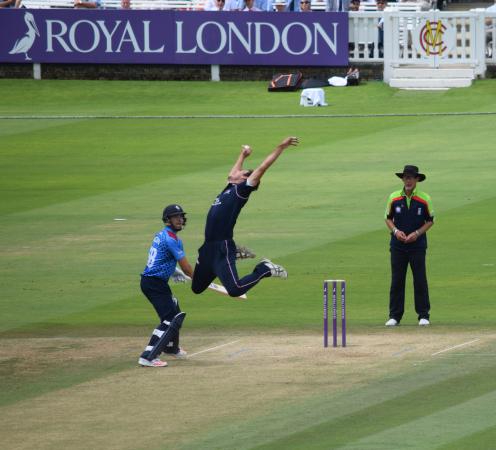 North East C&B
By Rob The Punk
July 25 2016
Rob the Punk decribes his enjoyable Ladies Day, despite complaints about Burger all food choices and a crushing Kent defeat. Thank you to Darren Gosling for some great pictures
It was Ladies Day at Lord's on Sunday, for the One Day Cup match between Middlesex and Kent. The offer of free entry for women was too good for my sisters to refuse and they brought their menfolk along too. I had already been promised a free pass by Barmy Kev, meaning I avoided having to squeeze into one of my wife's frocks and apply make-up for the first time since The Damned played Hammersmith in 1983. A pity, really, as I still have the legs for it.
With Rabada having returned home and both DBD and Billings away on Lions duty (with Malan), I thought before the game that the hosts would be too strong for my mob - but, hey. it's Lord's, it's warm, and I'd have a great day. And that's roughly how things played out. Kent by no means disgraced themselves but still lost comfortably.
They opted to bat first on a wicket tinged with green and were soon in strife at 10 for 2 off 6. Murtagh was bang on the money, whilst Finn seemed to be taking out the frustration of his Test omission on the Kent batters, causing the ball to leap fearfully at genuine pace.
Once the early threat subsided, Dickson and Stevens delivered a lesson in sensible repair work, punctuated by the occasional whopping hit. Meanwhile, up in the Compton, one of my sisters had already knocked a full cup of tea all over the shop. I nipped down to the Gents and got caught by a steward helping myself to two armfuls of paper towels, but he accepted my explanation (the Lord's toilets, incidentally, gained gushing approval from the ladies in my party). Once Stevens had holed out off Rayner, the innings stuttered. On 99, Dickson was bowled by Finn and all the impetus went out of Kent.
Kev had earlier expressed a wish to see the scoreboard show Blake on 7 and Jackson on 5…in fact, photographers had several overs to capture the latter before Kent's reserve-reserve keeper got his slogging head on. 238, we all agreed, was probably about 50 light.
Although my party had brought a veritable feast of cold dishes, my brother-in-law used the interval to track down a hot burger. He returned, drained, defeated and distraught, pining for the bacon butty van at Beckenham.
It didn't take long before Middlesex were carnivorously tucking into the Kent attack. After a similar wobbly start, in which the returning Matt 'Bladder' Coles bowled with decent zip, Stirling and Morgan paced the chase perfectly, both striking 13 boundaries and 1 maximum. The former's offside drives were invariably unstoppable, and the latter reverse-swept Tredwell to distraction. Kent didn't help their cause by dropping Stirling in successive overs; both difficult chances but no harder than the two Middx safely snaffled earlier in the day - another key difference between the sides. One of those missed chances was by Kent's on-loan allrounder Will Gidman, off his own bowling; overall, it was far from an auspicious first outing for the Notts man.
Stirlo ton
Moggy ton
200 partnership
Stirling got himself caught with the finishing line in sight, as did Bailey, which just annoyed us as we wanted it over and done with by then and my brother-in-law was dying of malnutrition. Winning with 6 wickets and 5 overs to spare, Middx were rarely stretched and I think Kent being 50 runs light was probably a fair assessment. But, it was warm, it was Lord's and it was indeed a great day.
Well done to Middx/MCC (?) for hosting an occasion that brought extra colour and femininity to Lord's. On the day, Kent had their knickers on the wrong way 'round and had smudged their lippy. Middx, however, were elegantly groomed and could go on to be the talk of the season.
View a Printer Friendly version of this Story.
The Pluck Of The Irish Sweep Middlesex to Victory
Discussion started by Middlesex till we die , 25/07/2016 11:34
Middlesex till we die
25/07/2016 11:34
---
What do you think? You can have your say by posting below.
If you do not already have an account
Click here to Register
.
Edited 1 time(s). Last edit at 2016:07:29:09:38:29 by BarmierKev.
BeefyRoberts
25/07/2016 13:03
Very fine,and funny report.
Always good to see the match from the opponents viewpoint.
Must admit,there was a very good turn out from Kent.
And large crowd to enjoy the weather and another fine Middle victory.
Best of luck to Kent for rest of season.
adelaide
25/07/2016 17:36
Great report. There were a few guys a couple of rows in front of me going on about nostalgia tours by punk bands with their bondage trousers sewn to their zimmer frames. I looked at them and thought you don't look like ex-punks, but then what are they going to look like aged 50 or whatever? I didn't like it at the time but now I can see it as part of the never-ending cycle - outrage gradually absorbed into the mainstream and becoming staid, sparking off next outrage...

Stirlo appeared to drop one off Finn early on, though perhaps it did not carry. Higgins got caught in no man's land between going for one catch and stopping the four, in the end doing neither. And early on Stevens hoicked one just past the diving Finn at mid on. Having seen the dismissal of Northeast (what a picture that is! Even better than I saw it at the time) I sort of expected him to get it.

I'll probably regret asking but Matt "Bladder" Coles? Does this have something to with the holiday which someone shouted out he hoped Coles had enjoyed?


Adelaide
BarmierKev
25/07/2016 19:25
Rumour has it Matt did a full Monty.
ThanksRob, excellent report - made me smile. Glad you enjoyed your day despite the result, and apologies to your bro-in-law about the absence of decent burgers.
pantherlike
25/07/2016 21:23
Fantastic day for the Middle!
Sorry, only registered users may post in this forum.