A tripple JD and Choke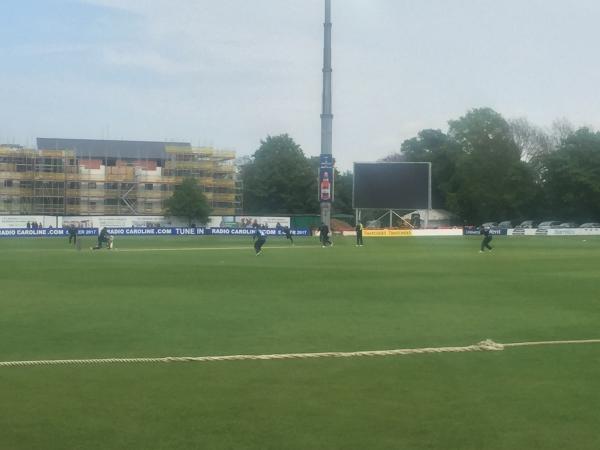 Not the Garden of England
By Rob The Punk
May 7 2017
Rob the Punk an ardent Kent fan describes today's Middlesex defeat with various random diversions.
Neither of these teams could defend a sand castle against a drunken toddler. Hence, when Middlesex win toss they elect to field.
I am a Kent fan but no longer a member for various reasons. My £15 (as opposed to £25 on the door) advanced ticket was a Kent promotion to celebrate Darren Bell-Drummond's two back-to-back tons from previous games we lost. This was celebrated with DBD out from TRJ for a duck. With Kent logo over my scorecard could not write that wicket in full. We batted steadily until Denly Kent and Middlesex reject is done by TRJ.
Kev arrives at noon and says he is at wrong venue. When he realises it is correct he tactfully says this ground used to be beautiful.
When Northeast hits a four one bounce lands in the bin. Kev shouts out "rubbish". Following this theme Dickson smashes dangerously through TRJ fingers, if you first don't succeed, so gave TRJ an easier chance he couldn't miss.
As match became attritional we tried to form a cricket team of musical composers. There were a few obvious ones Michael Vaughan Williams was not so and Kev tried to convince our Michael Claydon, Wayne Parnell should be picked but I wasn't sure about his Dominic Corkikov. My VivaIdi Richards seemed good. I'll leave Kev to decide if he wants to put up our genitalia XI.
Just after Northeast gives Simpson's oven gloves some service. Kev seemed upset Blake was out for 2; he needed 5 more his headline ruined. At 130-6 I'm looking at 152 score and at least get home early for easy Middlesex win.
Murali Malan's first ball was a pie that deceived Parnell but there was spin in shot that was caught in the deep. Old BoyVoges spectacularly catches Coles in the slips. I'm really impressed by Helm, I did see his 2 overs on the light rain effected game against Sussex.
The 200 achieved was lowest around the country. We can't defend big totals maybe we can defend small ones.
As I was saying we need more from our overseas bowler Parnell takes two wickets in an over and its 10-2.
As Middlesex fighting back and Kev goes to the toilet Old Boy Voges is caught and bowled by Old Boy Stevens a diving catch an 18 year old would be proud of.
John Simpson Middlesex danger man was run out by Compo. The conversation moved on to if Dianne Abbott was here what would be required runs needed. Many weird extreme answers here with excuse she has been at six games earlier today.
Kent are in a good position. It's all under control so why bring Joe Denly on? Wicket maiden that's why. Denly he's rubbish as he takes TRJ wicket. Franklin against our total crap bowler spectacularly caught and bowled
Patel caught and bowled by Parnell we win by 46 runs. I am not used to this.
View a Printer Friendly version of this Story.
A tripple JD and Choke
Discussion started by Middlesex till we die , 07/05/2017 21:42
Middlesex till we die
07/05/2017 21:42
What do you think? You can have your say by posting below.
If you do not already have an account
Click here to Register
.
Edited 1 time(s). Last edit at 2017:05:09:12:41:46 by BarmierKev.
Seaxe_Man
08/05/2017 08:35
A fair summing up methinks. Not musical but you could have added Dickson of Dock Green.
BeefyRoberts
08/05/2017 09:02
Cheers Rob,You hit nail on the head.
Not the best performance and thought the 201 needed was more than getable.
Was a deflated journey Home,with a few grumbles on train.
Was damn cold there and taking shelter in the bar had slight benefits.
Shame how Kent have had to sell more land off to developers and once lovely Canterbury is lovely no more.
Win our last three games to possibly go forward,Well,we will see.......
BarmierKev
08/05/2017 11:12
Once again I leave a Middlesex game thinking well at least the company was good. Thank you Rob for report and many funny moments during the day


---

Barmy Kev
I'm only here for the tele
Sorry, only registered users may post in this forum.