And so.....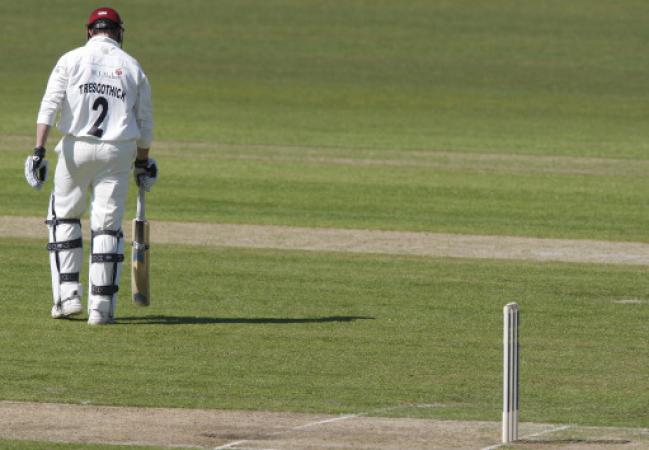 By Grockle et al
November 27 2019
Here we are then, the picture of what our 2020 season will look like. Marcus is trudging off the field but he is returning as an assistant coach but what else is new?
It's one month before Christmas and the fixtures are out on Tuesday of this week. There has been some good news on the contract renewal front while the '100' Draft in late October took away some of our best white ball players to perform abroad in Wales while we work at our home season in the 50 over 'Whatever' Cup.
Little overseas news at the moment, I think people are assessing the effect of the new stuff going on around the game. Babar Azam is doing good things in Australia for his country as the captain while English cricket is getting a lesson in how to play Test cricket from the Kiwi's and our ex wicketkeeper Jos Buttler is moaning about the lack of decent Championship wickets and games while looking forward to spending the first part of the four day season in the IPL.
The ECB has decided to penalise any kind of pitch that has life in it - flat pitches only please boys and no spin until at least Day 3. They meted out a 24 point penalty to us for the Essex pitch for 'uneven bounce' it seems. They waited 2 months to set the penalty, put half of it on a season we haven't even played yet and are holding the other 12 over our heads just in case we look like making a bid for the trophy in our first 100 years as a 'non urban' county - can't have that now can we?
Somerset have no real chance of appealing as we have neither a Chairman or CEO to formulate a plan presently and we've probably signed away all rights to criticise the governing body in any way for the £1.3m bung we got as part of the '100' deal.
There are some fresh faced new Academy boys - let's hope they get to play before the county disappears into the gloom of the new ECB world. Harrison and Graves mis-represented and spun their way through a Parliamentary committee and Ben Warren announced that we have had over 2 million internet hits for our streaming service - as one door is held shut by the people running the game another one opens if you are inventive enough.
AGM season has not exactly opened the floodgates of new information. 'No Comment' on the Cornish situation though there will be appointments in January to replace him and create a new Chair. No one can explain how the ECB decided who will play who once and twice in the new exciting "you don't play everyone home and away" CC1. But there is a local derby in the four day game at both Taunton and Bristol as Glos return to the top tier in that competition. No Comment either on whether Jason Kerr is in someway contracted to be in Cardiff during the '100' rather than where he should be, running his county side. It seems that the arrangements for the ECB White Elephant include secret aspects in terms of personnel involvement and the amount and type of comment the non 100 counties can make about this debacle.
And so we look forward to the holiday season and then the start of 2020. I'm not full of the spirit I am afraid but I am certain that the governing body of English Cricket is full of freeloaders, ego maniacs and people with no clue concerning what they have and how they should manage it.
Get to games while you can people, enjoy the skills you see from players from the South West playing in their natural habitat. It may very soon become a thing of the past.
#watchyercounty
#opposethe100
#stuffwelshfire