Clare Taylor Interview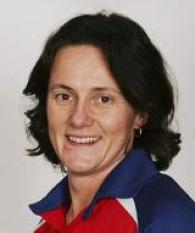 CLARE TAYLOR
By JMB
April 14 2007
Ex-Yorkshire and England cricketer and England footballer Clare Taylor answers your questions. In association with the Yorkshire Womens Cricket Association, The Corridor interviews Clare Taylor...
You have now moved to New Zealand, How is life out there?

Life in New Zealand is pretty damn good .It has the same climate as England so the winters can get just as cold. The people are very friendly hospitable and laid back and there are hardly any traffic jams!!!
Do you play much cricket? What level do you play at?
I played in the State League this season which is equivalent to the county Champs in England
You have just come back from India with the New Zealand Team how did that feel coaching another country against your own?
It felt pretty weird being on the opposite side to England, but it was a good experience and life and times move on and that is what I have done too
Do you ever see a day when the England women's Test side will play in front of a packed house at Lord's?
No I donít think that England women will ever play in front of a packed house at Lords...it doesnít generate enough income for ECB
How important do you think it was for the ladies side to share their Ashes glory with the men on the open top bus ride around London? Has this made an obvious difference to the profile of the women's game?
It was very important to ride round London with the guys after the Ashes win as both were fantastic achievements and it raised the profile of the womenís game for a while but unfortunately I donít think it has been fully capitalised on
Would you prefer to hit the winning runs v Australia at Lords or the winner in a World Cup final?
I would prefer to hit the winning runs in†a WC final v Aussie at Lords!!! I think winning a WC would rate above beating the Aussies as then you are the best in the world not just better than Aus
Was winning the Cricket World cup in England your greatest sporting honour?
Yes winning a world cup at Lords is a pretty special feeling and rates as my best sporting moment
Is supporting Yorkshire womenís cricket team as traumatic and as much of a roller-coaster ride as following the menís counterparts?
No itís a lot easier following the women as they are more on an even keel and tend to win more than they loose!!
Whilst you were winning 11 titles in 12 years was it getting to easy?
Complacency is the root cause to failure!!! Wanting to be the best and keep winning always kept us on our toes and we treat every game like it was a final
There seems to have been a bit of a dip in the performance of the Yorkshire side in the last couple of years. Do you think that is temporary, or is it that other counties have just got better and caught us up?
I hope it is a temp blip!! I think it is a mixture of both...Yorkshire have been a bit lax at bringing the youngsters on over the last few years and the other counties have caught up too...we had a lot of older players all retire at the same time and replacing that high calibre was hard
Do you follow Yorkshire menís team and if so what do you think of the new signings and the prospects for the year ahead?
I donít really follow the men that closely, I try to look out for their results, but I think under Martyn Moxon they will be ok this season
How many wickets and runs did you get in your time with Yorkshire Women? BB and HS also!
I donít really keep stats I just know my highest score was 68 against Ireland and I had a few 4 wicket hauls
During your time as a cricketer which individual was the most difficult to bowl against - county and international?
Most difficult opponent Charlotte Edwards at county and Karen†Rolton - Australia at international
How did you get into cricket in the first place (School/club)?
I started off in cricket as a scorer for a local team in Huddersfield and started playing 6 a side at Hull University then played for Wakefield after I returned from university
Were you the odd one out as a youngster or were there a few females playing cricket in your area?†
Odd one out deffo they all played with dolls!!!
How do you encourage the next generation of women cricketers?
encourage them as youngsters to play a shortened version of the game where everyone gets†chance to have a go at everything...they must enjoy it or they wont continue...also there is a big drop off rate once they leave school...there need to be better links between schools and clubs
How are both ladies cricket and football currently portrayed within the public and professional bodies?
I donít think that either womanís football or cricket is portrayed well in public and professional bodies...I still feel a lot of organisations pay lip service to it because they have to ,but this is understandable as neither are professional and generate their own income
How come you played for Liverpool ladies and not say a Doncaster or Leeds?
I always supported Liverpool as a kid so it was great to get to play for them and play at Anfield...Iíve never liked Leeds so wouldnít choose to play for them and Doncaster were so good I would rather play against them and try and beat them than play for them, although a lot of friends played for them and Iím sure it would have been good fun to play there
What has happened to Liverpool ladies FC?
Liverpool ladies are still going and I think are playing in the National League North...the feeder to the premier league
Do you support Liverpool FC or Huddersfield?
Difficult I always look for Towns results and obviously want them to do well and occasionally go and watch them, but Liverpool have to be my number one team
Cricket or Football?
Football definitely...although I have had a lot of success at cricket I feel I was a better footballer and in football you can have an influence on the game more...once you are out you cant do anything else to help but at football you have 90 mins to make an impact
Did you find it difficult to play at the highest level in both sports?
It did become more and more difficult to play both sports at the top level because of the overlap and out of season commitments to both sports and my decision was made for me really with me being dropped from the football team!!!
Nickname- Romper??
Romper refers to a pair of pyjamas I wore when we were camping as part of our accommodation at my first county champs with Yorkshire. It was a particularly cold august and I came out of the tent in my fluffy pjs with them all tucked in and one of the girls said I looked like I had a romper suit on and the nickname stuck!!!!