CC1 Stand or Fall?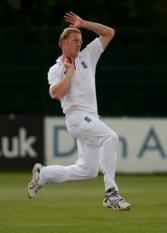 Starman!
By Grockle
July 23 2011
The CC hots up and we have no more time to prepare for the run in to the end of the season. if we wish to compete in the ultimate domestic competition we need to do it from this game to the end of the season. No-one seems to be more aware of this than Mr Steve Kirby. Any allowance to Durham will make the gap too big and only as near to a maximum bonus point victory will keep us in the hunt with a number of other counties - who have to fail somewhere along the line. The 2011 CC1 campaign has to be full on!!
v Durham CC1 @ Taunton Thursday 21 July 2011
Commentary - press Murali Kartik's nose in the picture at the top of the forum pages
The side selected for this game starts to show some strength in depth as players who are not injured are left out - a very rare occurance in our 2011 season.
Trescothick, Suppiah, Compton, Hildreth, Jones, Kieswetter, Trego, Thomas, Kartik, Kirby, Willoughby
No place for Jos Buttler as Chris Jones keeps his Championship place and with injuries to Lewis Gregory and Gemaal Hussain there are few slectorial decisions to make.
Durham won the toss and chose to field in overcast conditions. With rain in the air you have to assume that they wanted to make the most of favourable conditions for bowlers on the first morning but they included Claydon instead of Borthwick so they did not expect the spinning pitch that some Somerset contacts were suggesting had been prepared.
After about an hour they probably wondered whether their decision had been right as Suppiah took the fight to the Durham attack before his skipper got the chance. The fact that that hour took place before Tea on a rain affected first day helped little as the home side romped to 68 off 16 before the interval. Arul did finally go 2 short of a three figure partnership but after he reached his own half ton but his replacement Compo continued the scoring as his skipper also started to move into a higher gear against an attack where Claydon stood out like a lighthouse while his team mates gave him very little support with the ball. Trescothick was outscored by his partners to 50 both times and when Claydon did for Nick on 56 we had well over 200 on the board and were going well. Then, the usual seemed to happen. While The Boss stood tall at one end and dispatched shoddy material to the boundary, his fellow batsmen started and then wilted one after another. Jones to be fair got a brute of a ball from Claydon to go for 13 at 261 but Hilda made 11, CK made little more. The big man finally went to arch-nemesis IDB, caught at the wicket trying to cut a close one for 163 by which time we were in the 330's. 500 had looked on but by then 400 had become the probable target.
When Trego went for 22 even that looked doubtful. 360 for 7 with Alf and MK facing? Could we reach maximum batting points even? Of course we could! The two lower order men put bat to bad ball and plonked it to the boundary with regularity and at the end of Day 1 we were past the 400 figure without more loss. 409 for 7. Still short of what should have been and still with a worrying tendancy for middle order collapse but we were still there.
Day 2
We hoped for more but didn't expect it but when Alfonso went we were only 4 away from 450. When his partner Kartik went we were 18 beyond it and Steve took it up another 12 before Charl inevitably perished. 480 on the board was nearer to what had been expected and we were up for a follow on situation. We had to keep Durham's reply below 330 for this to be of any use to us.
Di Venuto and Smith started brightly against some sharp bowling from Charl and some inspired and highly aggressive bowling from Steve K. To say Tango was unlucky was an understatement and he finally got his reward when DV fired one into the hands of Suppiah on the Somerset Stand boundary after being tied up by one and then given a bit of room by the next. 84 for 1. Muchall came in and played two quite confident boundary shots and then nicked a Kirby blinder to MK and it was 92 for 2. In came Collingwood and he and Smith held the fort until the end of play to leave the field with 150 on the Durham side of the board. They looked in little trouble against our spinner but they weren't getting him far off the cut strip. However it did look like an improving weather picture would simply unfold on a flat pitch and an inevitable draw.
Day 3
Dawns with Collingwood's wicket from the first ball of the second over courtesy of Charl Willoughby. Benkenstein and Smith only added another 7 before they both fell, Smith finally to the spinner after solid but pretty unimpressive defence against him and then his partner at the same score caught in front by Thomas. This is the start of a hell of a spell from our errant bowler as he then proceeds to remove Mustard as the visitors just pass 200, Blackwell to a roar from the crowd (daft shot given the circumstances - shades of days gone by I'm afraid) at 208 clean bowled and Claydon caught by the skipper in the slips after Kartik had removed Thorp in between. Durham lost 7 for 70 in short order and at luch go in with only Harmison and Onions left and still 280 behind.
After the break it doesn't take too long before Harminson is LBW to Trego and we enforce the follow on. They are still 280 behind and the game is most definitely on.
More fire from Kirby greets the Durham openers again and one more he is really unlucky. Unfortunately Di Venuto and Smith weather the storm and as the temperature rises and the wicket flattens they two men accumulate runs and we turn more and more to spin from both men (MK and AS). Di Venuto reaches 50 just after his side reaches 100 without loss and Smith is not far behind him on 47. The session after Tea has the look of a long afternoon in the field for the Somerset men unless something in the environment changes (not likely) or someone takes the game by the scruff of the neck.
And so it developed. Little in the pitch, nothing particular in the air and two men determined to take no risks whatsoever with the ball until the deficit was removed. Smith and Di Venuto almost made it to stumps without a hiccup (except for a bit of a swing and miss by DV to a ball that did not get up enough). But Marcus threw the dice once more and re-introduced Steve Kirby just before the close and he managed to entice the Tasmanian to have a go at a ball that was there for the taking. Unfortunately he top edged it rather than guided it and instead of going well over the top of the slips it went straight into James Hildreth's outstretched hands and the partnership was broken with a century beckoning for the Durham opener.
Smith reached his century (an excellent game from the man) as Claydon was sent out to support him to the close. 209 for 1 at the end of Day 3 and a crucial phase of Somerset's CC1 season starts at 11 on Day 4.
Day 4
Overcast and looking juicy for the seam men! A few overs of Kirby and Willoughby show that looks can be deceiving and there is little happening out there with a ball coming to the end of its life. The Boss turns to Kartik to do something from the OP while bringing Alfonso on at the River and the grinding down of Durham's resistance continues but it is looking like a long old day once more.
Then relief as Smith, found wanting earlier in the over but lucky in the outcome, snicks one to the skipper himself and departs for 114. Will Smith can look back on this game as a good one irrespective of the result. He has done his job in both innings but at 247 the defecit is still there and they are -13 for 2.
Claydon, looking better in the morning session than he had at the end of Day 3, becomes the target man because if we can open his end before the new man Muchall gets in. At 273 it's Muchall who fails, to a slightly dodgy LBW - though I can't say from my vantage point. The Durham man was not impressed but out he must go. 13 for 3...will the floodgates open as Claydon (37) continues the dogged defence and is joined by Collingwood.
The nightwatchman's resistance finally fails 9 runs later after only adding one more himself as he is adjudged LBW to Charl at 282 for an excellent 38. Benkenstein joins Collingwood having done very little in the first innings - unusual for the second highest scorer in CC1 cricket this season - but it doesn't get any better for him as his middle stump is fired out of the ground by Thomas before he bothers the scorers this time either and Durham start to crumple at 285 for 5. Collingwood has a right to look a little quizzically at the decision that sends him on his way at 293...it might have been coming in but it didn't look certain and umpire O'Shaugnessy took and age to decide his fate. Nevertheless it is 6 down and the big pairing of Blackwell and Mustard are together at the crease with an absolute hill to climb.
The 300 arrives but there is only another 9 added before a faster one from Thomas extracts some extra bounce from the pitch, takes the edge off the shoulder of IDB's bat and flies into the outstretched hands of the skipper. 309 for 7 becomes 319 for 8 when Mustard cuts one but not hard enough and gives an easy catch to Compton at point..there for exactly that shot. Mustard looks to the heavens and we look to a maximum points win as Onions joins Thorp at the wicket with only 59 runs ahead and only Steve Harmison waiting in the wings with the pads on.
Thorp goes at 330 after being dropped earlier by a diving Trescothick trying to snatch a catch at second slip that would have gone straight to first. 70 in front and the last two at the crease, loads of overs to go and plenty of dry weather available before Tea.
But Durham, Graham and Steve had other ideas....
Despite excellent tight, straight bowling from many of the Somerset men, the two Durham bowlers take every opportunity they get, hit every loose ball for runs and miss everything thrown at them. With half an hour to go until the break, they have added 48 in a great co-operative partnership and when finally Harmison's luck runs out and he sweeps a ball into Kirby's hands on the Somerset Stand boundary an audible sigh of relief flows around the ground but we have 119 to get rather than 71. Really good tail end fighting.
Somerset move through the 6 overs before the Tea interval carefully and go in with 30 on the board BUT crucially no wickets lost. After the break, Onions tries everything he knows at the OP while IDB wheels away at the River looking for chinks and teasing the batsmen to take a chance down the leg side. Arul is using his wrists the way he does when he feels in touch and the Boss looks in charge until he chops on with 25 to his name and 41 on the board. But his place is taken by a hugely positive Nick Compton who comes out to get Arul in strike and to take on the Durham field at every opportunity.
His running is really good and incisive, especially taking on Graham Onions on the very long Caddick Pavilion boundary for more thanone 3. Meanwhile, every time Arul gets the chance he sweeps and drives wide balls past the infield to the boundary. Soon the total runs needed is down below 50 and Blackwell is finding it hard to contain the batsmen. A huge six off him to the Somerset puts the penultimate nail in the coffin and very soon after that the last run is scored and we have the maximum points and the big win over a rivel that was required.
A 9 wicket victory over a close competitor with Arul finishing on 66 fro 61 balls with 9 fours and a six. This tops a really good all round peformance with the ball, Steve Kirby being the unlucky pick of our bowlers but the damage being done by Alfonso and Charl with useful contributions from almost everyone else.
The batting relied on Marcus to some extent but with strong support from Arul and Nick and some spirited defensive work from Alf and the K's (Murali and Steve) at the end of the first dig.
We go to New Road to try and ensure we don't get relegated and should we win there we'll move on to see if we can win it instead. Brilliant start to CC1 Phase 2.