Bullish in Durham CC1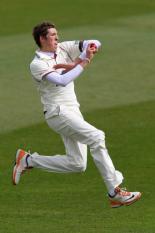 Overton C - Big Day!!
By Grockle et al
May 9 2012
With plenty of injuries and further depleted by the Lions call up of Nick Compton we journey to Chester le Street to face Durham in a very important four day game. Not just important because of its effect on the 2012 Championship but also for it's effect on the mental character of a side where five of the side haven't reached 21 yet!!
v DURHAM CC1 @ The Emirates Stadium Chester le Street Wednesday 9 May 2012
James Hildreth faces a captain's game today when he takes his very young side out against Durham away from home. The side is almost all the men who can walk, bowl and wield a back. Jason Kerr will be twelfth man (long time since I've typed that. Seems the Overtons were 8 when it last happened). We have no Trescothick, Kirby, Compton (Lions call). Dibble,Buttler (webbing injury), Hussain or Overton J. Rose does not remember an injury situation like this in his career either as a player or a coach/administrator and I haven't seen this in the time since 1994. So....
Suppiah, Gregory, Hildreth, Trego, Kieswetter, Barrow, Meschede, Dockrell, Philander, Waller, Overton C
is the team we have to field. It has to perform because there are no more people in the hutch!! Jason will have to bowl if anyone gets injured this game!!
The loss of the captain in the batting is bad enough but we have also lost our anchor iin the line-up as his early form has sent Nick Compton to hopefully face the Windies for the Lions tomorrow. Overton's first 4 overs for 10 makes for a good start but the loss of Steve, Adam and Gemaal along with the absence of Alf (sitting watching for most of the time in India) has put huge pressure on the bowling unit and asked a lot from the all rounders.
Conditions allow us to start on time. James wins the toss and puts Durham in. They have not been in great form during the first month of the season so I suppose he needs to see what they can do and work from there. Vernon Philander opens the bowling with Craig Overton and the first 14 runs come mostly from the bat of Di Venuto off the bowling of the South African. He doesn't last too long though as he is caught behind with 14 at 22. First blood early on but how will our first change bowlers and the spin duo do?
Well we'll all see won't we....More to come