Overton's Twinning at Durham CB40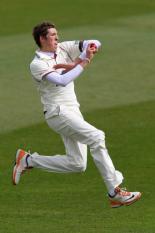 In with his bro
By Grockle et al
May 13 2012
Still in Chester le Street for a one dayer with four teenage bowlers in a "squad" of 11. James Hildreth loses Vernon Philander and none of the injured players are back except James Overton who joins his brother in Somerset colours for the first time. The other veterans of Trego, Kieswetter and Waller have a lot on their shoulders. No Ian Blackwell for the home side.
v DURHAM CB40 @ Chester le Street Sunday 13 May 2012
Injury hit Somerset stay in the North East for their 40 over and lose another level of experience as Vernon Philander is once more not picked for a short format game. James Overton has however recovered from a slight niggle and has travelled up to join his brother and a side of youngsters.
The side is;
Craig Kieswetter, Pete Trego, James Hildreth, Arul Suppiah, Alex Barrow, Craig Meschede, Lewis Gregory, James Overton, George Dockrell, Max Waller and Craig Overton
Hands up all those who would have predicted that as the side to play Somerset's second one day game of the season. Four teenage bowlers with two of them only one month into their 18th year! Once more the skipper wins the toss and puts the opposition in to see what his side will have to follow. The opening partnership (now getting to know each other) is once again Craig Overton and Pete Trego and they once again look useful going for only 2 off the first 12 balls. After 4 overs Durham have moved to 16 but the ball has passed the bat and we hope for something akin to the four day game when they dominated the home side's batting.
The Bristol boys are commentating on the link above...More to come....