The T20 Fungoround starts today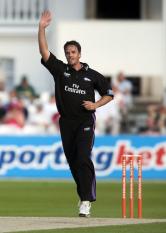 Albie is here..
By Grockle et al
June 13 2012
The fun that some of you go on holiday to avoid starts at Taunton this afternoon as we take on Warwickshire. Given the present weather it's probably god that we only want to play for three hours but it will be with a new team and some new stars in Albie Morkel and Richard Levi both of who featured in our warm ups against Gloucestershire over the last few days.....
v WARWICKSHIRE T20 @ Taunton Wednesday 13 June 2012
Commentary (Televised on SKY)
Captain Thomas leads his young men out against the might of the Bears with two new weapons in his locker. The hard batting of Richard Levi and the allround and substantial capabilities of Albie Morkel. He also has a number of new boys who may feature in the side. No Marcus Trescothick of course and we will lose Craig Kieswetter for part of the tournament on England duty. However Jos Buttler will still be here and we've pulled Steve Snell in once again should our younger keeper be asked to go and do some international stuff. There is also the O'Brian factor as Kevin joins the ranks
I have no idea what the makeup of the side will be but you would expect it to include the following players;
Levi, Morkel, Trego, Hildreth, Buttler, Compton, Thomas, Dockrell, O'Brian
I am uncertain whether they will use Craig Kieswetter if he is not available for other games and one would assume that Jos will keep. The bowling will be put in the hands of Steve Kirby one would expect but this is not his field of expertise and I would also expect to see Craig Meschede brought in if he is back to fitness because this IS becoming his. The tight lines of the third Craig, Craig Overton would also be useful but T20 is a new format for him, as for others. Another possible is Arul Suppiah not as an opener but as a flexible batsman and extra slow man. Lewis Gregory is neither fit enough to bowl or the force he was last year presently and I doubt the opening skills of Alex Barrow or the pace of Gemaal Hussain are particularly suited to this for of the game. Max Waller would be another option for all round short game versatility but his time will come when George Dockrell leaves for U19 National captain's duty.
There will be more to come as I am at my first game should all go to plane this afternoon. See you there if you are.
We start on time under grey skies but Guy Lavender reckons the weather might be nice to us. Warwickshire win the toss and put Somerset in so Craig K and a very large unit called Richard Levi stroll out to do battle in very snazzy new grey helmets. Meanwhile The Bears have gone for the 'off brown' look (well cross between Yellow and brown I suppose). Quite a lot of swinging and missing as I type though Craig has already put two into the crowd and straight driven another for 4. It's a sparse crowd but the PA has improved!!
22 for 1 after 3 as Craig flips one to the leg fielder off Woakes, thinks he bump balled it... but he didn't and he's on his way.
The Somerset team finally is
Kieswetter, Levi, Trego, Compton, Buttler, O'Brian, Morkel, Thomas, Dockrell, Waller and Kirby
An interesting side ....take the pace off the ball I say!!
More to come but as it's on the telly and it's the first one back please excuse me if it's a bit patchy tonight. Pete has joined Levi who has just nonchalently flipped one over the keepers head to the OP. 31 for 1 after 4.
Richard Levi may have the look of a little Cosgrove about him but he hits a ball a flaming long way and with some real confidence. He is a mna who willgo for his shots irrespective of the opposition and he certainly did tonight on an excellent crowd pleasing debut for his new county. With excellent support from Albie who then daftly ran himself out (I think he didn't run because he didn't think he'd played a shot) the big man murdered the Bears middle bowing and we put up 191 even the skipper glancing shots over the keeper. Good batting - but some silly shots still to be removed and a stiff total.
So on to the bowling - Max Waller man of the match and richly deserved 4 for 16 ripped the heart out of the side and took out the dangermen to boot. He so nearly got the hatrick!! Steve Kirby fire in the belly and took a very satisfying wicket after softening up Barker before skittling him. George should have had more but Albie put one down from him which he should have held and the skipper did his 'front and back' stuff with 3. Bowl them up front and then put the willies up the tail!! Albie looked in need of a bit more bowling but has an easy style and an excellent length ball. But Waller was the man tonight and richly deserved the award.
We looked confident and absolutely murderous in the second half. Had no doubt whatsoever that Warwickshire would get nowhere near this total. Good start to the T20 and better to come if people close a few holes and get their 'feel' for the conditions.
I'm gald to be back!!