Yorkshire Crossroads?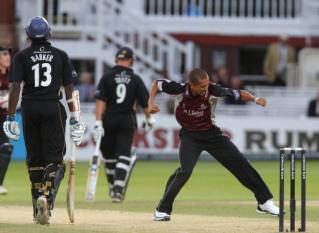 Won't be seeing this
By Grockle et al
May 28 2013
Somerset's Championship form is still offering challenges to the players and management alike. Poor to abysmal performances in the last few games have started the search for scapegoats from the captain to the new DoC, David Nosworthy. The players on the pitch need to calm things down by starting to bat and bowl like the professionals we mostly know them to be. Not easy when you are hit by international call ups and injuries to key players such as Alfonso Thomas..
v Yorkshire CC1 @ TAUNTON Tuesday 28 May 2013
Home Commentary
Point your mouse at George Dockrell's head at the top of any page for SCCC commentary
The loss of Jos Buttler and Alviro Petersen plus the injuries to Craig Kieswetter and now Alfonso Thomas will badly affect the resources Marcus Trescothick has to put out a competitive side for this very important Championship match. There is no bed of points already gained to help him. We have played badly and are suffering because of it and now we are undermanned in a game that must start the move back up the CC1 table. We cannot afford another 1 and a half day thrashing by our opponents as happend at Horsham against Sussex.
Some good news in that George Dockrell has returned to the fold after a good series for his country against Pakistan and Dean Elgar joins us as the international replacement but that is about all the good news there is. Marcus chooses from;
Trascothick, Suppiah, Elgar, Hildreth,Trego, Meschede, Barrow, Dockrell, Kirby, Overton J, Gregory, Hussain
The only decision is really whether this is the first time this season we see Gemaal Hussain or is the returning Lewis Gregory fit enough to bowl for a full four day game? That seems highly unlikely, so either we are going in with two main seamers and expecting Craig and Peter to shoulder the rest of the seam attack (George and Arul to provide slow options) while Lewis is picked to enhance the batting or we will bring Gemaal in as an extra seam option to take the pressure off the allrounders a bit.
Seeing as our main issue in the longer format has been managing to bat over 200 it will probably be the former option but looking at the way our bowling attack allowed Leicestershire to overhaul 328 on Sunday in 40 overs either option is possible. Unfortunately there is little information forthcoming about why the tall ex Gloucestershire man has been out of favour over the last month or so or how serious the side strain Gregory suffered was.
Unfortunately the present weather forcast may make the team selection irrelevant. At 9:00am, although the rain seems to have stopped for the moment, the prediction is for more rain to come and presently a reading of 94% humidity with no relevant wind. This prediction (which is as near 100% as is likely to make any difference) sees that position remaining until about 7:00pm so unless something drastic happens we can effectively write off the first day of this game. Day 2 looks a little more pormising but Days 3 and 4 do not offer much hope of a prolonged period of play during this game.
This does not help Somerset but it does not harm them against Yorkshire because we are one of the White Rose's games in hand (they have played one less than we have) so low points aginst us does not worsen our position but it does move others further away if they manage to get games to results. The best situation for us if we do not play this week at Taunton is that there is little play across the country and a large number of low bonus point draws.