The Only Way is Through Essex 2 50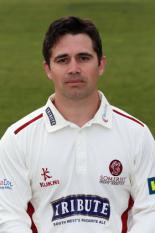 By Grockle et al
May 14 2017
The big game between the two front runners in this side of the draw. If you win you are on for an immediate home semi. If you don't... well you aren't. Steve Davies is having a fitness test this morning. It will be interesting to look at the batting line-up given Johan Myburgh going all out on Friday AND Hose's ton. Somerset won the toss and will bowl. Steve davies is in and with Dean Elgar back in South Africa for some awards ceremony it is likely that Johann Myburgh will get a second one dayer to put his wares on display.
e v ESSEX 50 @ Taunton Sunday 14 may 2017
The spectators were around the block at 10am this morning and although there is breeze there is the question of rain but nothing definite. Somerset have won the toss and will bowl first and Steve Davies has passed his test and will play today. Other than that it is very much as it was on Friday. The side is;
Allenby, Myburgh, Davies S, Hose, Hildreth, Trego, van der Merwe, Overton C, Overton J, Greonewald, Waller
Josh Davey is 12th man. Hacing said that at 10:45 there is grey cloud overhead and the Somerset is sparse while the Botham and Trescothick are all but full.
This game may decide who gets the home semi as a right and it is good to see faith remaining with the men who pushed us through against Gloucestertshire on Friday. Bigger ask today.
Cook and Chopra start for the visitors against Tim G. He's all over the place first up with a wide followed by one he gets away with followed by two more before he starts to get his line anything like right and with 3 balls gone they have 6 with 2 off the bat.
Craig takes the first from the Pavilion end and is straight on the money. A maiden for number 2 so Essex stay on 6 for no loss as Tim continues from the River.
At 21 with the last ball of the fourth, Craig gets one to swing late as Chopra walks right across the stumps. He is LBW for 11 and Westley replaces him at 21 for 1
Jim Allenby brings himself on to bowl the 7th with 45 on the scoreboard (mostly from Cook with 25). This is a surprise as the skipper has been sparing with his own use during the last few games. It's a tight over with Essex on 26 at the end of it. The 50 comes up off a misfield in the next over from Cove Cook looks ominously in form.
The score reaches 73 off 10 with Cook on 31 and Westley catching up with 27 Craig is becoming expensive at the Pavilion and will probably need changing while Jim is mixing it up at the River and stays on for the moment. It doesn't have the feeling of Somerset stamping their authority on this game at the moment. It's all a bit ragged and lacking focus with the Essex men really controlling the score.
As expected, Max Waller comes on from the Pavilion for over number 12 and one hopes that this will cause more caution from the opposition batsmen as Westley misreads his first ball in the flight. He keeps them down to 3 in his first over but the general outfielding has been poor and it is not much later that a four is given away through a lack of concentration by one of the Overtons.
Into the 90's by the end of the 15th with Westley overtaking Cook but both of them looking at a half ton in the next couple of overs against the continued attack of Allenby and Waller. Jim does get Westley to make the first play and miss of the day halway through the 17th but the pressure is not extensive and his half ccentury comes up before the end of the over from 42 balls as Essex finish the 17th on 108 for 1. (Westley 42 balls 9 fours).
Alistair Cook goes to his 50 off 54 balls (7 fours) midway through the 19th with his side on 121. He has had a good tournament with a couple of hundreds and other significant scores - failing only once really.. We need to see the back of him because he accumulates when he is in this mood.
Max has been the pick of our bowlers up until now with variation and movement. At 20 overs Essex have 126 and Somerset bring on RvdM to see if spin from both end will change something. It brings aout the first six of the Essex innings off Max in the 22nd as Westley plants one in the churchyard but other than that Essex roll on and we are starting to look for something to change this innings - the options are sparse.
The 150 arrives with a Westley six into the Somerset Stand during the 23rd and we are certainly looking at a 300 plus score at the moment unless something changes quite soon. These two seem set and Jamie has been introduced at the pavilion to see if he can break something in the 24th. His first is short and pulled by Cook but only for a single. On this occasion the short delivery stuff reaps reward as Cook wafts at one too many after being contained and is caught behind off the last ball of the 24th for 65. 156 for 2 and in walks Ravi Bopara.
As we move into the 30th over from Jamie Essex move into the 180's - still on for a significant 300 plus score. Westley is on 89 and Ravi has moved on to 11. 182 up at 30 overs. Tim is back on at the River facing Westley on 90 but it is Bopara he has playing and missing and looking scratchy - he only goes for 1 off the 31st. As Essex move towards the 200, the Somerset fielding improves a little but it is looking on as we start the 35th The crowd is probably the highest one day attendance of this season but Tim gives them a gift boundary to take the visitors to 201 with the first ball. Westley also moves to 100 off 95 (10 fours 2 sixes) halfway through the same Groenewald over - he continues the Taunton tradition of making a big score here after being out of form everywhere else. 204 at 35 and 360 definitely on unless something happens quickly with 8 wickets in hand.
RvdM comes on at the Pavilion for the 36th and does a job as the ball pitches on leg, Westley, on one knee, misses it and is bowled between his bat and pad 209/3 and an excellent innings comes to an end. In comes the skipper Ten Doeschate - so the panic is not over as these two can move the score at pace. However at 37.4 RvdM sends Ten Doeschate on his way cheaply bowling him at 215 for 3. BIG wicket in relation ot the shape of this innings as Bopara has been a bit tentative throughout his innings. Zaidi takes his place.
The infielding and outfielding has improved and Ravi is being particularly pensive. Together this has pulled the total down a little alongside the pressure of RVDM and the improved accuracy of Tim after a poor first spell.229 for 4 after 40. 300 is very much still on but maybe this side of 350 if we keep this up. After 42 Roelof is definitely winning the battle with Ravi who has moved on to 45 off 54 but is trying valiantly to accelerate and presently getting nowhere. We finally see a six from him to move past 50 in 56 balls with one six and four fours. it also brings up Essex's 250 at the same time and they move to 255 after 43. This has to be the start of the push towards the end of the innings. They have the wickets, Bopara may have finally got his eye in and Zaidi is starting to look for openings as well as he dispatches RvdM to the boundary and then gets a fortunate run of the ball to get a second through his legs to the River end straight afterwards. This is the luck you need. RVdM's final over goes for 5 boundaries which spoils an excellent spell and takes the visitors to 275 with 6 to go.
Jamie returns at the River after 34 runs come off the last two overs with a job to do if we are to keep this down to a something we can chase. Concentration in these last few could make the difference in this game. 10 off the 45th takes them to 285 as Craig prepares to join his brother at the Pavilion. The cloud is building up and there is a hint of moiisture in the air which may well affetc the start of the Somerset reply. 295 at the end of the 46th. The 47th is one of those 'strokeplayer v fast bowler' overs with Bopara trying to put Jamie away and Jamie moving the ball all over the place, one over the shoulder, a couple full a couple wideish - it ends with Overton winning and the score going to 297.
Zaidi redresses the balance with a six to bring up 300 off Craig's first ball but he tries it again soon after and dies to an excellent Hose diving catch in front of the larger electronic scorebboard. 303 for 5 in the 48th. Foster comes in and goes out almost as quickly as Bopara calls him through for a second as the ball goes from midwicket to wicketkeeper to bowler with Foster well short. 304 for 6 with Foster not all that happy walking out and Walter walking in. Down comes the drizzle at the end of the 48th and the umpires take them off.
That is probably Essex's lot. The covers are on and the rain is pretty heavy. But I'm wrong because at 1:10 the umpires (one of whom is 'George Burns' bring the sides out again to finish the innings. 307 for 6 with 12 balls to go, Jamie bowling from the River to Bopara who seems to be out to the first ball but is ajudged to have hit a 'bump' ball straight to Johann. A bouncer helped by Bopara on its way over Davies' head spoils the over as the last ball of the over is also swiped upwards for six. 319 for 6 with 6 to go from Craig. Bopara facing, first ball driven for two, well fielded by Waller in the deep. Ball 2 is pulled for a single tot he same fielder and Ravi has broken his bat it seems. Third ball is over the infield for 2. Ball 4 is the same shot but a little higher. Ball 5 is driven for 1 and the final ball goes straight for six 334 for 6 with Bopara stranded on 92from 81 balls - a little better than his position at 50. Well down on the predictions at 35 overs, perhaps even 40 overs. 335 to win.
The Reply
So... did we all enjoy the first 6.3 overs? Johann Myburgh, sent out to get a close to 100 as possible in the first 10 hitting everything everywhere with power and shot selection. Going to 50 off 26 balls with a six to the scoreboard and sticking it to Wagner while Jimbo scored a single and a boundary. It was magnificent and a shame when he put snow on one and went to a very good boundary catch. Peter followed but did not show the same level of fireworks and returned to the hutch after a very good diving catchJim. Now at 82 for 2 after 10 overs we are ahead of the DL while Allenby has been given time to settle and Steve Davies wasn't in with 2 overs gone and a ball with shine on it. Johann certainly took the shine off the ball in no uncertain terms.
The 100 arrives at the end of the 12th with Allenby on 20 and Davies on 17. 101 for 2 with 38 to go. Steve's batting flowers for a little before it dies at 20 and 108 for 3 when he is bowled by Harmer and in comes James Hildreth as the balance swings towards Essex once again after a blistering start. After 15 the brakes are on and we have moved to 121 for 3. By the 20th over the 150 is in sight but things have latered greatly as the Essex spinners Zaidi and Hamer have very much put the press on against a much more wary Hildreth and Allenby. Ten Doeschate comes on from the Pavilion end with his difficult to read dibbly dobblers against a circumspect James and Jim on 49, just one short of 50. He gets there with a single off 56 balls at 149 for 3 but Hildreth feathers one off the next ball trying to cut and goes for 14. Not what we wanted. It pushes Hose into a pressure situation he probably will not appreciate after the heroics at Bristol on Froday. Batsmen hardly do it twice in succession but that is excatly what Somerset need him to do. 222 overs gone and 149 for 4.
Jim takes his side past 150 with the next ball. By the halfway stage though we haven't exactly shot away having reached 158 for no further loss. In the hunt but we will need to move in the last 10 unless the momentum picks up in the next 15. Jim Allenby is on 56 and Adam Hose has 5. By the 30th we are making a little better progress as the odd boundary has bolstered the score. At the end of Zaidi's over from the pavilion, Somerset are 18 for 4 with Hose on 18 and Allenby moving on to 69. The scores are very much parrallel so the thrust of this innings still has to come but there is some forward movement albeit very slow presently.
Wagner is back at the River end during the 33rd to try and break up this partnership which passes 50 at 200 halfway through the over. But Allenby lobs it to cover at 32.4 and we are 200 for 5...it was going so well. However, Jim did contribute 77 off hhis 89 balls and tha is better than a poke in the eye. Out comes RvdM and Wagner has done achieved the task set him by his captain. This should show us the mettle of Adam Hose whose big change this year is that he does not try and push along until he feels ready now, no rushed shots to keep the scoreboard ticking merrily. There is no rush yet and if these two can stay to gether this total is perfectly gettable with 17 overs to go.
With 15 to go the required rate is 124 off the 15. Anything under the magic 100 off 10 without more wickets going down would be good. RvdM has been thre a number of times and if Adam has got a base of 50 odd then we ought to be well set. However that is not to be as Hosey does not stay around and is on his way for 28 at 212 for 6 bowled by Harmer. Jamie comes in forst to try and help Roelof move this on. He is more of a 'get there fast' kind of player but if he gets himself in then it can move at pace. OvetHe doesn't seem to waant to wait as he sixes harmer into the Ondaatje carpark on his second ball. But he tries it again and is caught by the fielder he has just cleared. The term 'braindead' is floating about the rooms here and we are 218 for 7 with the more sensible Overton walking out past his brother who sprints off to face the music one would expect. Let's hope he doesn't repeat his twin's daftness as we still need 117 with only 3 wickets left.
RvdM wafts at one and there might have been an inside edge at 38.5. It was a 50:50 one on the replay but the umpire gives it and we are 230 for 8 with 11.1 overs to go. Tim Groenewald comes in to try and push it through. He is certainly worth watching but it does look doubtful at 10 and over and a hundred to get.
Not over yet but pretty much there or there abouts. Can't see us getting there from here even though we only need 104 off 10. A few wafts when you need sense, a few wides at the start when you need focus, a few outfield errors when you need solid defence and you are 60 short of a gettable total I am afraid. We will probably qualify anyway but not in the commanding position we ought to be in after the performances put up in other games.
I will NOT take the blame for being here for the only two games we have lost in this!! Though the guilt is seeping through whether I like it or not. It is under three figures at the end of the 41st. 239 for 8.
Up comes the 250 at the end of the 42nd. With a flat batted six that wasn't supposed to get anything and a wafted four over his own head to get us there. Tim hits a four and a very decent siz in the 43rd before 'leaving' one across the line. But it was not to last as he smacks one down the boundary fielder's throat and departs at the end of the 43rd with 262 on the board and 17 to his name. In comes Max Waller and Craig is run out almost immediately losing the game by 72 runs. The game was pretty effectively lost when we lost Pete, Steve and James for not a lot. Still on when Jamie came in but he lost his head and the tail were left too much to do sensibly.
Ahhh well. One that definitely got away I am afraid.