Glamorgan plus one T20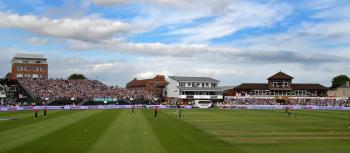 By Grockle et al
August 13 2017
A vague Southern group and a set of vague Somerset performances in terms of consistency create a 'must win' atmosphere at Taunton today. Glamorgan have a more certain future than we do but it seems two wins will put us through to the knock out stage.
V GLAMORGAN @ Taunton Sunday 13 August 2017
The last T20 at Taunton this year? If so Jim Allenby's swansong as our one day captain? The equation seems to be that if Glamorgan win they are through and if we lose we are done. If we win then the maths people get their tables out and look at other results but it is pretty much that we need to win the last one to be one oof the four.
The side as listed on the scorecard is;
Davies S, Gregory, Allenby, Myburgh, Elgar, Hildreth, van der Merwe, Overton C, Trego (for Groenewald), Waller, van Meekeren
There is the possibility that they may bring in a second spinner but there is little chance that there will be a move of the skipper down the order or that he will step aside for another batsman. One has to ask whether the problem is in the bowling. It seems that at home we have struggled to get a competitive score and the problem seems to be in the early middle order. That problem has NOT been Johann Myburgh when he has been fit so I'll leave it to the forum to talk about who it might be.
Jim has won the toss and we will chase. Surprise news (well at least given the reecent past) is that Trego is in for van Meerkeren I think. But it seems not. Tim Groenewald is not in - I must assume he is being saved for a CC1 game and possibly has a slight niggle, that is the only reason I can give.
The ground is another 'sell out' but it isn't full at the moment - the membership issue (which is at every ground it seems) still creates gaps. The CA bottom section is full as is the Botham and the Ondaatje. There are gaps in the other areas. I'll leave other posters to tell you where and how appalling it is. Come up with a solution guys.
Max (could be his last Taunton outing as well come too think of it) opens the bowling for us against Donald and Selman and he goes for 5. As with the Kent game yesterday RvdM opens at the pavilion end. They go after him and they have 17 at the end of the second with both batsmen having a belt. Craig takes the third (is this predicatable? Was this the order yesterday?) Selman puts one over his head first up and then he gives away a legside four to take them to 25 halfway through the third.
The Meerkat takes the fourth with 28 up. He gets Selman to flash but the ball flies over Hildreth to the boundary. 35 after 4 and Lewis takes the 5th. His first is a boundary off a long hop and we hope for better as Selman is presently going at 2 runs a ball. The second is the long hop and the third goes for a boundary over his head. SShort balls will go here - how many times do the players have to see it happen before they get the message? The 50 comes up with a ludicrous shoulder high no ball which is followed by another 4. He goes for 19 off is first and we seem to be on for a possible hiding again.
Back to van Meekeren to do something and his first is just short of a length where the ball needs to be at his pace. Selman is still working at 2 per ball faced so Donald needs to do very little. 64 after 6 so if in doubt change ends. Allenby brings RvdM back at the River end bbut it doesn't seem to be having any real effect as Donald also starts to open his shoulders and hits consecutive boundaries square and oover the bowler's head. 78 after 7 and it isn't getting any better as no Somerset bowlers seems to have any plan to deal with these batsmen.
Waller also changes ends and nearly fools Donald with his first and then with his second but Doonald is oon the charge and slogs his way into the 30'a while Glamorgan move to 85 after 8. Craig tries to stop the rot while Donald suddenly decides he was too farmer-like last over and tries to be clever when a straight drive would be effective enough. Selman goes down, hits the single and goes to 50 off 26 balls with 8 fours. Donald tries to put one into the Siomerset stand and is caught by Gregory for 32 out of 87 for 1
AND JIM ALLENBY COMES ON TO BOWL THE 10TH!!!! Against the man we let go Colin Ingram. He goes for 8 and it is 95 for 1 at halfway. 200 up for us to chase?
The Welsh pass 100 4 balls into the 11th and Roelof puts some brake on during the next two. 113 for 1 after 13 BUT with 9 wickets in hand. But we do get somethings going our way when Max gets Selman for 66 at 127 stumped and goes off on one of those celebrations he is now becoming a Twitter start for. This is an improvement and it continues as van Meekeren destroys Cook's stumps with a clean ball which takes out two and leaves the middle stump standing at 128 at the start of the 16th.
Unfortunately when you have wickets in hand all this does is starts the onslaught early and Ingram and Wagg start to go for it early. by the end of the 17th the Welsh have passee 150 (153) and look for more off the last 3. The skipper turns to Lewis and he gets Ingram with his first going for a huge six to the Gimblett's caught on the boundary by Dean Elgar. Rudolph finally comes to the middle to steer his side home but there is hope in Somerset hearts that they can keep this down below 200 - not a realistic prospect at halfway to be honest.
It's over 170 by the end of that one and the skipper still goes back to the old favourites even though he is one of the only bowlers to go for less than double figures. he isn't an option though it seems. Lewis is bowled out with an injury but the captain only bowls one? No sense to me or many others. Maybe that is why we won't be all that sad to see him leave at the end of this season. Craig gets a wickets as they try and pepper the boundary. Goodbye Rudolph thanks to the hands of van Meekeren. In comes Craig M to partner Wagg to the end with 9 balls to face. and the 200 still on at a push. This is goiing to be at least a par score as we face 179 with 6 balls to go.
The final over is to be bowled by The Meerkat from the Pavilion. He pitches up the first and Mesch is through the shot before the ball arrives. He takes a single off the second. With the usual luck here, Mesch is run out backing up as van Meekeren gets both hands to a return and diverts it onto the stumps with Craig M way out. Excellent last over by The Meerkat who only goes for 4 but the best figures come from Max Waller.
They pulled it back in the second half to some extent and kept Glamorgan down to a par score but the batsmen had to help them get themselves out, few looked like taking wickets except Paul van Meekeren who put them under the cosh in the second half with some good stuff in withe the loose stuff. He has some pace and when he pitches up he is a handful.
The Reply
A good start is vital and Steve Davies trying to chop a wide one is not what is required and we are 1 for 1. At least they send Johann Myburgh in at number 3. We have 2 runs after the first over bowled by Salter. Wagg takes the second. It looks like a score we can get and we are going for it... well until Lewis pops one up when going well and he is gone with a whimper at 26. So we look to Myburgh and Dean to get us going in this one but we have started, as someone says, 'sluggishly'. After 5 we have just over 40 and bring up the 50 with a sublime drive from Elgar halfway through the 6th. It does look like a belter of a pitch and if we were in any kind of form we would smoothly move through this target and get it without problem. Not the case though and a substantial stand from these twoo is what we hope for.
As we move towards the halfway stage Somerset still have hopes. Hogan takes the 10th with Dean (24 from 18) and Johann (40 from 26) still there. However, Elgar is caught halfway through the over for 24 and we are 87 for 3. In comes James Hildreth to keep the momentum going and Somerset hopes alive a little longer. After 10 overs we are 2 behind at 93 for 3 and it is still on. Unfortunately James allows himself to be rushed by one and simply flips it to Ingram just after the 100 arrives at the end of the 11th. Allenby is the next man in and he sees Johann reach onther 50 off 33 with 5 fours and 2 sixes - one of which brings up the half ton. At the end of the 13th the home side have reached 118.
The 150 comes up with just over 4 to go. Johann is on 81 off 46 and even Jim has got the bug with 17 off 12 - very unusual for him. Maybe the fact that the skipper is seeing JM in full flow will change his view of the man because if we win this one HE is the reason for it. All they have to do now is NOT panic.
So with 3 overs to go we need 21. Allenby runs himself out going for a quick single. 164 for 5 with 2.3 overs to go. In comes RvdM. Johann is then bowled by de Lange for 87 and it all gets squeeky bum again. 164 for 6 with one ball of the 18th left. In come Peter Trego nedding 19 off 2. Johann hit 87 with 11 fours and 2 sixes. Hogan takes the 19th from the River and RvdM takes s single off the first. A single off the second and two off the third. A six off the next from RvdM then a single plus another one to take us to 176 needing 184. Need 8 off 6 balls. Pete will face de Lange from the Pavilion.
Ball 1 is a dot. Ball 2 is a single. Ball 3 is an attempted ramp for 1. Ball 4 is an attempted ramp for nothing. Ball 5 is a dot ball. Need a six off the last one and it is a four so they lose by 1 run. Somerset are out and as exciting as it was it isn't really any surprise. 21 off 18 should be a walk in the park for a T20 side. We arre not yet a T20 side I am afraid. Glamorgan are virtually certain to go through and we cannot now I don't think.
Ho Humm