We Ain't going to Standford it. Part 1 of 6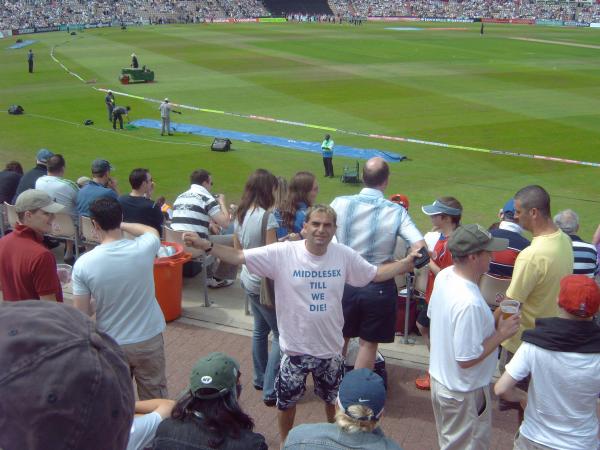 Sit down, shut up
By Beefy Roberts
November 1 2015
Beefy gives us the first part of his account in following Middlesex to Antigua. We relive some of the tension of 20/20 finals day, how the trip nearly didn't happen but did, then nearly didn't thanks to from confusion from Kev who he hadn't met yet. Confused? Read on
The date is 26th July 2008. The Venue Rose Bowl home of Hampshire It's T20 finals day and we are drawn against Durham, It's the second match to be played. The Middle winning by 8 wickets to set up a final against Kent. By this time the Middle followers having spent some time in the ground refreshing themselves were getting slightly noisy. I'm there with 2 friends and sitting 3 or 4 rows behind some rather noisier followers ( Note from Kev-Surely you are not referring to me?). I recognise them all but at this time hadn't really met them properly. As the final started we all got behind the lads, willing them to win. We won the toss and decided to bat making a fair score of 187, Kent batted to win. Who can forget THAT OVERTHROW, the last over and the nerves and bitten finger nails. WE WON!! As we are all hugging each other, I turned to my two friends and said (probably drink charged as well!)," That's it, I'm going to Antigua". I can't actually remember the full replies, but probably "Don't be Stupid"," Your Drunk" etc....No, my mind is made up, Antigua here I come.
So upon my return to work, I check the Annual Leave sheet and to my horror, all the leave for MY dates had been booked. Gutted and devastated, my dream to see the Middle in the Caribbean thwarted. A week later and chatting to a guy at work, he tells me he is going to cancel his leave booked for MY dates (Nobody knew about my Antigua plans at this time). So, WHOOSH, straight to the office and hey, he had cancelled dates, I put my dates in and that's it. booked, I am off to Antigua for the Stanford Super- series.
All I have to do now is book a flight, get a hotel and match tickets. I look on the club website and no information. So I email the club who informed me a tour company would be running a trip and all will be released when ready. Within a couple of weeks, there it is all the information, a whole package flight, and hotel and match tickets. I follow the links and enter all details and then hit the 'Book' button. Done, complete, I'm staying at The Jolly Beach Resort and got tickets to each game. Happy at last!
It was about this time, I knew about a website called 'Middlesex Till We Die' and started to put a few postings here and there. Someone called Barmier Kev started a thread and a trip he had booked to Antigua, asking who else is going. So, I send him a private message to say I will be there. Before this I hadn't actually spoke to Kev, but after a few PM's we exchanged phone numbers to arrange to meet up in Antigua.
My bags packed, I am ready to depart for Gatwick and my flight, but the morning before I leave I get a text from one Barmier Kev to say he is at the bar in Gatwick waiting for me. Hmm, I start to panic, I am still in Uxbridge, and he is at Gatwick for the flight. I run downstairs to check my itinerary and find out my flight is the next day! Phew, so I text Kev to let him know he is being stood up at the bar and I'm flying a day later.
All resolved and the day after, I'm at Gatwick, on my flight to Antigua and a new cricket adventure...............
View a Printer Friendly version of this Story.
We Ain't going to Standford it. Part 1 of 6
Discussion started by Middlesex till we die , 01/11/2015 19:59
Middlesex till we die
01/11/2015 19:59
What do you think? You can have your say by posting below.
If you do not already have an account
Click here to Register
.
Edited 1 time(s). Last edit at 2015:11:15:18:14:15 by BarmierKev.
BarmierKev
01/11/2015 20:15
Thanks for sharing Beefy indeed happy memories. I really wanted to go to Antigua but didn't think it would be possible. Me and Mrs were meeting Posh Margaret after QPR Doncaster game. Margaret going on about trip she booked and me saying shame I can't go. I would rather be at Home anyway. Mrs said why don't you go? Please go, please please. For her sake I did and luckily took the last available place on the Howzat tour. The rest is history. I hope you will be entertained by Beefy's tales.
Darren Gosling
01/11/2015 20:49
Yes looking forward to Beefy's recollections of Antigua.
We had already booked (and paid) for our family holiday to Spain in Sep 2008 but decided in the end to blow 2009's holiday budget on two holidays in two months and don't regret it at all despite the results....
pantherlike
05/11/2015 02:52
Great story Beefy! Thanks for sharing
dingy bags
07/11/2015 11:39
A great read but pity about the picture...
BarmierKev
08/11/2015 10:41
Good news there are going to further great reads. Bad news these will be accompanied by even more dodgy pictures.
BeefyRoberts
08/11/2015 15:11
Thanks for the comments, be few more of my anecdotes to come..(sorry) but they will be enjoyable
Sorry, only registered users may post in this forum.