We ain't going to Standford it. Part 2 of 6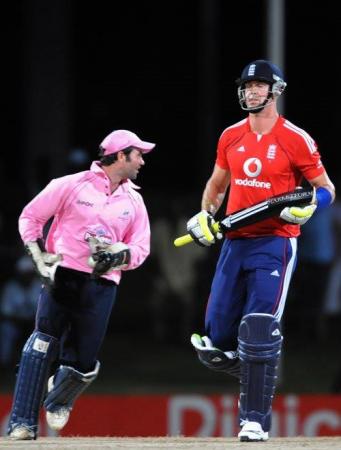 Beam me up Scottie
By Beefy Roberts
November 29 2015
In the 2nd part of Beefy's account of trip for Stanford mega bucks he describes an encounter with one of our finest's dad, a worrying moment at customs and his first meeting with Kev where we discover more of Kev's diplomacy skills. The build up to this great cricket festival continues.
The flight was easy, I just sit back have a drink and relax. I had a centre block seat on the aisle with the other 3 seats taken. I am chatting to them and find out they are heading out for the same reason. We discuss Middlesex and after I say about how I thought Ben Scott was a good wicket keeper. They introduce me to a guy at the opposite end of the row it was Ben Scott's father, Terry. Our discussions last for some time and I met up with them during the series.
At Antigua Airport, I'm waiting and waiting for my case and begin to worry as a no show is happening, frantic search and my case has been removed and sitting in a corner waiting for me. Phew!
With the madness of customs has been done a coach ride takes me passed the Stanford Cricket Ground. It is right outside the airport with low floodlights. A sign called 'Sticky Wicket', statues of players is well groomed and spotless. It looks ready to host the tournament.
I eventually arrive at Jolly Beach Resort and this guy 'Barmier Kev' who I have never met, to let him know I'm in reception. I easily recognise him, but he didn't recognise me, so I called him over. He looks at me and his very first words are.."Hi, by your name of Beefy, I expected someone fatter"!
I missed the first game. Stanford Superstars v Trinidad and Tobago as I arrived too late and Kev was heading off to the ground. Stanford won this by 22 runs, they got 146-5 in their 20 overs. T & T only reaching 124-8.
I arranged to meet up with Kev after at the hotel bar on the beach and he bought along a couple of others from his party. We started to get to know each other and he also introduces me to a lady with him whom he called 'Posh Margaret'.
During our chats we all arranged to meet for breakfast and discuss plans for the day and look forward to the Middle's first game vs England you could feel the excitement as we were chatting.
Part 3 will be of our first match, with a bit more chucked in.
View a Printer Friendly version of this Story.
We ain't going to Standford it. Part 2 of 6
Discussion started by Middlesex till we die , 29/11/2015 12:34
Middlesex till we die
29/11/2015 12:34
What do you think? You can have your say by posting below.
If you do not already have an account
Click here to Register
.
Edited 1 time(s). Last edit at 2015:12:15:19:35:52 by BarmierKev.
BarmierKev
29/11/2015 12:38
I recall our first meeting and the shock of you not matching my image. Luckily I have moved on
BeefyRoberts
01/12/2015 10:52
I remember seeing a few celebs at the
games,and that includes us from MTWD!
Sorry, only registered users may post in this forum.