Ryan tends not to Toss a ( coin )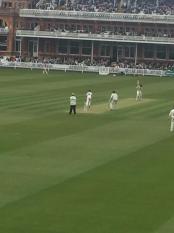 Another wicketless ball
By Barmy Kev
April 21 2017
Barmy Kev reports on an excellent day for the Middle with two tons from our openers, which triggers conversations about ice cream on a cold day tarnished by bad light. And edited to add some pictures of our first day as Champions at Lords.
There is an extra spring in my step for my 1st County game of the season for the Champions of England. I've been waiting for this moment with great anticipation. So much so I turn up 2 minutes late! We are batting due to an uncontested toss and there is no bag search for first game. The score on arrival I am relieved we are 1-0 .
Up until lunch few alarms, a run out chance and an edge to non-existent 3rd slip. Reporting is easy. At lunch we are 105-0. Good decision for putting us in Mr 10D.
Robbo' hook that wasn't a century
No pressure after lunch. Robbo on 99. We are enquiringly about Peter the ice cream man as he hooks the ball hard and low, the Pavilion with Specsavers ad in front applaud ecstatically as the ball is well fielded for a dot ball. Next over his ton up off 140 balls excellent knock with superb timing of the ball.
Proof that he did make it soon after
Gubbo not quite as quick but hits two sixes of little Harmer. Not so nervous as previous occasions I have seen him in his 90s. On 99 another chat about Peter the Ice cream man much shorter as Gubbo makes his ton. Looks like we are surviving till tea wicketless. One over before tea Gubbo caught behind a close shave off of bowling of Beard for 101.
Gubbo's hundred
After tea it was slightly dark but playable. As umpires talking about light Essex fastest bowler Wagner is bought on by 10 D who certainly wants to get off the pitch. He bowls two short ones and they are off. Complaints were made about tactics and why the hell can't we use our floodlights. At 4.30 would the local residents really suffer? Light seems to be improving but the umpires reading says under radar. The forecasted 60+ degrees did not materialise. I was not willing to sit at around waiting in the cold so left feeling a tad frustrated as play continuing round the country probably under floodlights.
Nevertheless, it was an excellent day for us and just hope we can achieve a result out of this good start.
A good day at the home of the Champion County.