Glammy Finn ished off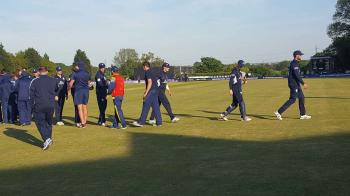 Victory handshake
By Fozzie
May 11 2017
Fozzie gives a comprehensive report on our hard fought victory while describing the surroundings and atmosphere. If you weren't there you may feel as if you were and if you were a reminder of a great day. Thank you Leprechaun for the excellent pictures
It's always apleasure to come to Radlett, though a fortnight ago I had envisaged this match as a comfortable stage on our progression to qualification rather than a potential last-chance saloon. The possibility of a hat-trick of defeats to Div 2 teams was not encouraging.
Franco won the toss and chose to bat – perhaps scarred by our recent attempt at a run-chase. The only change was the return of Finny for JK, although the scorecard had shown Eskinazi in for Higgins. Glamorgan fielded no fewer than five South African players, plus a pair of Aussies, and perhaps it was no coincidence that their shirts bore the logo of SA Group.
The match took place in beautiful weather for a change. From force of habit I had neglected to take shades or sunscreen which was a major strategic error, and by the end of the day I could have served as a double for Pinky the Panther!
Gubbo and Mala opened, with Gubbo taking most of the bowling from the tall de Lange and finding his pace and bounce awkward to negotiate. It was no great surprise when he fell for 5 in the fifth over, though he looked disappointed to be given LBW decision to a ball that hit him high on his pad. Compo looked in good nick (sorry!), immediately hitting two boundaries for the first intentional scoring shots off de Lange, so it was disappointing when he nibbled one from Hogan and was caught behind. 32-2 after 8 overs was not an encouraging start.
Mala and Voges set out to steady the ship, both keeping the ball on the ground with Mala playing some flowing drives and Adam expertly finding the gaps. Mala took 9 runs from a solitary over from Lloyd to reach his 50 in just 53 balls, and with the stand reaching 70 in 11 overs the stage seemed set for a commanding total. However, at this point Ingram brought himself on to bowl his leg-spin; Mala treated his first two deliveries with respect and then made himself room to cut, only to be bowled. His exasperation was evident.
Voges steadying ship
Ingram introduced spin at both ends, bringing on Carlson. The incoming Simmo greeted him with a drive for 4, only to be then trapped in front of his stumps, and the momentum had switched to Glamorgan. A watchfulpartnership between Voges and Franco ended with Adam falling to another LBW for 40, and Ryan Higgins didn't last long. A couple of attempted big hits failed to find the middle of the bat, and when he did connect properly it only provided easy catching practice for Meschede in the deep. It seems much longer than a fortnight since his explosive innings against Sussex.
So yet another reconsolidating partnership began, with Franco and TRJ taking few risks but running very well between the wickets to keep the run rate ticking over.
TRJ accelerating
They added 40 before Ingram dismissed Toby in his final over to complete excellent figures of 4-39. Tom Helm also provided valuable support with 25 runs, looking very comfortable whenever he could get onto the front foot to drive, and adding a further 43. Franco completed a hard-fought 54, a patient knock with only two boundaries but which had held the innings together, before Finny and Ravi showed off their shots. My favourite moment followed a perfectly-executed on-drive for 4 by Finny, when next ball he attempted a flamboyant square drive on one knee, only to see the ball squirt just a few inches along the ground.
Entertainment from our tail
So we finished on 243 all out in the 49th over. It didn't feel enough, in beautiful batting conditions and with a fast outfield. Ingram and de Lange in particular had bowled well, but even so it wasn't clear why batting had looked so difficult at times. Perhaps it was attributable to tension.
Glamorgan made a brisk start to their innings, with Rudolph reeling off a series of boundaries as TRJ and Tom were unable to enforce their usual control. The half-century had come up in the 10th over when Finny got a much-needed breakthrough, dismissing the dangerous Rudolph. The Welshmen Lloyd and Bragg settled in, taking the score past 100 and not looking in any real danger as the match seemed to be drifting away from Middlesex. Then suddenly everything was turned around. Finny had Lloyd caught behind, then in his next over stooped to take a smart c&b off Bragg, followed two balls later by the wicket of Carlson, caught behind. Finny was now bowling with real pace and hostility, and it must have been tempting to bowl him through this ten overs; but Franco decided to hold him back and replaced him with TRJ, who immediately delivered by having Donald caught off a slower ball. 104-1 had become 109-5, and for the first time the gently bucolic atmosphere was charged with expectancy and tension.
Finn ishing them off
But Ingram and wicket-keeper Cooke calmed things down and again turned the match towards the visitors. Ravi bowled a good accurate spell, Higgo came on and was economical, Mala less so as it became clear that again Franco was not going to bowl. But over 60 had been added with few alarms when Tom Helm, who was more expensive than usual, returned and spectacularly demolished Cooke's stumps. Meschede clumped a 4 off his first ball and obligingly presented Mala with a catch off his second. 174-7 - still 70 to win, but Ingram was looking well-set.
De Lange entered and took on Tom in an enthralling duel: when bouncers weren't whistling past his ears he took the aerial route, pulling a six and then misjudging a skier which Franco, running back, just failed to catch as it fell over his shoulder. But the unlikely match-winner turned out to be Ryan Higgins, who took a c&b off de Lange, then ended Ingram's excellent match with a well-judged catch by Gubbo in the deep, and finally bowled Hogan to clinch victory by 16 runs.
What had for a long time looked likely to be an occasion to be remembered only for the lovely weather and surroundings eventually became something quite memorable. Victory seemed to have been achieved against the odds almost by an act of collective will, spearheaded by Finny's superb burst but with everyone contributing. So we're still in the One-Day Cup, for one more match at least. And I left to take a rare chance of seeing Buster Keaton's film The General – a tribute to James Franklin, I was led to believe….