What a shower as Cook gives us food for thought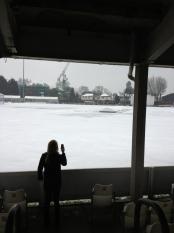 Not quite snowed under
By London Leprechaun
May 12 2017
With no one daring to make the trip to deepest Essex we get a remote view of our match against Essex from the London Leprecahun who not content with claimimg the win over Glamorgan the other day now claims power over the weather between East London and Chelmsford. A mix of DIY, radio musing, computer glitches and some cricket match we lost. Its definitely all over.
Having to have a day planning my back garden revamp my involvement in this match was
Working on a headline that might have involved a shed load of runs as I visited B&Q to look at – yes you've guessed it sheds. As it was the wicket was certainly not paved with gold for Middlesex though I did also order a sample of a golden coloured paving stone.
Sending weather from East London, including two very heavy showers that landed on Chelmsford about half an hour after they dumped on Woodford.
Trying to get the commentary through the BBC Sport App which did not behave itself at all,
Keeping up with the match through all too frequent wicket alerts.
However I did manage to get the commentary just after the very heavy rain stopped when they made it very clear that the umpires had kept the players on too long in the suddenly heavy rain and the pitch had juiced up in their words. The ball did seem to be doing all sorts of things as the Middlesex innings disintegrated. Even, Essex commentators agreed with this. As Kevin H said later on, with the Sussex game the umpires came off too early and here too late and we lost out in both games. Umpires do have a tough job though and probably can't win either way.
I did also manage to hear the last wicket stand which gave the score some sort of respectability including Ravi Patel's first ever six – ever ever. But being bowled out with overs left should not be allowed.
With the app radio still not working properly, i finally got commentary on the computer, in time for the first Essex wicket. But listening did not have any great impact as Essex cruised home in lovely sunshine, and commentators tied themselves in knots about the various permutations left in qualifications for semi finals and play offs, which became increasingly irrelevant to us.
But it gave me time to work out what the Radio London commentary is all about now. There is someone with Kevin – I am not sure who it is – who has been at various matches this year including Hampshire, so it seems as if Kevin has a permanent friend. Might be Don Topley.
Meanwhile a second wicket fell as commentary finally stabilised on the computer. Though it made no difference except we missed Cookie in the slips at least twice. No great luck for Finny by the sound of it.
A third wicket just as Essex reached 100 made it slightly interesting. But not for long and as the match petered out the commentary got into a very complicated discussion about future Lions matches and the point of having them play in the middle of the summer when Counties will lose players from the Championship season. I had not realised that would happen this summer but seems another example of how the ECB treat Championship cricket. Meanwhile Essex strolled home, and got their strike rate up. And Kevin left us with an interesting thought. The match on Wednesday could be a dead game for both us, and Somerset if they beat Essex on Sunday. Might we field a weakened side said Kevin. And would any side we field actually be a weakened side thought I.
And the only consolation today is that the commentary is very clear that all the luck today went with Essex especially regarding the rain delays. But we should not have got to this point today of needing to win to stay in the competition. We can't seem to win the matches when we are on top. And we can't keep relying on supporters to take wickets! And I could not even use my headline about shed loads of runs!