Complete Cook Up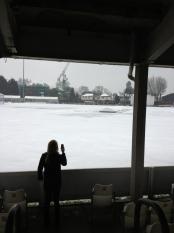 By Seaxe Man
May 13 2017
Seaxe Man was the Middlesex 1 at Chelmsford . He describes the so called delay. Our murky batting and Cooks charmed life. A parting shot at the end. Not a pretty read.
We were affected by two showers. . Heavier than the so called reason for Cowley head down running off with happy Sussex batsman. Umpires back on practically after leaving the field . Maybe 10 mins lost. Delay was extended by Ten Deoschate requesting the ground staff take the rope round. Covers were on .No overs lost. Docked the time off the interval.
Abysmal performance even though conditions were murky when we batted. Lights not on. 148 runs off 40.2 overs. At least two batters short. White ball needs an overhaul starting at the top.
Once when sun came out Cook given two lives off Finn in slips, Tank involved. Ravi bowled well as did Finn not backed up by the field.
Usual waffle from Scott on audioboom. Apparent to most Eski should have batted at three.