Start the KumAR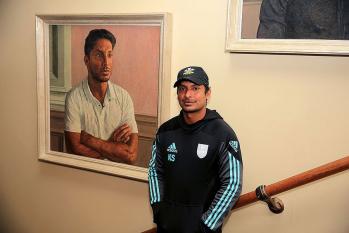 Class player
By Barmy Kev
May 19 2017
Barmy Kev reports on a day of some apathy, close shaves that might of turned our day round, very dodgy stewarding with a not feel good feel factor at the end. Read on if you want to feel depreessed.
First thing this morning the murky weather and light drizzle did not give me a spring in my step for attending today. I leisurely completed my morning chores and arrived at Lord's just before lunch.
On my journey from my Ceefax view, I was surprised Surrey chose to toss and were batting. It was our decision to put them in – this one for the Oxymoron thread. Checks from Teletext no early wickets and was relieved when our nemesis Durham rejects were out just after the hour. On arrival I was told of a stunning catch by Rayner to dismiss Burns. Thanks Chunky for sharing Twitter link and confirming it was not a bump ball, which Mexican Dave lead us to believe. West Ham Tony update was we bowled badly for first hour but turned it round as the morning session progressed. Sangakkara evidently hit a four off his first ball followed by 16 dots. Lunch 89-3 honours even.
At lunch there were awards for media contributions. I was gutted the online award went to ESPN ahead of MTWD presented by the cricket Grave digger.
Just after lunch some brilliant fielding by Mala Sibley looked run out but umpire who was nearer than me didn't think so- would need a referral. Soon after he was dropped that looked as dolly at first slip by Voges. Later Kumar was way out if only TRJ hit the stumps from close throw or rolled to fielder in front of stumps.
Rain meant early tea at 175- 3. We were taking shelter standing at top of the Nursery End. According to a MCC steward we needed to move as we were a health and safety risk. Ridiculous beyond words. Then we saw a banner that heatened us for the future of cricket.
United with Surrey here. Thank you
Final session was 47 scheduled overs . Voges this time managed to catch Sibley soon after tea. Meanwhile Sangakkara is still around and not looking in any trouble whatsoever. 2 successive sixes off Ollie takes him from the 80's to 90's. He achieves a superb ton and admit this was class batting. I would have stood up an applauded but was worried about elf and safety so sat quietly. That's all Foakes 264 - 5 thanks to Primrose Hillbilly call of nature.
Was it that boring for Surrey fan?
Bad light and predicted rain we close at 265-5. More play then expected, which I suppose was a bonus. I'm not sure if it is cold weather or our form but today I felt flat again about watching us. The high of being Champions of England is a distant memory. Here's to sunnier days weather and cricket wise!
View a Printer Friendly version of this Story.
Start the KumAR
Middlesex till we die (IP Logged)
19/05/2017 22:04
What do you think? You can have your say by posting below.
If you do not already have an account
Click here to Register
.
Edited 1 time(s). Last edit at 2017:05:25:16:35:35 by BarmierKev.
Re: Start the KumAR
20/05/2017 09:44
Kumar batted really well. Some of his shots were definitely more than a 4.2. His driving and placement were to savour.

Second dig, we need to dislodge him early, and it would really help if we got him early today too.


I agree, this season to date has been hard to get into. Our results in the RL OD'er have been disappointing. You need to build momentum wherever you can get it, and the weather has not helped either.

However, this match sees a run of 6 consecutive 4 day matches in the CC, (well, 5, pause, then another 1 really, but we are not going to feature in the RL Final), so this gives us a massive chance to put all this right. Starting NOW!!!

It looks like a beautiful day, and the over run of seasons meant that I am going to be in ..........sigh ...........Coventry.

Come on the Middle !!!
Sorry, only registered users may post in this forum.