In Finn8 possibilities for our season after win today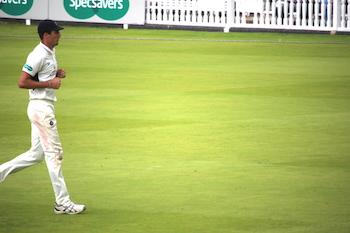 Our hero today
By London Leprechaun
September 21 2017
London Leprecahaun reports on a day which involved nerves, timimg issues, injury breaks and flag flying mystery. Oh and a wonderful bowling performance, a vital win and hope maintained. A dramatic way to end our Lord's season.
This time last year I was arriving at Lord's when all the intrigue was about Yorkshire's third batting point and all the ramifications for the Championship. What a difference a year makes. Today I was heading for a day when all the intrigue was about whether we could pull of the win and all the ramifications for relegation. What does it say about this season, as it is the same three counties involved in this battle?
On the way today I realised that Lord's time is ahead of the rest of London as play had started while the bus was saying it was 10.26. But nothing much happened in those four minutes. Lancashire had finished decently last night and we needed early wickets. Fortunately, in between walking round the ground, and a brief errand in the Middlesex office, I heard the sound of a wicket. Livingstone, I presume. Just as I sat down, Finny cut Croft in half and pinned him in front of the wicket. When Murts soon after got Chanderpaul out things were looking good.
Definitely LBW
And with Sangakarra having a wonderful swansong at the Oval, things were looking hopeful. Especially as the run rate was slow and with Hameed only scoring one run all morning, Lancashire were not making much of an inroad into the target. Finny was bowling with some real fire which was lovely to see for him but also great for us, as I had seen TRJ go into the pavilion as I arrived. No bowling for him then today.
Then there came a long injury break as Hameed got a delivery on his hand and after lots of trying to hold and move a bat could not continue. Where Lancashire effectively five down? But ironically the injury was not the worst for Lancashire. McLaren who can score fast and Vilas got the score moving with a mix of some slightly scary running, a few lucky shots with edges going through the slips and a handful of decent shots. It did not help that we were reduced to three bowlers as Ollie was clearly not fit when he bowled a handful of overs. Would injuries on both sides decide this match. But the wicket of Vilas just before lunch with Simmo taking a decent legisde catch made things a little easier, though Lancashire were halfway home.
There was also the oddity of lunch happening ten minutes late – not making up time lost yesterday but because of the long injury delay. Common sense given the time of year and a vey cloudy sky but I've never seen that before!
And one further oddity. The Championship pennant has been flying all this match. During the summer we didn't always fly it. Now we are no longer Champions in any sense why were we flying it?
Why now?
Anyhow. post lunch was nervy – we needed wickets and we needed to restrict Lancashire. With McLaren still in and Clark giving him good support it was getting a bit dodgy until Fiiny continued on his wicket taking spree with Clark's wicket. And then some very smart slip catching by Ollie and Voges finally saw of most of Lancashire, although the target got below 40. That was enough for Hameed to courageously come in again, in spite of a broken hand, and having to play everything one handed.
One handed batting
He was not going to score quickly and it was getting very dark and cloudy. That was a slight complication. Fortunately a smart low catch from Voges put an end to things before rain came. though it took an umpire's discussion to confirm it. It was satisfying though to have taken all ten wickets, and it was great to see Finny back in full, fiery, fast form. England take note! Bowling injuries are worrying though especially with a result needed next week. But at least for the moment we can enjoy being third – which show the craziness of the Division One table this year.
Final catch - will it keep us in Division 1