Is Bell going to ring in our salvation.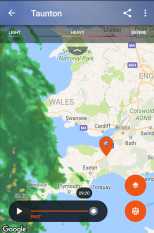 Important green cloud
By London Leprechaun
September 28 2017
It is a sign of our plight this morning, that the first thing to check was the weather forecast and make sure that the big green weather front was still on course to hit Taunton. That was still good and for once I was not disappointed that the bright sunny morning I left the hotel with had turned cloudy by the time I reached the ground. Second most important thing was to check the weather at Edgbaston. That looked OK so I could keep supporting Warwickshire as well today. Bit confusing this – having had to support Surrey and Essex as well as Warwickshire over the last two weeks.
There was an odd atmosphere at the ground: there was a reasonable number at the ground and there seemed to be a mix of people in celebratory mood – a group in front of us were polishing off a bottle of wine before 11am – a few really confident and others working out declarations, checking weather and still wondering about the pitch and pitch inspections. From our point of view we were in the funny position of not really wanting to take wickets – the longer Somerset batted the less time we need to. Ideally no batting before the rain. But we also had to keep runs down to keep Somerset batting as long as possible.
We started with Finny – perhaps to stop us bowling too many overs! But he got tonked – and Somerset got a bit of a flyer. Ravi was getting turn at the other end – real turn you could see from the stands. Ominous. We played through a little shower – warm up rain for the big green stuff approaching from Minehead. Somerset started playing expansive shots. Declaration time imminent? They were way beyond a target for us; in fact a target was irrelevant. When Hildreth was out after reaching a classy and very well 100, and there was no declaration, I did wonder if Somerset might be falling into the same trap as we did against Essex at Lords – though in this case there was no issue of needing to make the game safe. Van Der Merwe seemed to think the same – as wickets fell round him with more frolicking hitting – he seemed to be expecting a declaration each time. Finally it came with a little time to go before lunch. So all we had to do now was bat until it rains and then bat and bat tomorrow. And Warwickshire are building a decent lead, thanks to Ian Bell.
So why did Compo try an impossible run first ball that nearly cost us a wicket. Why!! Perhaps there are nerves all round; Abell dropped a simple catch at cover. But we nearly made it to lunch until Craig Overton pouched a smart catch at slip while Trescothick was trying out the new way of slip fielding.
New way of catching
Slight drizzle at lunch but not enough to stop play restarting and for a load of edges, nicks and much oohs and aahs on the field and off it and sadly two more wickets. Then it rained properly – well it drizzled solidly with occasional harder bursts. It was obvious there would be no more play so attention turned to Edgbaston. A short trip to the pub saw Ian Bell on the live stream giving Warwickshire a good lead. Hopefully they will want to take Hampshire with them rather then us! Somerset, to their credit showed the live stream on the big screens round the ground – they could do with a Warwickshire win as well so at least we agreed with them on one thing. Came back into the ground to see the first Hampshire wicket fall; closely followed by tea up there. And then as more and more covers were put on the outfield here out of nowhere it rained at Edgbaston. Annoying.
So tomorrow is going to be nervy. Very.
View a Printer Friendly version of this Story.
Is Bell going to ring in our salvation.
Middlesex till we die (IP Logged)
28/09/2017 10:29
What do you think? You can have your say by posting below.
If you do not already have an account
Click here to Register
.
Edited 1 time(s). Last edit at 2017:10:02:11:02:08 by Leprechaun.
Sorry, only registered users may post in this forum.