Nothing concrete; everything implied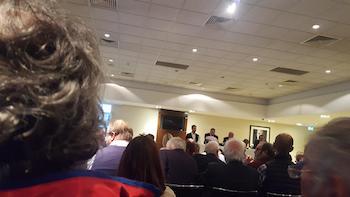 Forum in full flow
By London Leprechaun
October 3 2017
London Lprechaun reports on the post season forum. Much was said, much was implied, nothing concrete emerged. Not surprising so soon after the season. No doubt others present can pick up on points missed from this report.
Meeting was full but not packed. Gus Fraser and James Franklin were in attendance. Started with Mike O'Farrell asking that proceedings be conducted with courtesy and respect – we are all in this together.
However it is quite difficult to report anything concrete on the evening because so much of what was said was by implication.
Gus made a statement which accepted that mistakes had been made during the season: in declarations, selection, delays in getting contracts tied down without being more specific. But the bottom line he said was we did not play well enough and crucially did not score enough runs.
Mike said that there will be a thorough review of everything that has happened during the year so there was nothing to report at this meeting about what will be different next year. Which just four days after the season end seems fair enough. Knee jerk reaction is not helpful.
When it was opened to the floor the statements and questions covered all the issues that everyone has been concerned about this year:
Overrates. Why do we seem to spend more time during play discussing tactics then other teams. James Franklin accepted this might be an issue which he will look at. (that and a couple of other comments implied he will be captain next year)
Captaincy, ruthlessness or lack of it: the Essex match and why we did not try and chase down the win against Surrey at Lord's; the response was that tactics are often a matter of opinion but it was implied that we might have got things wrong tactically.
Team selection; why out of form players were not dropped sooner to give younger players a chance. In response Gus said that he always wanted to give a player one more chance rather then one less, so again possibly implying/agreeing that some players had been picked for too long.
Alleged dissension in the dressing room – this was strongly denied by Gus and Mike. There was a meeting on Friday of the whole playing staff and there had been a collective determination to put things right in 2018.
Ryan Higgins leaving. Gus said that he had wanted to bat in the top five and this could not be guaranteed. He had been offered a contract.
Uxbridge. By implication (again) we may have suffered because we did not have professional ground staff there. We could not have used Radlett because the pitch is still too risky for a 1st class game; Merchant Taylors was out of bounds as in term time. Richard Goatley said that we were hoping to get all seven Championship Games at Lord's next year but that could be at the expense of Royal London Cup Games. But we need, he said, to get more outgrounds into the equation. There is discussion going on with Southgate.
There was a lot of emotion from some members; possibly a bit over the top – such as saying it was the worst year since the 1950s. (They must have forgotten the dark years of lurking round the lower parts of Division 2 not that long ago). But that was also tempered by others pointing out the handful of points separating the teams from fourth to seventh (hence the focus on arrowgate) It was a very disappointing season but we don't need a football style response was the sense of those members suggesting a need for perspective. There was certainly no general call for a whole sale clear out, though the mood seemed to be that younger players do need to be given more chances not just as temporary substitutes when regular first team players are away. Max Holden at Uxbridge was cited as an example of this.
Speaking of arrowgate, Richard said that we were still talking to the ECB; he had had a phone conversation with them just before the meeting. They are not being unsympathetic he said and discussions are still going on. A comment from a member that we should go to judicial review did not have any support.
Some other points of interest that came up in the questions
Middlesex youth development programme is hailed by the ECB as a model for other counties.
There is a big investment going on in women's' cricket in the County. The women's team managed to win their last two games to stay in Division 1.
We are looking at live streaming of our matches but in the words of Richard "want it to be of high quality." That is not, just a static webcam from one end.
No players are out of contract currently; contrary to rumours Dawid Malan signed a long term contract in January this year so no worries there;
Relegation has no immediate impact on finances. Our major sponsors are here for the long haul and we have a total of 61 commercial partners of one size or another.
Having players picked for England is good for us financially.
We have planned/budgeted for the possibility of Steven Finn losing his central contract.
As a final statement Mike reinforced the statement that the Board are taking collective responsibility for the season but it is too early to see what changes are needed. We are still in very good shape financially and structurally; our work in the county on development and increasing engagement with cricket in schools and communities is highly regarded; we have three players in the young Lions; our sponsors are sound. While members quite naturally have a focus on the success of our men's First XI, we also need to see a bigger picture and in the words of Corporal Jones: "Don't panic."
And one further piece of info post the forum. Richard said that we are still waiting for MCC to endorse the plans for the new super Middlesex room mentioned at the mid season forum.